In 1948, Israel declared independence and was promptly invaded by six Arab armies.  After bitter fighting, Israel was mostly victorious but a large part of its Palestinian population was driven out or fled to neighboring Arab countries, especially Lebanon and Jordan.  One hundred thousand Palestinians fled to Lebanon alone plus many more to Jordan.   Nearly a million Jews fled Arab countries and were gradually integrated into Israel, but the Arab host countries, while accepting the Palestinians as refugees, refused to fully integrate them into their society and forced them to live in refugee camps, often under terrible conditions.  The host countries were afraid that these numbers of Palestinians would destabilize their countries, especially in Lebanon with its precarious political situation that required balancing the demands of Christians and Muslims.   The Palestinians and their hosts assumed that their stay would be relatively short, and that they would return to their homes.  Despite three more wars, the Palestinians were forced to remain in their camps and now number nearly half a million.  Lebanon, like most Arab countries, only granted a few citizenship and made it difficult for them to earn a living because they were bared from working in many professions.   A 15 year-long civil war began in 1975 between Christian and Palestinian militias which devastated Beirut and killed at least 150,000, plus displacing more than a million people, one quarter of Lebanon's population at the time.  Lebanon would never be the same and the wounds have not healed.  Tens of thousands still remain displaced.   As one of the Palestinian characters in this film accurately says: "We are the niggers of the Arab lands."
Zaid Doueiri, a well known Lebanese screenwriter and director, was arrested in Beirut for the crime of having filmed an earlier work (The Attack) in Israel.   Now with The Insult, filmed in Beirut, he uses the story of two men to illustrate the complexity of Lebanese society and the hatreds that lie just beneath the surface.   The first man, Tony, seen in his apartment assembling a baby crib, runs a small auto repair shop.   Tony is a Lebanese Christian and devoted to his pregnant wife, due soon.    The other man, Yasser, is an older construction superintendent overseeing a building project next door to Tony's apartment building.   Yasser is a Palestinian refugee.  Both men are decent, honorable and hard working but come from very different communities, which means much in Lebanon.  Both are stubborn and have a very strong sense of pride.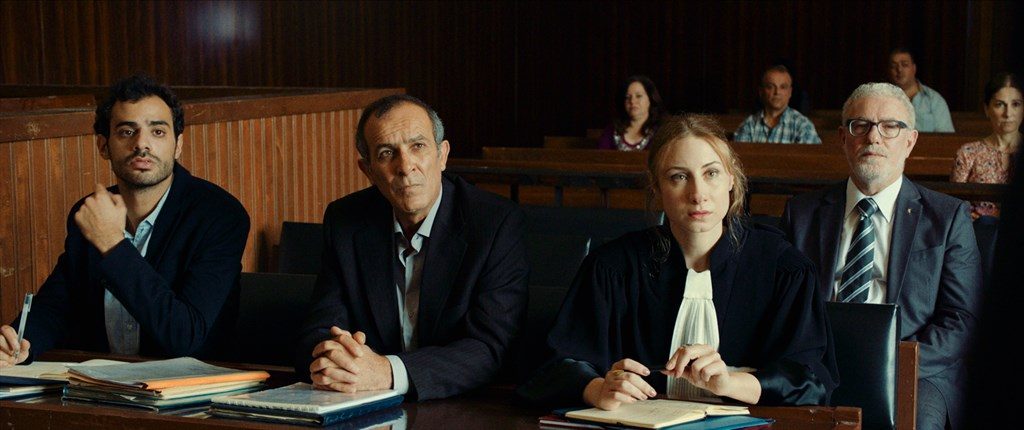 One day, Tony is washing down his balcony and the waste water runs out a drain line that empties above the sidewalk, spraying some workers below.   Yasser sends several workers up to Tony's apartment to see if it could be fixed.   Tony refuses to let them in so Yasser simply installs an exterior drain, which Tony promptly smashes.  Yasser says "Fucking prick", which is universally offensive, especially in front of onlookers.   Tony is outraged.   Yasser's boss tries to make nice by bringing Tony's wife flowers and a large box of chocolate but Tony refuses the gestures.  Things begin to escalate and Yasser's boss convinces Yasser to come to Tony's shop and apologize.   He arrives and things escalate, with Tony saying a very incendiary thing: "I wish Sharon had wiped you all out."  He is referring to Ariel Sharon's invasion of Lebanon and the massacres at two Palestinian refugee camps in 1982 by Lebanese Christian militias, who had been supported by the Israeli army.  Yasser punches Tony and fractures several ribs.   Tony is furious and files assault charges against Yasser.   Yasser is arrested and both men confront each other again, this time in a Beirut courtroom.  Both men, especially Yasser, understand that they over reacted, but neither is willing to apologize despite the toll in their own homes.
Much of the film takes place in the courtroom where attorneys for both men raise some of the profound sectarian issues that curse Lebanon.  Meanwhile the trial has caught the attention of the press and the public.  Tony's attorney, in particular, is using the trial as a political weapon, which finds a receptive audience.  Rioting begins as the fractures in the society open again.  Archival footage is used, which emphasizes the volatility of the society.   There are some surprising twists and the courtroom scenes are as riveting and tense as the beginning of the story.  Doueiri is a master story teller and has told a powerful tale with outstanding acting, all of whom seem like such naturals.   His cinematography is excellent.   I love Doueiri's films and especially this one.  The Insult is the Lebanese entry for best foreign language film in the upcoming Academy Awards but has been banned in many Arab countries because it shows the Palestinians as not only victims, but victimizers.   Because of this film, Doueiri was once again the object of harsh criticism from many factions and clearly courageous.   It is powerful, revealing and so timely given the increasing fractures and incivility in American political culture and the shift toward autocracy.
Running time: 113 minutes.  See their web site for more information.  Just opened at the Clay, the Rafael and the Shattuck (Berkeley).  Ciao, Ian