When Doug (Alex Skuby) receives word that his beloved uncle has died in an unexpected accident, he rushes from Los Angeles to Brooklyn and finds himself the centerpiece in a pricelessly bizarre dysfunctional family. As playwright Howard Skora introduces the audience to the quirky members of Doug's clan, the laughs begin to pile up. There's his alcoholic father Phil (Robert Mangiardi) and his "happy-face" mom Irene (Peggy Maltby Etra) – parents from hell. And let's not forget his recently widowed aunt Laurie (Mo Collins) and his therapist sister Gina (Jessica Pohly). Get set for some chuckles and guffaws as this merry band of relations get together to salvage the family furniture business.
But first, you may wonder what forniphilia – a disorder which underlies much of the action – is. It seems that Doug's deceased uncle had a rather unusual fetish: he found pieces of furniture impossibly sexy. He was especially drawn to an Italian recliner reportedly worth beaucoup bucks, and the feeling may have been mutual. Or so his widow suspects. In fact, one of the out-and-out funniest spectacles in the play concerns a certain tete-a-tete between the Italian homewrecker and the rejected wife.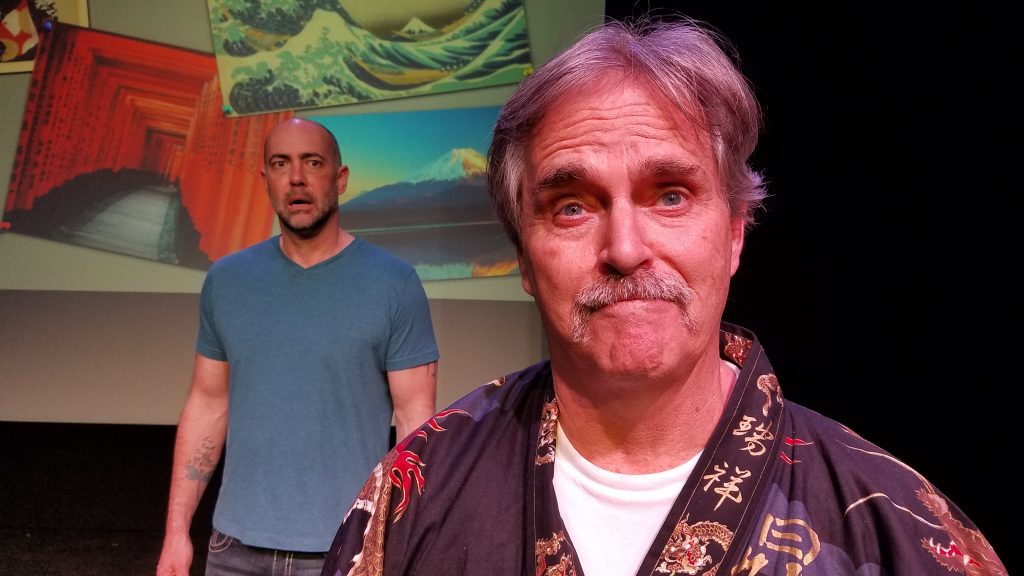 It happens that Doug is an actor who has achieved some fame as a pansexual robot (hooray for diversity). When Doug fled New York for Los Angeles years ago, he also fled his crazy relatives and the family business. And here they are again – leading to an existential crisis. Will Doug return to Los Angeles as the star in a new series about that very same robot – or will be become part of the family's furniture business? You'll have to see the play to find out.
Suffice it to say that both author Skora and director Jim Fall play this strange brood for every laugh available. They are both fortunate to have some very funny and experienced actors with powerful comedy credentials to complete the farce. If you don't find something uproarious in this piece, it may just be that your sense of humor is asleep. The furniture may or may not be damaged – but the members of Doug's family are clearly pretty dented themselves – with their personality "damages" making for a rollicking comic venture.
Dusti Cunningham's set is an apropos backdrop for the hilarious goings-on, with Kevin Vasquez' lighting adding to the fun. Special kudos to Brian Levin for his video and sound design which turn the play into a multi-media event. And let's not forget the ominous disembodied off-stage voice of Jo (Drew Droege), Doug's acting agent. Audience Alert: Some of the humor is pretty raw and not for the faint-of-heart.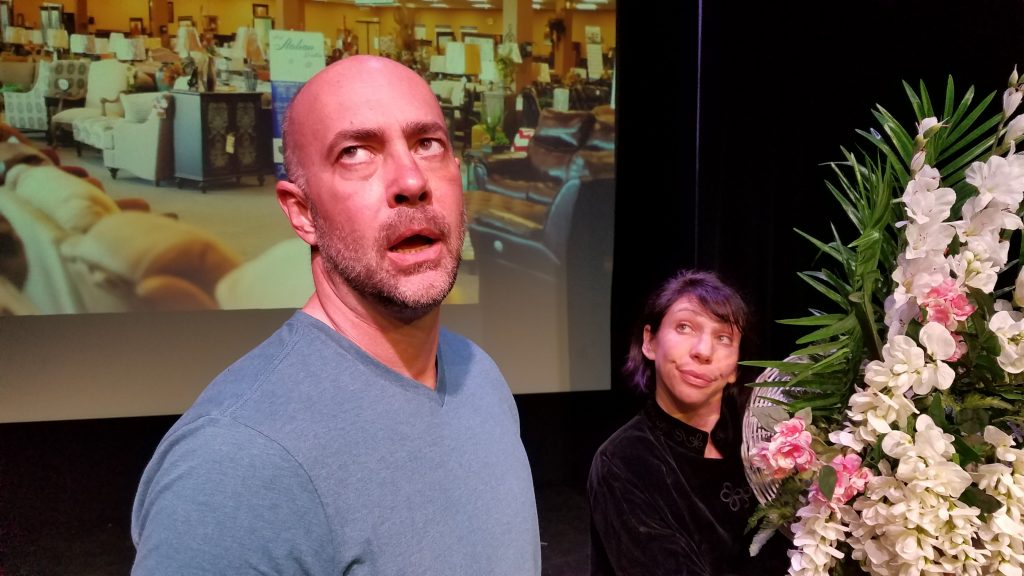 DAMAGED FURNITURE runs through May 26, 2018, with performances at 8 p.m. on Saturdays. The Whitefire Theatre is located at 13500 Ventura Blvd., Sherman Oaks, CA 91423. Tickets range from $30 to $40. For information and reservations, call 800-838-3006 or go online.