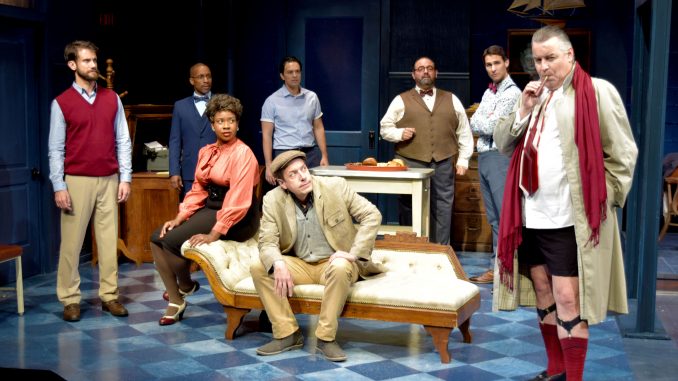 Laughter on the 23rd Floor, a reimagined, revitalized production of Pulitzer Prize and Tony-winning playwright Neil Simon's classic is superbly directed by Michael A. Shepperd, Co-Artistic Director of Los Angeles' award-winning Celebration Theatre. The show runs through April 22nd, and features John Ross Bowie (Speechless, The Big Bang Theory), with Jeff Campanella, LaNisa Frederick, Jason Grasl, Cornelius Jones Jr., Jessica Joy, Ty Mayberry, Roland Rusinek, and Pat Towne.
In Neil Simon's "love letter" to his early career in the 1950s as a TV writer alongside the likes of comedy legends Carl Reiner and Mel Brooks, Laughter on the 23rd Floor captures the frenetic writers' room environment during the first golden age of television. The writers frantically attempt to please Max Prince (Pat Towne), their brash, larger-than-life boss of a weekly comedy variety show. Short-tempered Max has the power to make careers or create misery, and his writers hop to attention in his presence.
Lucas (Jason Grasl), the new guy hoping to become a permanent member of the team, is Mr. Simon's alter ego. He makes observations about his colleagues—Val (Roland Rusinek), a Russian émigré; Ira (Jeff Campanella), an incurable and irritating hypochondriac; Milt (Ty Mayberry), wearer of different colored berets; Kenny (Cornelius Jones, JR), called the Genius; and Brian (John Ross Bowie), who dreams of Hollywood discovery, recognition, and fame. Carol (Lanisa Renee Frederick), the lone woman writer on the staff, spends much of Act II in the last stages of pregnancy!
Max is locked in an ongoing battle with NBC executives, who fear the show's humor is too sophisticated for Middle America and want to reduce his show-time by 30 minutes. The writing and fighting of the team expose the social and political undercurrents of the 1950s—with joke-free references to Senator Joseph McCarthy's formidable witch-hunt and blacklist.
The writers work in less-than-glamorous smoky rooms, drink coffee, spar, share personal information, and produce material without cease. Reducing the show-time means one of them will be axed!
This is one of Simon's funniest comedies with an abundance of terrific one-liners and hilarious moments, many of them created by the actors' exaggerated acting and agile stage maneuvers. Helen (Jessica Joy), the dumb blond secretary, gets laugh after laugh as she watches her step when she enters and debuts. All the actors draw laughs and excel under the excellent direction of Michael A. Shepperd, and benefit from the creative contribution of the design team!
It's a great show, highly recommended! Hey, it's Neil Simon—don't miss it!
ABOUT THE GARRY MARSHALL THEATRE
Garry Marshall Theatre is a nonprofit organization providing innovative performances, educational opportunities, and storytelling activities for all ages, year-round. Located in the heart of Burbank and Toluca Lake's entertainment industry, the critically acclaimed and Ovation Award-winning 130-seat theatre was founded in 1997 as the Falcon Theatre by Hollywood legend Garry Marshall. Reestablished as the Garry Marshall Theatre in 2017, the theatre continues to cultivate new artists and experiences that spark ideas and build community.
CALENDAR DETAILS
WHAT: Laughter on the 23rd Floor
Written by Neil Simon
Directed by Michael A. Shepperd
STARRING: John Ross Bowie (Speechless, the Big Bang Theory),
Jeff Campanella, LaNisa Renee Frederick, Jason Grasl, Cornelius Jones Jr.,
Jessica Joy, Ty Mayberry, Roland Rusinek, and Pat Towne
THE CREATIVE TEAM: Scenic Design by Alex Calle, Costume Design by E.B. Brooks, Sound Design by Rebecca Kessin, Lighting Design by Jared Sayeg, Hair and Makeup Design by Byron Batista, Prop Design by Michael O'Hara, Casting by Raul Staggs, and Stage Management by Marcedes Clanton.
PHOTOS: Chelsea Sutton
WHEN: March 23 – April 22, 2018
Thursdays, Fridays at 8pm; Saturdays at 2pm and 8pm; Sundays at 3pm
WHERE: Garry Marshall Theatre, 4252 W Riverside Drive, Burbank, CA 91505
PRICES: $45-$65
MORE INFORMATION:
Box Office: (818) 955-8101
Website: GarryMarshallTheatre.org
Facebook: facebook.com/GarryMarshallTheatre
Twitter: @GMTheatre_org
Instagram: @garrymarshalltheatre
###