It's one thing having a BAD date.  That you can deal with.  It's totally another thing having a famous dead writer, bursting in your private bedroom, dragging a coffin no less.  And, it's just not your normal bedroom.  This bedroom belongs to famed poet Emily Dickinson; and, she's home. This is certainly not your typical home invasion.
Edgar & Emily opened up to a full-house audience at one of the most stunning theaters in Florida, The Don & Ann Brown Theatre, on March 31st.
Palm Beach Dramaworks productions never disappoint and, on this opening night, once again, the audience left with lots to talk about – mostly everyone's personal interpretation of Edgar & Emily. What was in common, that everyone loved it.
Gregg Weiner portrays Edgar Allan Poe and Margery Lowe portrays Emily Dickinson in the premiere of Joseph McDonough's Edgar Emily at Palm Beach Dramaworks in West Palm Beach. Photo by Samantha Mighdoll
Dickinson and Poe were two literary giants, American originals, born in Massachusetts in the early nineteenth century. Although they lived very different lives, they had certain fundamental things in common. They were both tortured souls who could not escape their demons. They both wrote frequently about death and sorrow and loss, yet they seemed to derive their greatest pleasure from their work.
To experience what 'could have' been a meeting between a recluse and a madman-on-the-run, both in love with their own wit, sensitivity and their excellence in putting words on paper, made for a very interesting and thought-provoking experience.  And, I must say, I learned much about both characters (and characters they were).
                                      Director-William Hayes, Playwright-Joseph McDonough
Dickinson was, for most of her life, bound to her home.  She barely left and was especially attached to her poetry, most of which was scattered in different parts of her bedroom; maybe she hid her poetry in case someone wanted to 'read' her work or possibly she was afraid of someone else reading her poems.  She always wore white and wanted to be buried in white.  Well, she could have had the chance as Edgar A. Poe burst into her room with just the perfect coffin.
This was, of course, a fantasy.  But, other than the impossibility of a real-life meeting, there was a lot of truth and similarities in both of these tortured souls as they eventually discovered after Edgar realized that Emily didn't want to ''sleep with him,' but 'just talk.'  And 'just talk' they did.
Of the 70 short stories that Poe wrote, one third were comedies and only a dozen were horror stories.  I only know Poe from his infamous horror stories and up until and including this show, The Raven still shakes my soul.  Interestingly enough, Ms. Dickinson had a copy of The Raven in her bedroom and she read portions of it to the author as she pokes fun at his attempt to 'rhyme' words.   "You rhymed 'lattice' with 'thereat is'?" she says. "It's no wonder someone is trying to kill you."
Joseph McDonough, who brought this story to the stage, says this is a 'true story that never happened,' and a very humorous one.  McDonough waited several years for Palm Beach Dramaworks to read and produce his play, and, according to everyone I spoke to after the show, the wait was worth it.  Thank you, Mr. McDonough, for using your imagination and research into a wonderful play that was very real to me.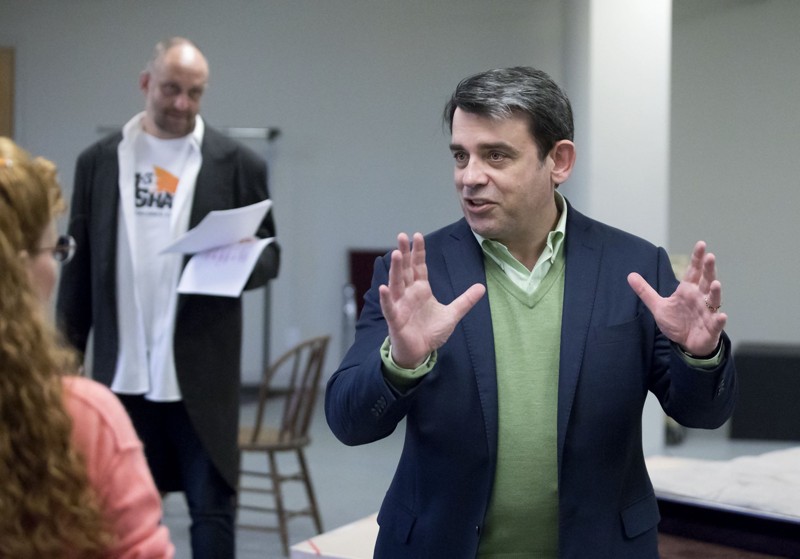 Bill Hayes, right, director of Edgar & Emily by playwright Joseph McDonough, works with the actors during rehearsal. Damon Higgins / Photo Credit:  Daily News
It's a learning experience and a laughing experience.  I found myself looking up poetry by Dickenson today to begin to 'read into' her work and see the similarities that I experienced on opening night.
That always happens when I review any production by Palm Beach Dramaworks.  Their productions always evoke conversation.  That is what plays should do.
Edgar & Emily stars Gregg Weiner as Poe and Margery Lowe as Dickinson.
Scenic design is by Michael Amico, costume design is by Brian O'Keefe, lighting design is by Paul Black, and sound design is by David Thomas. I must add that the scenic designs at every show I have seen in this theatre, is incredible. I always feel I am more 'in' the play rather than 'watching' it.  I particularly loved the very last minute of the very last scene.
Palm Beach Dramaworks is a non-profit, professional theatre and is a member of the Theatre Communications Group, the South Florida Theatre League, Florida Professional Theatres Association, and the Cultural Council of Palm Beach County.
Evening performances of Edgar & Emily are Wednesday and Thursday at 7:30PM, Friday and Saturday at 8PM, and Sunday at 7PM. Matinee performances are on Wednesday, Saturday, and Sunday at 2PM. Post-performance discussions follow Wednesday matinee and Sunday evening performances. Individual tickets are $75.   Student tickets are available for $15 and Pay Your Age tickets are available for those 18-40. Tickets for educators are half price with proper ID (other restrictions apply). Group rates for 20 or more and discounted season subscriptions are also available.
The Don & Ann Brown Theatre is located in the heart of downtown West Palm Beach, at 201 Clematis Street. For ticket information contact the box office at (561) 514-4042, or visit palmbeachdramaworks website.