Only months into 2018, the Parkland school shooting has already stained the American history of gun violence. Sad to say, such tragedies are becoming "old hat" as they begin to pile up over the past few years, leaving the dead and wounded in their wake. With no holds barred, playwright Louis Felder explores this timely topic in THREAT, a study in the dynamics creating the mass murderer and the ethical conundrums this makes in our society.
Margaret (Pagan Urich) is a licensed psychotherapist who honestly believes that she can make a difference – no matter the client's situation. After all, she worked hard to complete her Ph.D. and now has the credentials to effect positive change in the world. Even if she had to scrap her original dissertation for one favored by her mentor, Dr. Westbrook (John Posey), who needed some basic research for a book he was writing, she finished her degree with flying colors. And, finally, life has turned out the way she envisioned it. Until she encounters her most problematic client, David (Mason Conrad).
David is a brilliant graduate student with longstanding conflicts with the world in general and with his professors in particular. It's clear to David that those scientists at the top of the academic ladder just don't have the savvy to understand his dazzling theories and magnificent conclusions. All is well until Margaret realizes that David may be ready to take his fury to the next level – and has the determination and firepower to do it. What to do? After all, therapy is confidential – and there's no one in the entire office building at the late hour of his session.
Author Felder gradually builds tension as Margaret is faced with an ethical dilemma. How best to help a client while keeping his sessions under wraps and still protecting the people he is targeting? All the while in genuine danger posed by a man intent on getting revenge – and even more so when she finds herself tied up with a knife to her throat. It just might be that David sees her as an annoying impediment to his larger violent goals rather than a skilled, empathic therapist.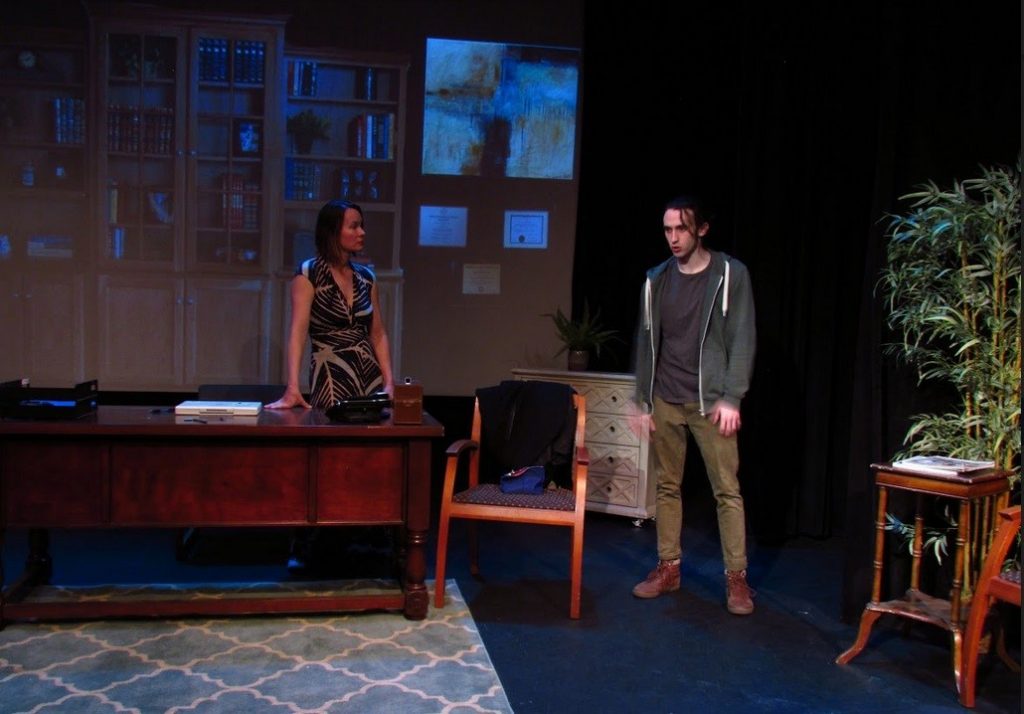 Director Asaad Kelada keeps the pressure tugging at the audience as he helms this contemporary topic with skill. Key players Pagan Urich and Mason Conrad ably keep up the thrills in a scary situation. The play has the ring of truth as it progresses – until suddenly it veers into a type of sensationalism which departs from the real into the fantastic. The well-crafted character of Margaret ceases to be rational and genuine and becomes a stereotypic, mindless female panicked by an evil villain. Three dimensions become two in the blink of an eye.
Madylin Sweeten's scenic design, Matthew Richter's video and sound design, Derrick McDaniel's lighting, and especially Amanda Chambers' graphic design join hands to yield a clever set which is highly responsive to any and all directions called for. THREAT is an intriguing play which struggles seeking explanations for events which may have no patent answers.
THREAT runs through May 4, 2018, with performances at 8 p.m. Thursdays and Fridays. The Whitefire Theatre is located at 13500 Ventura Blvd., Sherman Oaks, CA 91423. Tickets are $25 (students $15). For information and reservations, call 805-419-8327 or go online.