Playwright Ira Levin, renowned author of "Rosemary's Baby," clearly did something very right when he penned DEATHTRAP in 1978. For four years and 1,793 performances, DEATHTRAP continued to grip Broadway audiences. Nominated for several major Tony Awards, DEATHTRAP wowed critics and has maintained its hold on theater patrons ever since. The preface to the published script describes DEATHTRAP as "something so evil that it infects all who touch it. The thing has a life of its own." In DEATHTRAP, masterful author Levin blends bits and pieces of thrillers, horror stories, murder plots, deceit, hidden meanings, sinister characters, and the unexpected twists and turns of plot that he handles so effectively.  In 1982, DEATHTRAP was adapted into a popular film starring Michael Caine.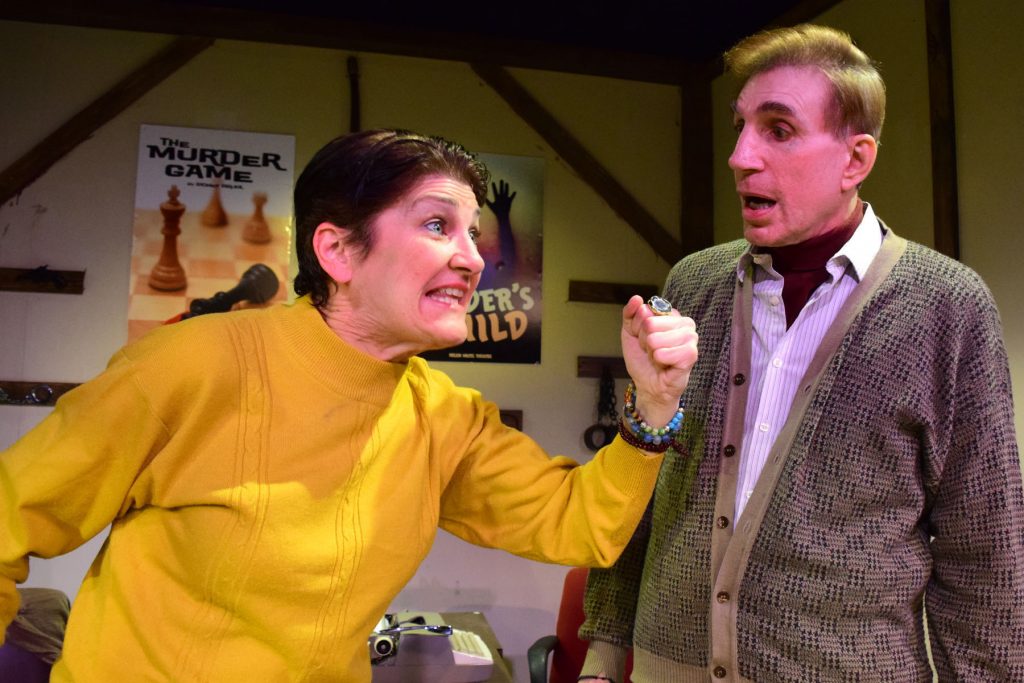 This is the tale of Sidney Bruhl (Robert Benedict Nello), a successful playwright who has hit a dry spot in his career. With writer's block threatening to tumble him from the heights to the depths, Sidney is intrigued by a script sent to him from a rank amateur and his former writing workshop student. He is convinced that this play will be a resounding success which could certainly turn around his flagging career – of course, if he had written it. His wife Myra (Gina Yates) quickly senses that Sidney's intentions when inviting the play's author for a visit are not as generous as he suggests. Enter young and eager Clifford (TJ McNeill), sublimely flattered that the writer he worships thinks that this humble newcomer might have the barest seed of a creative talent just waiting to bloom. That Sidney offers to collaborate with him on his mystery, DEATHTRAP, is almost beyond his ability to process. But perhaps Bruhl has other ideas about how to boost his sagging profile on Broadway.
Then there's Helga Ten Dorp (LizAnne Keigley), a world-celebrated psychic who has helped police solve multiple murder cases, and just happens to be staying in the neighborhood. But why has she dropped in at the Bruhl residence, wandering around the house with some scary visions of murder and mayhem? Add to these predictions the observations of Bruhl's attorney, Porter Milgrim (Lloyd Pedersen), warning Bruhl about some of Clifford's suspicious behaviors.
DEATHTRAP is gifted with five very talented actors who keep the furtive goings-on ramping up with inscrutable and ambiguous words and deeds. This is a clever whodunit which makes all others seem pale by comparison. Director Jules Aaron is clearly having fun helming this iconic, roller-coaster thriller. Chris Winfield's set is appropriately cozy on the surface, just the right ambiance for a bunch of complicated people full of nefarious thoughts. Steve Shaw's sound, J. Kent Inasy's lighting, and Angela M. Eads' costumes suit the occasion to a tee – and let's not forget Orion Barnes' fight scenes. If you're a mystery buff, DEATHTRAP is the perfect "holiday" for you.
DEATHTRAP runs through May 20, 2018, with performances at 8 p.m. on Fridays and Saturdays and at 2 p.m. on Sundays. The Lonny Chapman Theatre is located at 10900 Burbank Blvd., North Hollywood, CA 92601. Tickets are $25 (seniors and students $20; 10+ groups $15). For information and reservations, call 818-763-5990 or go online.