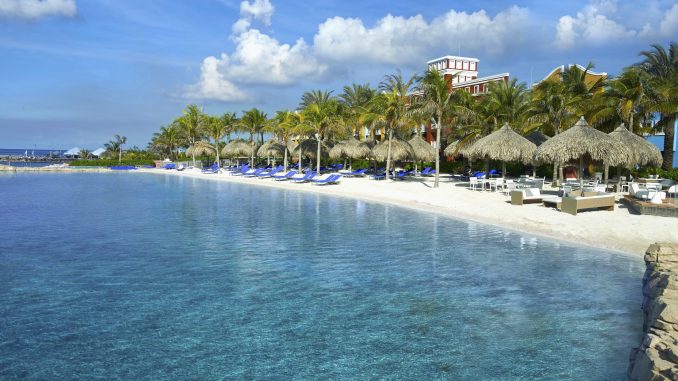 Curacao means blue…blue water, blue drinks and blues music! Walk along the sand and peer deep into the crystal clear waters that reflect back with glorious hues of turquoise. This is Curacao, one of the three beautiful Dutch islands in the Southern Caribbean known for more than 35 spectacular beaches. Curacao will warm you with a sense of Spanish, Dutch and South American influences you'll notice in its architecture, culinary style and colorful dress.
Colorful, Historic Downtown
On the streets, see colorful buildings of pink, blue, yellow and gold (indicates a government building.) Watch the iconic Queen Emma Bridge swing open to let the boats through. Visit the floating market where boatmen make the 35-mile trek from Venezuela to sell their fish, fruits and vegetables, right from the water. Tour the Mikve Israel Synagogue, the oldest active synagogue in the Western Hemisphere with sand on the floor, to remind the Jewish people of being in the desert. See the museum next door, filled with an amazing collection of Judaica. Stop at the Chobolobo Factory, a 19th-century historic mansion where the famous Blue Curacao liquor is made. Get a taste and be sure to bring home a bottle of the island's most famous drink.
Escape to your own deserted island – Klein Curacao
Take off on a catamaran and set sail on Curacao's Number #1 adventure. This relaxing experience in "Little Curacao" includes sailing, snorkeling, scuba diving, delicious BBQ buffet lunch with rum punch, beer and wine. Go treasure hunting on the island, swim with the turtles or in underground caves or just chill on the beach. I hiked out to the abandoned lighthouse and shipwreck and was rewarded with exquisite views as far as the eye could see. Snorkel equipment and instruction are provided. Bountyadventures.com
Dining Divine
Curacao is becoming more of a foodie town. Here are a few suggestions where you can enjoy a culinary feast. 27 Bar and Restaurant – This cool place to hang out is the island's first rock n' roll bar and it overlooks the water. Live music, great burgers, and a guaranteed good time. 27curacao.com. While out and about, be sure to try a traditional Bastidos at food trucks everywhere. It's made of ice, milk and real fruit, the perfect refreshing drink on a hot day. Get a taste of Zest Mediterranean with fresh fish and chef-inspired cuisine. For live jazz and blues, head to Avila Blues Bar & Restaurant, serving up grilled specialties and Curacao blue cocktails. Enjoy a great start to the day at Beyglz, one of Curaco's newest eateries with lots of delicious, healthy selections. Mosa is like having dinner at your family's house; warm, inviting and delicious. This shared dining experience features fabulous cuisine and wine in the heart of Curacao's up and coming neighborhoods, Pietermaai. Mosarestaurant.com. Check out Hofi Cas Cora, a new farm-to-table concept where you watch the staff pick the fresh vegetables out of the garden and serve them to you for brunch/lunch.
Stay in Style – Avila Beach Hotel
Located within walking distance of the capital city of Willemstad (a UNESCO World Heritage site), the Avila Beach Hotel is the longest running hotel on the island, more than six decades. You'll feel the elegance the moment you enter the gracious lobby and look out on the two private beaches. Dine on the beach and enjoy live jazz at the Avila Blues Bar & Restaurant with its delicious grilled specialties and fresh fish. Be sure to sip a Blue Margarita, made with the island's famous Blue Curacao. Listen all night long as the blues plays well into the night.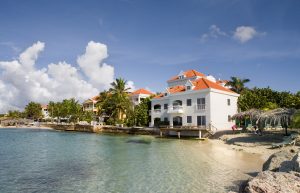 Papagayo Beach Resort – Hip and Happy
Welcome to this exclusive resort on the east side of the island, featuring an upscale hotel on the beach, a trendy beach club, bustling casino, contemporary spa, state-of-the-art fitness center, a supermarket and various shops. With a white façade that contrasts the island's blue waters, Papagayo will simply take your breath away. Papagayo.com
For information about this wonderful island, curacao.com.