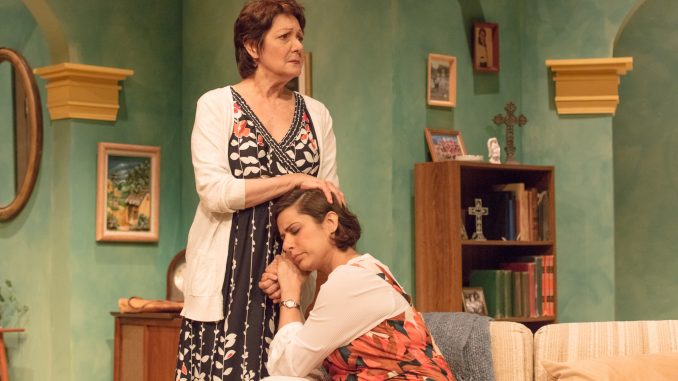 The Madres by Stephanie Alison Walker and directed by Ricardo Gutierrez  is a powerful piece. A story spanning three generations, a grandmother- Josefina (Ivonne Coll), mother- Carolina(Lorena Diaz), and daughter- Belen (Ilse Zacharias), the women lean on each other during a time when fear and intimidation is a part of everyday life. These three women not only empower but lean on each other to face injustice.
Other characters were Padre Juan (Ramon Camin) warning the women against actions that could be scrutinized, and childhood friend of Belen turned soldier Diego (Felipe Carrasco), who believes that Argentina is being united as one with everyone having the same values.
The play takes place in Buenos Aires, Argentina 1978, during the "Dirty War".  The name which the Argentine military dictatorship used for state terrorism between 1974 to 1983. Students, artists, journalists, political activists, anyone who was considered a subversive, associated with socialism, or who spoke out against the military's reign was taken away. Also targeted were mothers looking for  disappeared loved ones. An estimated 30,000 Argentines disappeared and were never heard from again. Las Madres (Mothers of the Disappeared/ Madres de los Desaparecidos) marched in front of Casa Rosada- which was the house of the government, after public protesting was outlawed. They demanded the truth about where their missing children and grandchildren were. Marching every Thursday starting in 1977, they still march today.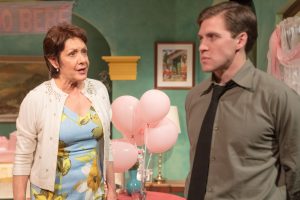 Belen who is pregnant, is one of the disappeared. While Carolina is out marching and seeking information about her daughter she is wearing a white headscarf- a token of Las Madres, Josephia is convinced that if they show they are conservative and stay quiet about the situation, Belen will be returned. All comes to a head when Josephia and Carolina, come up with a plan to try and get Belen back.  During the downfall, when Carolina loses  faith in reuniting with Belen and soon to be born granddaughter Paloma, declaring that "hope has been exiled", it is Josefina who lifts her up and encourages to keep fighting for her daughter.
The Madres was filled with raw emotion and while heartbreaking at times, the talented actors still were able to interject comic relief  with ease. It was brilliantly acted. A compelling piece that touches on an intense piece of history that is unfortunately still relevant in other countries. This should not be missed.
The Madres runs from April 21 through May 27, 2018 at Victory Gardens, 2433 N. Lincoln Ave, Chicago, IL 60614. Thursday through Saturday at 8 p.m., Sunday at 3:30 p.m. For tickets and more information click here. For more information about Teatro Vista click here