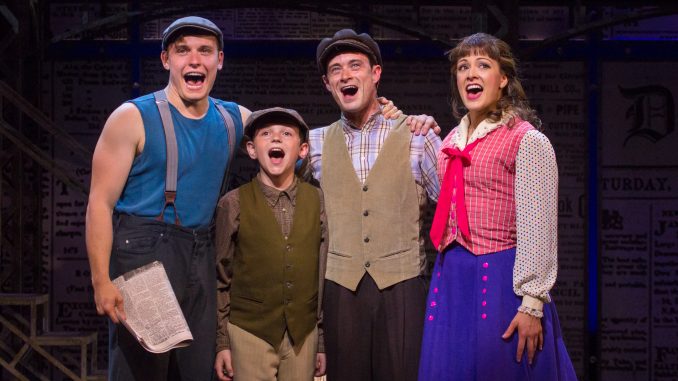 Inspired by the real-life New York City newsboy strike in 1899, NEWSIES grew into a musical from the 1992 Disney film, "The News Boys," a resounding flop. With music by Alan Menken, lyrics by Jack Feldman, and a book by Harvey Fierstein, the musical premiered at the Paper Mill Playhouse in New Jersey in 2011 and made its Broadway debut in 2012. NEWSIES proved to be a popular show which quickly earned its producers their investment and played for more than 1,000 performances. NEWSIES won Tony Awards for best original score and best choreography and a Drama Desk Award for outstanding music. Eventually, NEWSIES national tours in 2014 and 2016 played across the U.S., and the show will soon come to Netflix in September 2018. In 2018, NEWSIES also arrived at the La Mirada Theatre for the Performing Arts in California.
It's 1899, and newspaper delivery boy Jack Kelly (Alex Prakken) dreams of moving to Santa Fe while being the de facto leader of the large group of young New York City newsboys, many homeless and orphaned. But abandoning his only real family seems out of the question.
When newspaper New York World publisher Joseph Pulitzer (Paul Schoeffler) increases the cost of newspapers to the delivery boys in order to outsell his competitors, things change rapidly. Something must be done – and fast. Maybe it's time to consider a strike! Jack is encouraged by liberal reporter Katherine Plumber (Beth Stafford Laird), who just happens to be very pretty, smart, and unattached. If all the newsies work together, what could possibly go wrong?
Directed and choreographed by Richard J. Hinds with musical direction by Brent Crayon, NEWSIES keeps the fur flying with never a dull moment. Although the music is not the best ever developed by Disney studios, the dancing is superb and worth the price of admission. These talented and athletic guys do a bang-up job of channeling all of their youthful enthusiasm into creating a sort of perpetual motion machine. Congratulations, Mr. Hinds, for keeping the NEWSIES dance reputation alive and well.
The NEWSIES ensemble cast does a great job of blending music and movement in this non-stop musical. David McQuillen Robertson and Fourth Wall Scenic keep the scenery flexible, while Maine State Music Theatre's costumes, Steven Young's lighting, and Josh Bessom's sound add to the ambience of this Gay Nineties piece. By the way, the musical is a bit different from the film. If you've seen the film in the past, get ready for some interesting changes.
NEWSIES runs through June 24, 2018, with performances at 7:30 p.m. on Wednesdays and Thursdays, at 8 p.m. on Fridays, at 2 p.m. and 8 p.m. on Saturdays, and at 2 p.m. on Sundays. There will be an additional performance at 1 p.m. on Friday, June 22. La Mirada Theatre for the Performing Arts is located at 14900 La Mirada Blvd., La Mirada, CA. Tickets range from $20 to $84. For information and reservations, call 562-944-9801 or go online.