The classic tale of Cinderella gets a modern makeover as Hyde Park School of Dance (HPSD) welcomes its 25th anniversary season with a beautiful ballet performance and world premiere: Amira: A Chicago Cinderella Story. August Tye founded HPSD in 1993, which provides 80 hours of weekly classroom instruction and services over 490 students ages 3 and up. Volunteers contributed long hours to ensure wonderful wardrobe, props, scenery design and set construction. The penthouse theater at the Reva and David Logan Center for the Arts, 915 E. 60th Street, Chicago,  provides the stage for a moving rendition of the family friendly Cinderella story that pays homage to Chicago, celebrating its various local neighborhoods.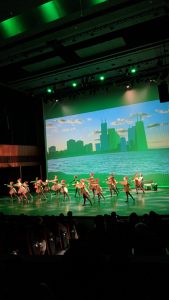 The opening act shows Amira with her parents and little sister at the Department of Immigration. Her mother is unable to get through and gives Amira her scarf, a symbol of her presence. The scene is touching, as the family reaches out to Amira with their arms extended and she reaches back helpless, despondent. Throughout the piece, the mother appears glowing, ethereal as she hovers and slides smoothly across the stage, providing guidance as a phantom fairy godmother. Hyde Park becomes Amira's new home as she makes her way through the streets, a frantic scene ensues, and the repetitive black and white colors of the costumes collide against the loud pace of the cellphone obsessed dancer's constant steps. Amira is overwhelmed by her new neighborhood. She begins high school and struggles to find her way, much to the chagrin of three mean girls who taunt her every chance they get. As the mean girls ogle over the most popular boy in school, Ordell, he pays attention to Amira and is nice to her. Another girl, Asha, is also kind to Amira and offers her an invitation to a masked ball. The school scenes are full of fun, playful ballet moves.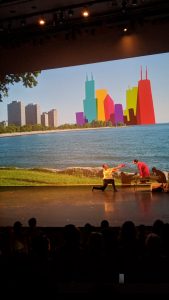 Amira goes home, full of exhilaration about the ball but sad that she has nothing to wear as she shows her sister the invitation. Amira heads to the Point, a landmark on the lake in Hyde Park, and in a pretty scene where she dances with fireflies and frogs, her clothes are magically lit up. When she gets to the ball- a lavish affair full of vibrant dresses, suits and smooth dancing chivalry- she ends up losing her scarf and the rest well, you know how the story goes!
More than 130 dancers age 7 and above compose a diverse cast that glides effortlessly on stage and through story, showcases the beauty of ballet. Scenes colorfully display the Chicago skyline, with bold bright buildings jutting out along a picturesque lake. As Ordell and friends search throughout the city for Amira after the ball, their quest depicts taking the CTA train through the bustling city and features Little India, Pilsen, Chinatown, Downtown and Hyde Park. The choreography is elegantly confident. The exquisitely pleasing way the dancers pirouette with ease is reason alone to go watch. Make sure to check out the last performance today at 2pm. Bring your families for a stunning visual treat, a classic ballet story capturing the power of love overcoming obstacles.
All photos provided by Yvonne Pulido.