Playwright Stephen Karam has brilliantly created your average American middle class family – that is, as average as can be expected in this day and age. It's no small wonder that THE HUMANS won four 2016 Tony Awards, including Best Play for author Karam, Best Featured Actress in a Play (Jayne Houdyshell), Best Featured Actor in a play (Reed Birney), Best Scenic Design of a Play (David Zinn), four Drama Desk Awards (Outstanding Play, Outstanding Lighting Design for a Play, Outstanding Sound Design for a Play, and a 2016 Special Drama Design Award for Outstanding Ensemble). In 2016, THE HUMANS was named the Best Play of the Year by the New York Drama Critics' Circle and the Drama League. A Pulitzer Prize finalist, Obie Awards were also forthcoming to author Karam (Playwriting), and an additional Obie Award for Best Performance by Jayne Houdyshell. THE HUMANS has certainly amassed a luminous stack of awards.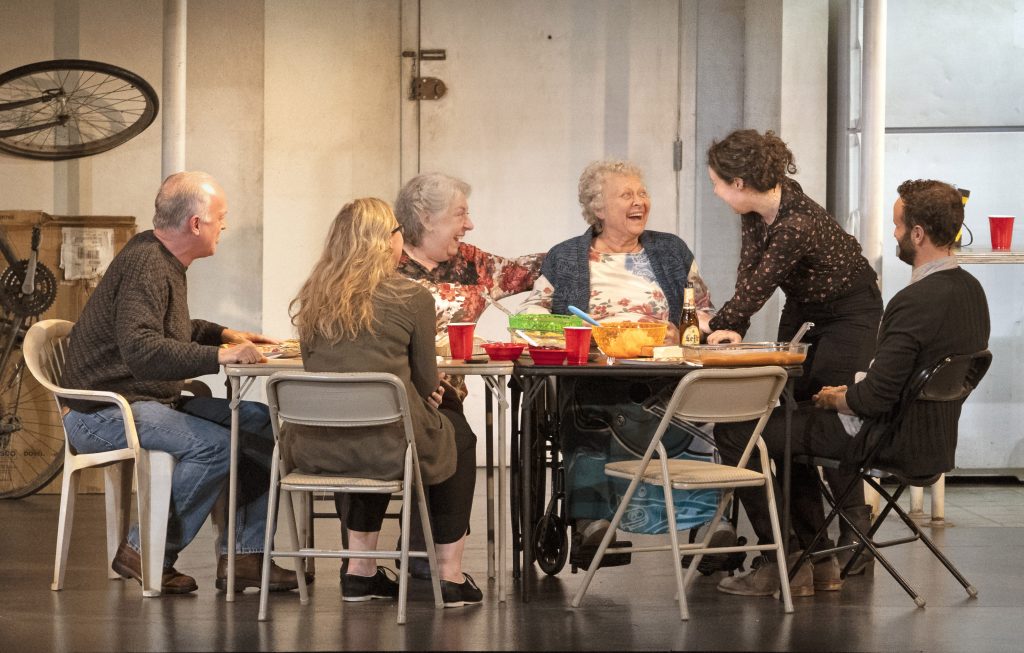 THE HUMANS is all about the Blakes and takes place over one day – Thanksgiving. The Blake patriarch Erik has brought his Pennsylvania family to celebrate the holiday at his daughter's apartment in lower Manhattan. This is the perfect time to celebrate Brigid Blake's (Sarah Steele) and boyfriend Richard Saad's (Nick Mills) new home. Even if it appears to be a ramshackle pre-war duplex with unreliable electricity, barred windows, and strange bumps in the dark, Brigid and Richard are proudly determined to make this a memorable day for Brigid's parents – Erik (Reed Birney) and Deirdre (Jayne Houdyshell) –  her grandmother Fiona "Momo" (Lauren Klein), and her sister Aimee (Cassie Beck). What could possibly go wrong?
Playwright Karam has painted a painfully – and hilariously – real snapshot of a modern family, one with all the trials and tribulations that probably plague many families – issues like a limited budget, questionable career decisions, job stresses, medical miseries, relationship disasters, and all the other concerns that typically build up unexpectedly – always interesting and never boring. Brigid can't seem to make a mark in her chosen field of music, while her attorney sister just got fired from her firm. Momo has rapidly deteriorated into a near-constant state of dementia requiring the continuous care of her son and daughter-in-law. Boyfriend Richard admits to having had some "bad years" suffering from depression, while the Blakes grudgingly admit only to "stoic sadness." Meanwhile, Mom Deirdre can't understand where marriage rests in Brigid's love life. And the glitches and snags keep escalating.
Bit by bit, layers fall away as the principals are exposed, both with side-splitting, poignant regularity and sometimes with tragic consequences. Director Joe Mantello has done an excellent job of weaving comedy into catastrophe and heartbreak in this true-to-life tale. The professional ensemble cast do splendid, spot-on portrayals of this troubled but also unwittingly funny family. Get ready to laugh, perhaps while wiping away a few tears, as you enter into the world of the Blakes.
The production team just happens to be the same crew that wowed New York audiences, including scenic design by David Zinn, lighting by Justin Townsend, and sound by Fitz Patton. Special kudos are in order for that fascinating two-story apartment hovering before the audience and connected by a spiral staircase. Lots of windows and doors to keep the action moving fast. This is an entertaining must-see production which will tickle your funny bone while nudging your humanity. These really are THE HUMANS.
SPLASH SELECTION
THE HUMANS runs through July 29, 2018, with performances at 8 p.m. on Tuesdays through Fridays, at 2 p.m. and 8 p.m. on Saturdays, and at 1 p.m. and 6:30 p.m. on Sundays. The Ahmanson Theatre is located in the Music Center, 135 N. Grand Avenue, Los Angeles, CA 90012. Tickets range from $30 to $130. For information and reservations, call 213-972-4400 or go online.