Walking down the unassuming staircase towards the Uptown Underground entrance, a cozy, lively theater welcomes you. The Kiss Kiss cabaret show lived up to PRIDE glory oozing retro burlesque sexuality. The vibe from the crowd was energizing as the performers regaled audience members with teasers and varied talents. Attentive bar staff served tasty booze during the break and after the show ended, adding another element to love about this charming space.
With creative tongue in cheek names like "Muffy Fish Basket" and ample theatrics, the stage was full of vibrant, titillating sauciness. Dressed in bright, over the top costumes galore, the visuals were entertainment in and of themselves. The host confidently pranced about, announcing each act while sprinkling in jokes and jesting with the audience, "There have been some drinks had."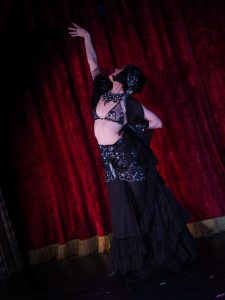 There were shout- outs to all sexual orientations with the crowd chiming in by whistling, whooping, and loud applause. There were beauty pageant queens, including Ms. Gay Illinois 2018, a looker and a charmer. A performer interacted with the audience by wrapping a boa around and performing a strip tease. Vivacious characters ranged from performing sexy, hot, sweaty dances to hula hoop extraordinaire tricks and cheeky, flirty, fun. The hula hoop act was both mesmerizing and astonishing as the sassy spit fire twirled and floated in the air, dangling from her neck. Her moves were gracefully athletic, as she did the splits, wrangled with 10 hula hoops and OWNED them, demonstrating her gymnastic ability and seemingly effortless upper body strength, a true acrobatic treat mastering endless optical illusions. Not to be shown up, Brad French's magic juggling and dancing act was a hoot and a feat! The performers utilized everything from poles to chairs as props to their eye-catching actions.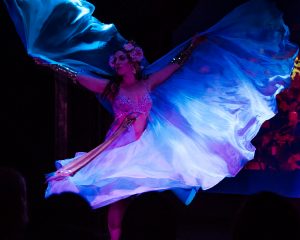 Guests were treated to live piano melodies by Foxy Bandit Brown with a mix of catchy tunes splashed in, motivating the audience with suggestive lyrics "Everybody dance now". How could you not? Not to mention what happened when a little funk was played and "Super Freak" came on. Even disco music made it to the hit playlist. People danced in their seats and moved together to the beat of the music especially when bass bumping "The Girl's Attractive" played.  Many of the spectators were traveling visitors, a group proudly exclaimed "We're from Montana". When "Dirt of your Shoulder" performers finished, the fans went wild for the flawless execution. The exciting songs added to the enjoyment of the show, creating an almost club-like atmosphere. The overall vibe mixed tones of sensuality, empowerment, love for all, and a never-ending quest for zeal. It was the perfect PRIDE mix at Kiss Kiss Cabaret.
Head on down to Uptown Underground and get ready for a night full of laughs, surprises and raunchy fun. Come get magic fairy dust sprinkled all around you as you gaze in awe and wonder over the spectacular performances.  You're guaranteed a powerful, riveting good time as Uptown Underground is "still here, still standing, still doing stuff" And they have all the right stuff!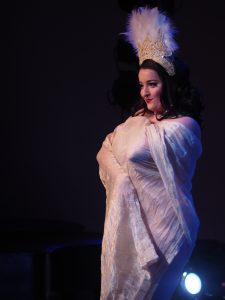 Photos: Courtesy of Uptown Underground
More about upcoming events at the Uptown Underground website