BET Awards week included the hottest new single release party "Dirty Little Secret" hosted by Kandi Lee ("Rise Up With Me") at the Windsor DTLA June 10th, 2018. If you've fell in love with "Pretty Little Liars" you will be fascinated by the lyrics of "Dirty Little Secrets". Rising stars who came out to support Kandi Lee included: R&B/ "Party in the Hills" Recording Artist SeanGast (@SeanGast) & Gospel Recording Artist/Actress Raquel Herring (@OfficialRaquelHerring)
"Dirty Little Secret" Album Producer: Jeffrey Weber has been a widely recognized music industry professional for over thirty-five years. He has produced over 185 CDs with releases on just about every major label as well as a host of independent labels. Along the way, his projects have yielded two Grammys, seven Grammy nominations, at least seventeen top ten albums, two number one albums and an assortment of other honors.
Ambiance provided by: The Art of Liquor Lights by Luminary Artist Vincent Sandoval III (@TheArtofLiquorLights @LiquorLights)
Kandi Lee Official Website: https://www.kandilee.com/
Kandi Lee Social: @RealKandiLee (IG/FB/TWITTER)
"Rise Up With Me" Tv Show launching Winter 2018
ABOUT KANDI LEE: Like a phoenix rising from the ashes, Kandi Lee is as fiery and fierce as a blade forged in fire. Born in Los Angeles, CA, her father noticed how spectacular his daughter's vocal range was at a young age. He desperately wanted her to share his love of Country music, but she was not touched by it. It was not until she heard another artist sing with the same passion and raw emotion, that she finally understood her father's hope for her. That voice – the voice of Patsy Cline, was a voice that resonated and set the tone for her future in music.
As a child, her radio streamed the sounds of powerhouse singers such as Aretha Franklin, Wynonna Judd, and Karen Carpenter. Kandi Lee poured all her energy towards one day recording an album of her own. She spent most of her childhood in Europe attending German schools and traveling with her talent across the globe, performing live on television and radio. At 18, Kandi Lee moved to "Music City" to take her music career more seriously. Nashville, TN, marked the ground for her footprint in the industry and the magic milestone of becoming a mom.
This new responsibility was a gift. Kandi Lee knew she only had one opportunity to become the mother her child deserved. She put her recording dreams on hold and rerouted her family of two, to Las Vegas, NV, to be closer to the family. In 2004, with a vast sense of duty and purpose, Kandi Lee had the vision to embark upon a new venture. She looked at her bank account and saw $1.11 to her name. She took the $1.11 and placed it in an envelope under her pillow. This reality initiated a paradigm shift once again in her purpose and vision. She refused to allow herself to be limited by her bank account or circumstances.
Kandi Lee went on to create the One-Eleven Network, where she became a personal and professional development coach. Through leadership, speaking, training and business strategy consulting, the One-Eleven Network empowers individuals and organizations with the tools and mindset to take both personal and professional results to the next level. Despite all the awards and recognition won over the years, Kandi Lee's greatest accomplishment has been reaching these goals as a single mompreneur.
Her path came full circle when she took her talents back to the stage when her voice caught the ear of widely recognized Grammy-winning Producer Jeffrey Weber. Kandi Lee had been actively auditioning throughout Los Angeles, but kept facing Producers in pursuit of the next "Disney Star." Weber though… heard her vocals and knew this was a voice as unique as the singer behind it. But, more importantly, he recognized the passion, commitment, and dedication to her craft that Kandi Lee exhibited. Together with an enviable assemblage of mind-boggling all-star musicians and vocalists, they have recorded her life story and created an album, "Dirty Little Secret." Kandi Lee's vocals took on a unique style reminiscent of her favorite heroines.
Kandi Lee released the "Dirty Little Secret" single on Sexual Assault Awareness Day 2018, reinforcing a message near and dear to Kandi Lee's now public journey. Written over the course of two years, the album stands as an anthem for social justice. Each track plays an emotional part of her history, addressing inequality and misogynistic imprudence that was once acceptable in our society.
In addition to launching No More Entertainment Records with Weber, the duo is now in the thick of producing "Rise Up With Me," a transformational music-based talent competition. Never before has a music competition program woven true music mentorship with personal development into its show format, providing compassion and support to fuel emotions that generate a legitimate transformation in contestants. Rather than being a typical reality show chock-full of drama, "Rise Up With Me" will be a movement that provokes universal change and possibility.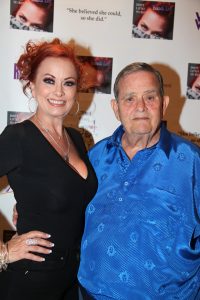 A self-proclaimed "HAVE TO" Artist, Kandi Lee represents the like-minded inspiration and empowerment behind Hollywood's #TimesUp, #MeToo, #NoMore, and #WhyWeWearBlack movement. She knows it's never late to the join the party and also knows the best way to deliver her message is through music.
Possibly the oldest beer company in the world, Bavarian brand — ABK 1308 has been brewing strong for 700 years and counting. Dominating the worldwide beer competitions since the late 1800's, they've won dozens of awards and Gold medals… including those palates of Dirty Little Secret guests. Medium-bodied HELL lager and light-bodied Shandy/Radler Rose were crowd favorites. http://www.abkbeer.com/ @ABK1308
Twice distilled, Bandero uses the finest Blue Weber Agave cultivated from the hills of the Los Altos Highlands. Jalisco, Mexico is known worldwide as the only location for authentic Tequilas. The margaritas were the perfect splash of peppery meets pear + peach. http://banderotequila.com/ @Rokdrinks
Other sponsors included: Aquahydrate Water (@AQUAhydrate), Pocket Palette (@PocketPalette), Brode Electrolyte Vitamins (@Brode_Ev), iCloth Cleaning Products (@iClothProducts), Walk By Faith Socks (@PeacefulPrayeSheets), Old Style Fudge (@OldStyleFudge)/ Photos courtesy Gisele/Partyby5