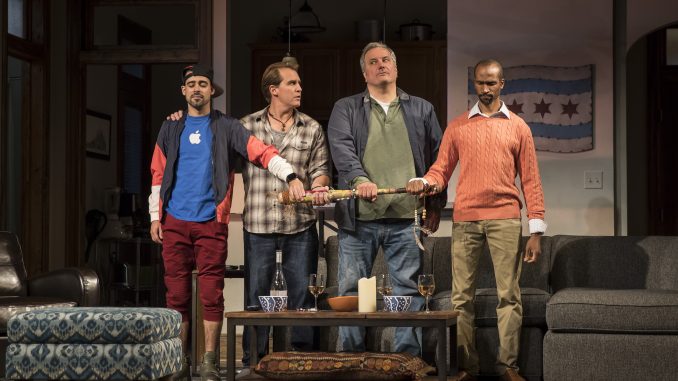 In a world where #MeToo and the feminist movement as a whole are making strides toward greater equality for women, men are left asking what their place is in this new, more equitable society.
Most of the time, I don't give a sh*t.
Fair treatment of women is far more important to me than the comfort of men, and male navel-gazing about what men's identities will become in a world where they aren't universally powerful and privileged is extraordinarily boring. However, that's not what Support Group for Men, written by Ellen Fairey and directed by Kimberly Senior, is about. Instead, this female writer/director team takes a warmer lens in its examination of masculine identities, opening up a space in which men are allowed to explore their softer, more emotional sides without shame.
The titular support group meets on Thursday nights, where its four members, spanning a range of ages, races, and life experiences, meet to talk about how they feel, using a decorated baseball bat as semi-sacred "talking stick." Whoever has the stick can speak, and everyone else must listen. Initially, the conversations serve as an exploration of diverse life experiences and changing masculinity; in particular, the oldest character, Roger, has difficulty understanding the youngest, Kevin, who considers his sexuality fluid and is unbothered by nonbinary gender identities, which baffle Roger. But when Alex, a young man in a dress and wig, crashes their gathering unexpectedly, they're forced to examine their beliefs and the nature of their relationships with one another in an entirely new way.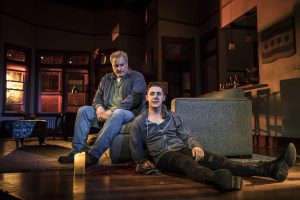 This is a show with sincerity and heart. Although the individual relationships within the support group range from lifelong friends to virtual strangers, all of the connections between them are genuine, and each is reaching out for support and a sense of community. There is great humor in the story as well, some of it clever and some of it cheap, but it nevertheless provides an excellent comedic catharsis. The ensemble cast doesn't have a weak link in the mix, and Tommy Rivera-Vega's energetic, adorable performance as Kevin and Jeff Louis Kurysz's wry, multifaceted Alex are particularly enjoyable.
The most troubling aspect of this group is the semi-racist nature of the gatherings; the men adopt "Native American" names and use a series of pseudo-tribal gestures and grunts as part of their ritual. While Alex does call this out slightly, he mostly seems unbothered, as do the other characters. I don't think it's particularly radical to speculate that it's possible for men to share their feelings without misappropriating Native culture. In an environment in which men are supposed to be questioning traditional power hierarchies, and indeed, one character even confesses to another that he's sick of feeling like the "black friend," it feel incongruent to let this racial insensitivity stand.
As a whole, though, Support Group for Men is a success. It's a well-developed story with nuanced, sympathetic characters that will make even a cynical feminist like me give a sh*t about male identity, and that's no mean accomplishment.
Ticket Information
Location: The Goodman's Albert Theatre, 170 N. Dearborn
Dates: June 23 – July 29, 2018
Tickets: $25 – $80; subject to change. Available now at the Goodman Theatre website, by phone at 312.443.3800 or at the box office (170 N. Dearborn).
All photos by Liz Lauren.