A prolific author who kept on writing until the eighth decade of life, Enid Bagnold penned THE CHALK GARDEN at the age of 66. This warm, classically British "stiff upper lip" comedy premiered in 1955 on Broadway, was nominated for several Tony awards, and won the Award of Merit Medal and the Academy of Arts and Letters Award. Perhaps best known for her 1935 novel, 'National Velvet," Bagnold had a talent for bringing life in England to audiences all over the world. In 1964, THE CHALK GARDEN was made into a film, with Edith Evans nominated for Best Actress in a Supporting Role in 1965.
Mrs. St. Maugham (Ellen Geer) lives on her upper-crust country estate in a small village in England. She happens to be an avid gardener who wants to bring life into the world – but unfortunately the British soil in Sussex is potassium and lime, not very conducive to a thriving garden. Not one to give up easily, Mrs. St. Maugham is also trying to bring up her teenaged granddaughter Laurel (Carmen Flood), a somewhat disturbed child who enjoys setting fires. When Ms. Madrigal (Melora Marshall) enters the home in response to an ad for a governess – and just happens to be an expert gardener – Mrs. St. Maugham is delighted. But then disaster looms. Laurel's absent mother Olivia (Willow Geer), who left Laurel with her grandmother years before, has decided to visit and hopes to take Laurel to live with her and her new husband in far-off lands.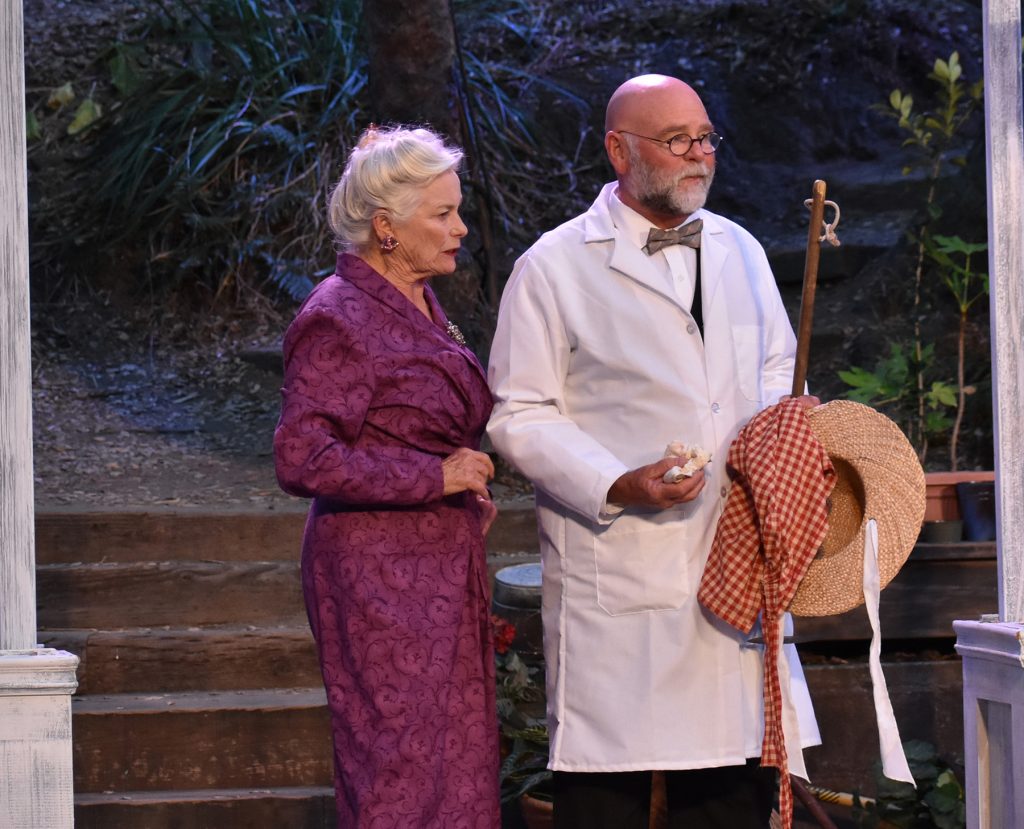 Things may well be coming to a head under the watchful eye of Maitland (Michael Nehring), the valet/butler/chief bottle washer – and ex-con – when old friend and Judge (William Dennis Hunt) comes for dinner. Under the adroit guidance of Director Susan Angelo, the ensemble cast brings these unpredictable, sometimes lovable, never boring characters to life. But secrets abound in this windy seaside community. In 1955, the play was hailed as "whimsical as Sir James Barrie, as poetic as Giraudoux, sometimes as zany as the Marx Brothers, yet with all the elements of a detective story."
The Theatricum Botanicum mountainside is perfect for Mrs. St. Maugham's country estate. Real-life vegetation strikes the right note and draws in the audience. THE CHALK GARDEN is funny, brittle, tongue-in-cheek, sometimes touching, and always involving. It is also very British as it weaves its tale and uncovers its surprises. The cast and production team deserve cheers for bringing today's audience a slice of English country life.
THE CHALK GARDEN runs through September 30, 2018, with performances at 8 p.m. on Saturday 6/30, Saturday 7/7, Saturday 7/21, Sunday 7/29, Sunday 8/5, Friday 8/10, Saturday 8/18, Sunday 8/26, Saturday 9/1, Sunday 9/16, and Sunday 9/23. Performances are at 4 p.m. on Saturday 9/8 and Sunday 9/30. Will Geer's Theatricum Botanicum is located at 1419 N. Topanga Canyon Blvd., Topanga, CA 90290. Tickets range from $25 to $38.50. For information and reservations, call 310-455-3723 or go online.