For the sixth time, visitors who attended the Go Green Wilmette Sustainable Yard Tour had the opportunity to be awed and inspired. This year the weather was sunny and quite warm but the gardens looked wonderful. The garden hosts shared the results of the hard work and I was awed by garden that varied in size, and approaches, but each was a joy to experience. This tour was the brainchild of Saima Abbasi, a Go Green Wilmette Board member. In the six years that  Abbasi has organized these tours, word has spread and it has become a popular event for both locals and garden enthusiasts from other communities. "256 visitors -We are excited about our turnout", said Abbasi. Go Green Winnetka, inspired by past tours, is presenting their first ever Sustainable Garden Tour Sunday, July 22nd. If you missed Wilmette, and/ or want to see more, check out Winnetka at Go Green Winnetka Yards That Work Tour And you won't want to miss "The Astonishing Wisdom of Wildflowers" presentation at the Wilmette Library on July 29 at 2:00 pm wilmette library website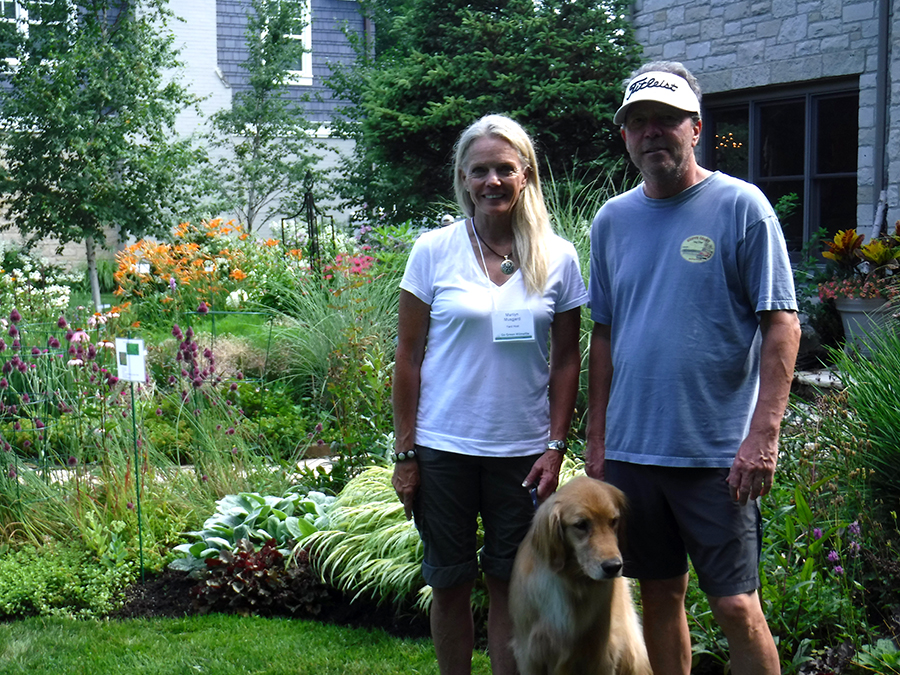 I began my tour at Marilyn and John's Garden. This was the largest and most elaborate of the gardens but was at once, welcoming and relaxing. The garden dates to 1994 when large trees covered most of the property. As they died off the landscape changed. Native plants near the street welcome butterflies. In the back, there is a Koi pond and waterfall, an amazing sculptor, an organic vegetable garden that is layered with organic topdressing every year and its location is rotated each year for better yield and healthy vegetables. A greenhouse that Marilyn built was added a few years ago. Marilyn says there is a new philosophy that focuses on feeding the soil, not the plants, because nutrient rich soil is the foundation for a healthy garden and plants. Marilyn's skills as a landscape architect are in evidence. To contact Marilyn's Dreamscapes go to marilyn musgjerd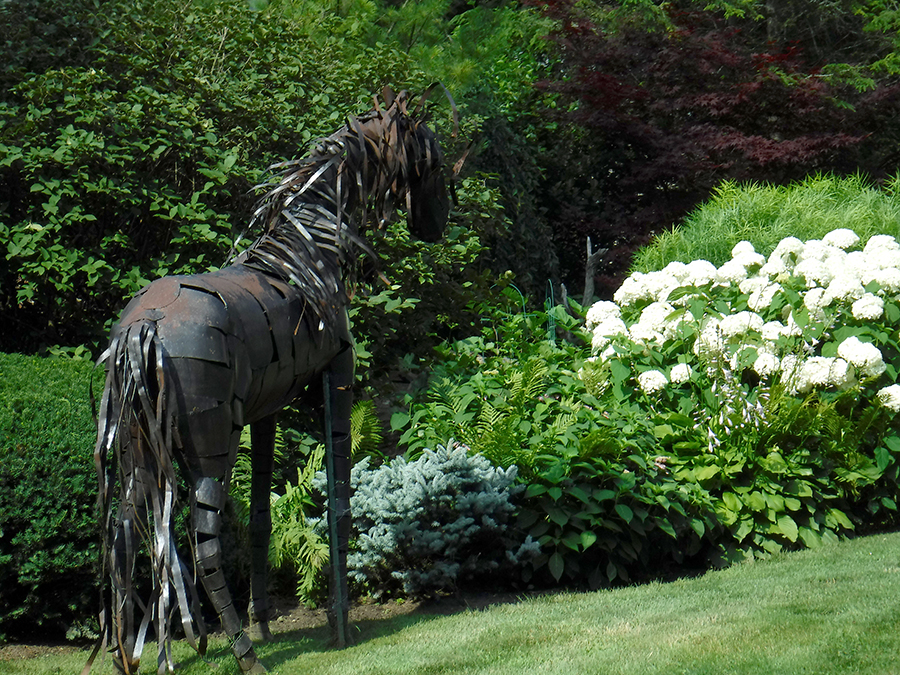 George and Bernie's Garden was my next stop. This garden was cozy and active. George is a photographer and his bird photos enhance the garden and a book of his bird photos document birds that have visited the garden. It was a treat to see the birds in action., especially the hummingbird. George also has a website with thousands of amazing photos.
Water seemed an important theme here, as well as birds.  Too much water was dealt with by a rain garden, which is one year old but looks as though it has always been there. Too little water? As floral plantings became more elaborate, the need for daily watering became burdensome and a drip irrigation system was installed and is wildly successful. Bird Baths with fresh water several times daily (provided by a drip irrigation system) are popular with many species. There is also a special area set aside for experimenting with wild flowers.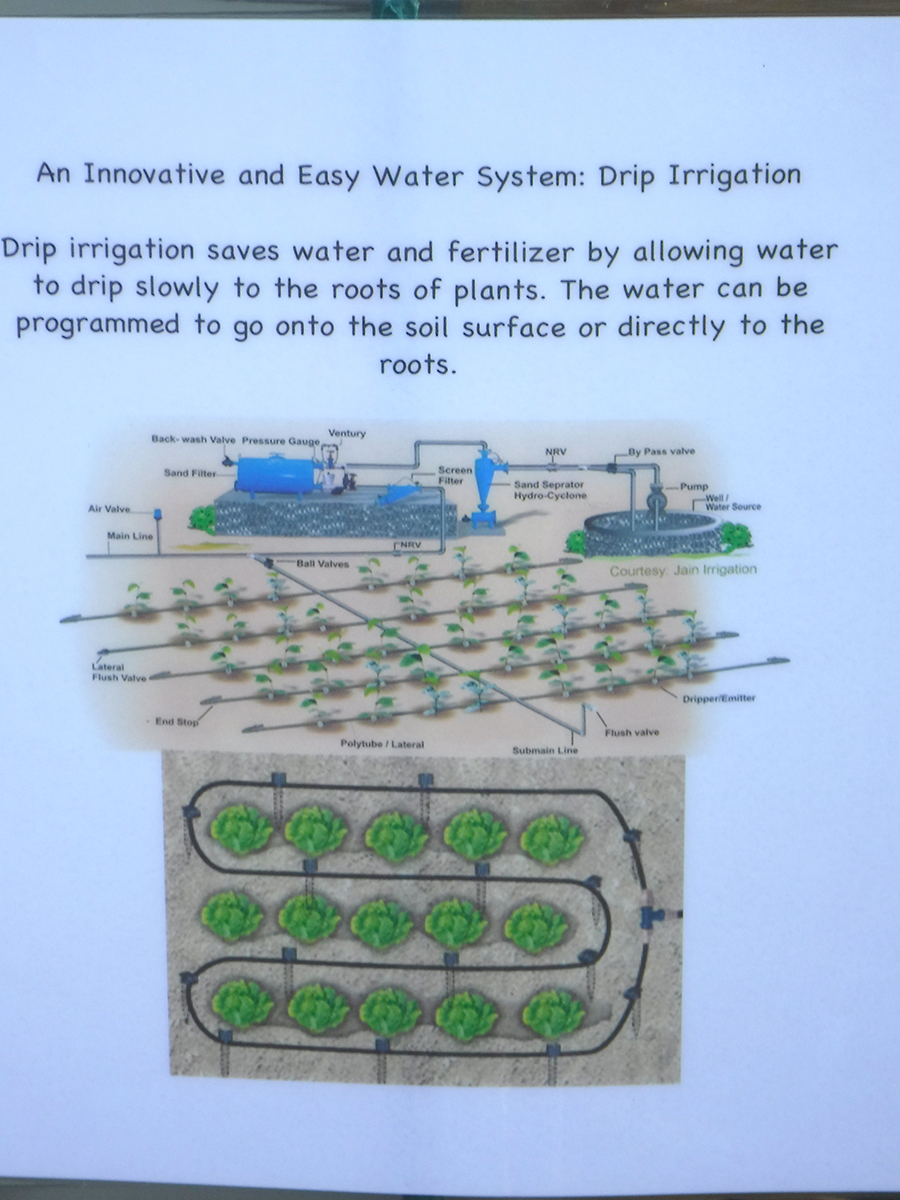 Two very different gardens across the street from one another were my next stop.
Sherri and Adrien's Garden is atypical is the way it uses space. Wanting to design their own garden they took courses at the Chicago Botanic Garden and as a result, developed creative ideas to reconfigure space. They removed a long driveway and built a short driveway in another direction. They used the space for grass and a variety of native plants and perennials. There is a cozy spot to relax, grill and watch as birds come to birdbaths and feeders. A small herb garden is conveniently located near the grill. It is cozy and inviting.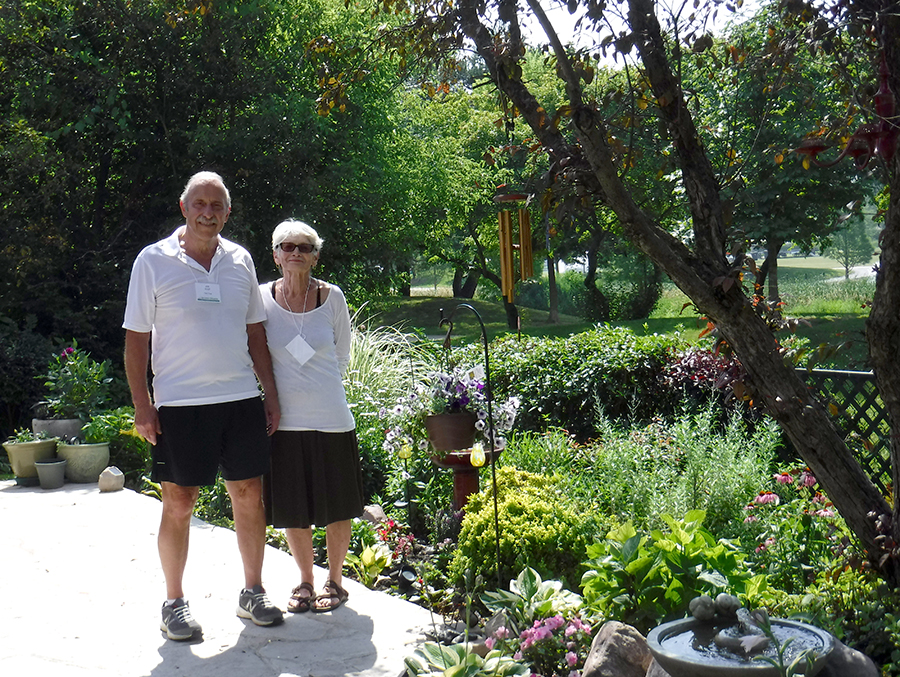 Just across the street Carol and Joe's Garden is a surprise as it opens onto the park just beyond their garden. They benefit from looking onto a pond with a fountain. The garden is charming and relaxing. The herb and vegetable garden was doing well. Carol is experimenting with a unique approach to composting. She has three containers filled with compost and they are covered and have pots filled with flowers on top. When the compost material is ready she adds it to the garden and so far, it is working. Birdbaths, bird feeders and berry trees attract birds, while the milkweed attracts butterflies. The space is well designed for outdoor entertaining. The garden was welcoming and relaxing.
I loved Liza and Tim's Garden. Liza told me that by using seeds and plants that she rescued from the gardens of friends and neighbor, her garden costs are minimal. Special features in this garden included a map of the garden that Liza made from the packages of the seeds she planted and a vegetable garden designed to capture the sun by calculating the angle of the sun and the height of the vegetables. Other features include compost bins, a container garden of herbs and gorgeous flowers.
Joab and Tina's Garden is everywhere and there is no grass. The parkway has native plants, and the front of the house has lilies and other perennials. Huge evergreens surround the house and a huge oak tree that is 150 years old graces the front. But it is the back that is jaw dropping. A huge and beautiful Koi pond cover the entire area with that circulates. A waterfall, small stream and pond fill the space and it even has a traditional bridge. The waterfall and stream are active 365 days a year and fish live under the ice in the winter. Recently, the great blue heron have grabbed baby Koi though it was OK for many years. Older Koi survive. The sound of the running water is wonderful.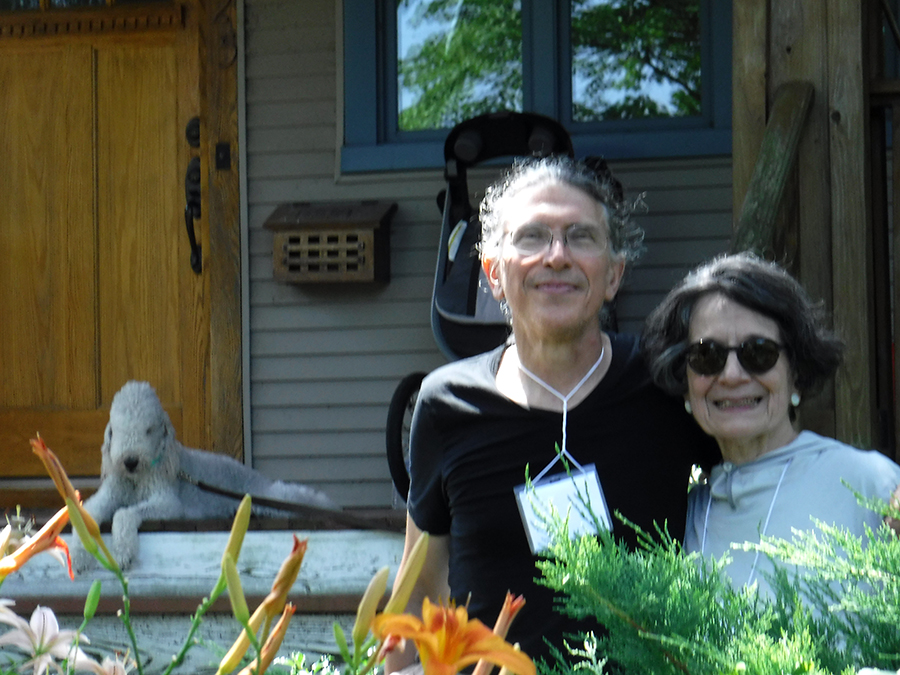 The Bird Habitat at Gillson Park was recently planted and is envisioned, as a place where migrating birds will visit, enriching a visitor's experience.
I had the opportunity of interviewing Saima Abbasi as follows:
B.K. This event has become a major activity in the Go Green Wilmette calendar and draws local residents and visitors from other communities.  When you launched this event, did you have any models? What inspired the first event?
 S.A. It all started after visiting a garden that left a lasting impression on me. I wondered that if I can be inspired to start my own vegetable garden, build compost bins and create a native plant garden after visiting a friend's garden in Wilmette then surely there are other people that can benefit from visiting gardens in their community as well.
It has become a great platform to start meaningful conversations about sustainable gardening. We are able to raise awareness about the critical role our suburban yards can play in helping the environment. According to one article, suburban yards use more pesticides per acre than agricultural lands do. Urban and suburban yards make one third of the urban landscape- that is a lot of land. There a small things people can do like adding a few native plants each season, or increasing the size of the flower beds and reducing the lawn. Native plants have many benefits like they consume very little water once established. If we plant native trees and plants then our backyards can serve as important corridors for migratory birds. Why are birds important? Because birds are the ultimate indicators of our environmental quality as the presence of birds indicate healthy ecosystems. Not only do they keep other insects and animals in the food chain in check but they also play an important role in pollination.
The Sustainable yard tour provides an opportunity for people to learn ways to incorporate sustainable features in their gardens. We have kept the event free and open to the community. It is a great way for people to learn about the sustainable choices that they make in their own backyards can add value to the delicate ecosystem.
B.K. Organizing this event is a very time consuming task. How do you measure the impact of this event?  Is there any way to know if visitors are motivated to make changes in their approaches to gardening?
S.A. The event has been steadily growing in popularity. We had close to 300 people that attended our event last year. There is no concrete way to measure if we are changing behaviors however, people have shared with us that it was a visit to the Sustainable yard tour that inspired them to start a vegetable garden, solve the flooding problems in their backyard or selecting native plants for their yards. Another visitor to the yard tour shared with us that it was after attending the yard tour that they started composting in their own backyard.
I value the meaningful conversations taking place around the topic of sustainable gardening practices through this event.
B.K. You have a new name this year. Is there anything different about the yard guidelines?
S.A. We wanted to change the name to better reflect what the yard tour is really about. The new name catches the essence of the tour. This garden tour is not only about beautiful gardens, it is so much more than that. We strive to select gardens that have examples of environmentally friendly practices. We hope that more people will be drawn to the event with this new name. We hope that people understand that sustainable gardening helps enhance our natural resources like water, air and soil. Small baby steps lead to big changes.
 B.K. What aspect of this event is especially pleasing to you?
S.A I really appreciate the yard hosts opening their private gardens to the community. I love that our community gets a chance to meet all these knowledgeable gardeners who are enthusiastic about sharing their knowledge and practices about sustainable gardening. These are passionate people and their enthusiasm is contagious. It really makes a big difference to visit a garden in your own neighborhood and see for yourself that the native plants are quite beautiful and functional as well. They attract butterflies and songbirds. Visitors leave inspired and ready to make environmentally friendly additions in their own yards.
B.K. What kind of feedback have you received in response to the tours in the past?
S.A. People really enjoy the tour. Every year we get more people that attend the tour. They like that it's a community-building event and people enjoy visiting different gardens on the tour and meeting local gardeners. They like that it is a free event and open to the community. People appreciate that they get a chance to meet gardeners and ask them questions about their gardens.
More information about Go Green Wilmette activities
Photos: B. Keer