Manual Cinema is currently presenting a three-week summer run of The End of TV,
through August 5th at the Chopin Theater, 1543 W. Division, in Chicago's Wicker Park neighborhood. A critical and box office hit when it debuted last summer at The International Festival of Arts and Ideas in New Haven, CT, Manual Cinema's summer run at Chopin marks the Chicago premiere of The End of TV.
The End of TV is an "art popsong cycle" set to an original soundtrack with live music and visuals. The music is excellent, with multi-channel sound design, blues rock infused with a classical edge, the musicians very talented- they sing while playing! There are intriguing shadow puppets, cunningly masked/painted and wigged performers, numerous props, multiple screens, live feed cameras, 3 old-fashioned overhead projectors, and a host of performers working it all. Two manic characters on a side-screen portray television shills huckstering goods and meditative/religious salvation amid the cacophony of ads.
In a quasi-linear fashion, in a fluctuating 1970's time frame, in "post-industrial Rust Belt America", we are taken into a developing relationship between 2 women, told amidst the exhortations of The Shopping Network and with the strong-arm aid of The Jolly Green Giant.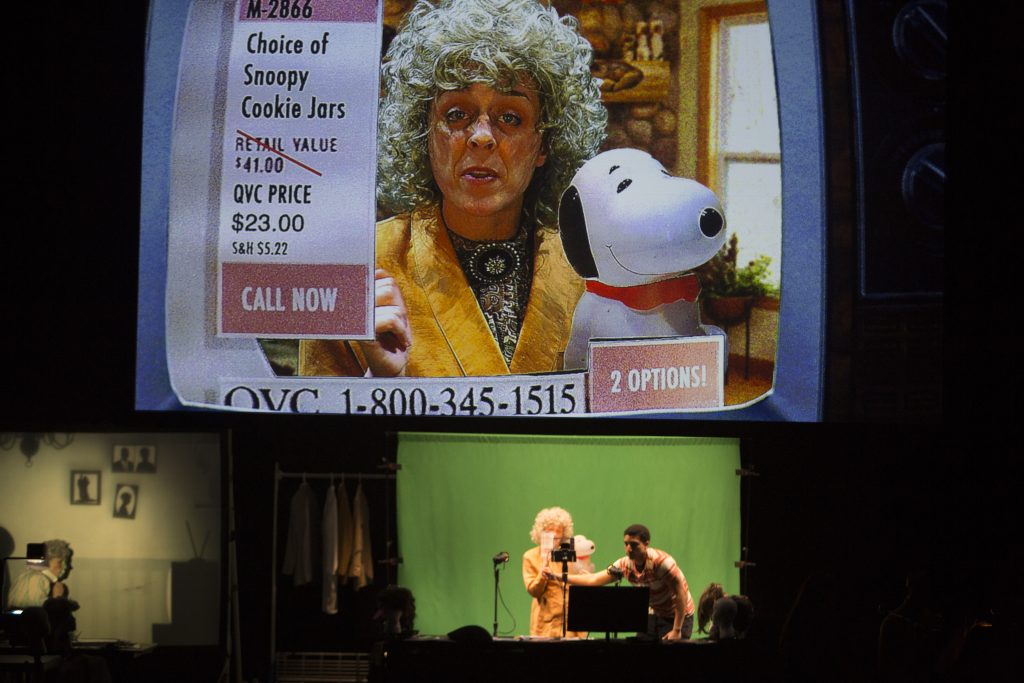 The ensemble sings, acts, and projects the story. An older woman who has lost her daughter and whose home is becoming tumbledown and filled with her obsessive QVC purchases is befriended by a younger woman who has lost her job at a factory and is delivering for "Meals on Wheels". Their interaction bridges the paucity of their own lives and ends up freeing them both.
While the staging appears a little crowded, and the story could use a little clipping and tightening, the performance is nonetheless intensely immediate, stirring, humorous, and engaging. It is more, much more, than the sum of its parts. This is a unique multidisciplinary artistic experience. It provides a background of now antique crass advertising noise with a foreground of raw pathos and emotional veracity- actually a spiritually uplifting surround-sound experience with stunning music.
Featuring Kara Davidson, Aneisa Hicks, Jeffrey Paschal and Vanessa Valliere as cast/puppeteers.
Compliments to the band: Shalynn Brown, drums; Maren Celest, vocals, live sound mixing and FX; Deidre Huckaby, vocals, flute; Ben Kauffman, vocals, guitar, keyboard; Lia Kohl, cello, vocals; Kyle Vegter,bass; and Marques Toliver, violin, vocals whose voice alone was worth the price of admission.
Credits: Screenplay by Kyle Vegter and Ben Kauffman; direction and storyboards by Julia Miller; adapted for the screen by Lizi Breit, Drew Dir, Sarah Fornace,Julia Miller, Ben Kauffman and Kyle Vegter; music by Ben Kauffman and Kyle Vegter; sound design by Kyle Vegter; puppet design by Lizi Breit; associate puppet designer and storyboard artist Drew Dir; assistant director Sarah Fornace; costumes by Mieka van der Ploeg; lighting design by Claire Chrzan; lighting associate Shelbi Arndt; and masks by Julia Miller.
Kudos to puppet build interns Zofia Lu Ya Zhangand Kathryn Ann Shivak.
 For information and tickets, go to www.manuelcinema.com
Unless otherwise noted, all photos by Judy Sirota Rosenthal