Midsommer Flight, engaged in their seventh summer of free Shakespeare performances as an Arts Partner in Chicago Park District parks are currently presenting THE TWO GENTLEMEN OF VERONA, ably directed by Producing Artistic Director Beth Wolf over two weekends each in four different Chicago parks.
The cast stars David Goodloe as the daunting Valentine, Chad Bay as the vacillating lovesick Proteus, LaKecia Harris as the determined Julia, Amy Malcom as the thrice-beloved Silvia, James Sparling as the hapless Antonio, Richard Eisloeffel as clever Speed, and Stephanie Mattos as the loyal Launce.
Featuring Robin Minkens as Host/Outlaw; Jack Morsovillo as Thurio; Shanna Sweeney as Lucetta/Outlaw; and Nick Villalon as Pantino/Outlaw, talented actors and well-adapted linguists all.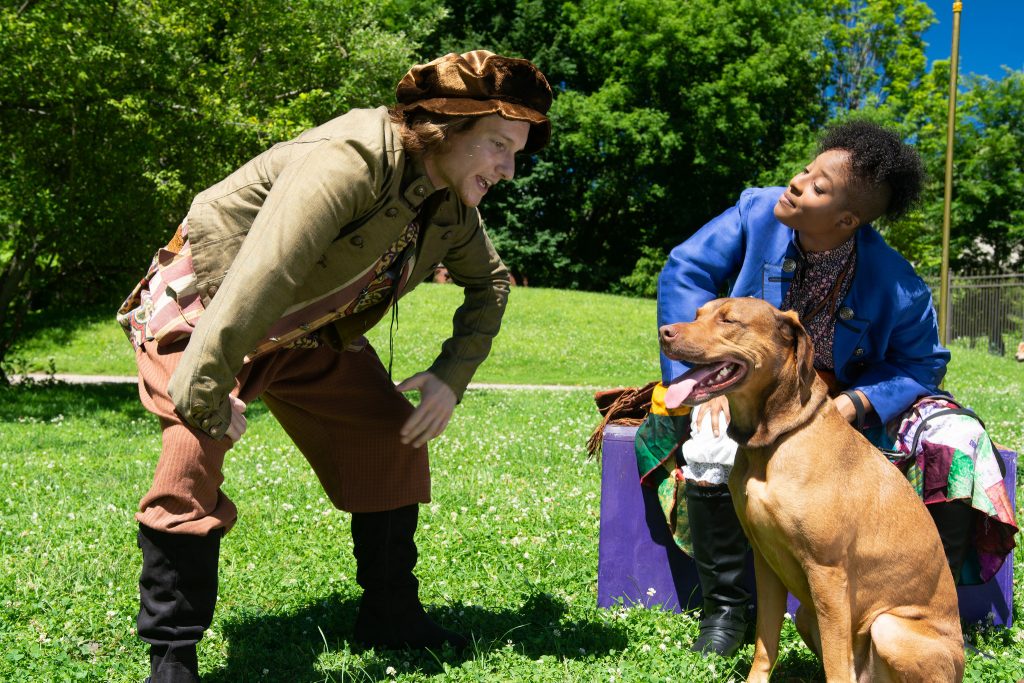 Also appearing: a fetching mutt from a local dog shelter, who almost stole the show. Midsommer Flight is partnering this summer with The Masonic Association of Service and Therapy Dogs and New Leash on Life. Go to www.mastdogprogram.org and ww***********@nl*********.org/">ww***********@nl*********.orgfor information, to donate, to volunteer, to adopt.
The production team includes Jeremiah Barr, scenic design, who made much of a few props in a local green park; Rachel Sypniewski, costume design, who dressed the performers colorfully and characteristically; Chris Smith and Maureen Yasko, fight and intimacy directors, who made the action look effortless; Elizabeth Rentfro,composer/music designer for the timeless original music that yet took the mind back hundreds of years; Annelise Dickinson, vocal coach, who enabled The Bard's difficult language to trip off the tongue and be believable to the ear.
The Plot:
The two gentlemen, Proteus and Valentine, are taking leave of one another as the play opens. Valentine goes to Milan, where he falls in love with Silvia, daughter of the Duke. Proteus, continually seeking romantic love, at first lingers in Shakespeare's ubiquitous Verona, pledging to be to faithful to his sweetheart, Julia. Many letters are exchanged between the various lovers.
The farce begins when Proteus travels to Milan, where he also falls in love with Silvia. He betrays Valentine by denouncing him to the Duke and Valentine is banished to the forest, where he joins up with a band of thieves, all likewise banished.
Proteus pursues Silvia more and more fervently, even to the point of threatening to "take her" with violence. At this juncture, Julia, tipped off to the gist of these developments, arrives in Milan disguised as a page. Joining the clueless Proteus, they both "rescue" Silvia from the band of thieves to whom she had fled.
When Proteus is about to attack Silvia, Valentine gallantly intervenes to save her from violence, yet is so moved by his  friend Proteus' anguish that he is even willing to "give up" Silvia to Proteus! Julia swoons and her true identity is revealed.
Finally, Proteus recognizes Julia as his true love, and the Duke arrives on stage to offer his daughter's hand to Valentine.
This particular "comedy", which some scholars believe to be Shakespeare's first play, can be seen to include many elements explored and more fully developed in many of Shakespeare's later plays. These devices include women disguised as men, servants mocking their "masters" while accomplishing/manipulating their romantic ends; themes include friendship vs. love vs. infidelity. The beautifully phrased language consists largely of a lot of what today appears declamatory tomfoolery about heterosexual "love", while the action displays true intimacy only for male "bonded" characters.
More disturbingly, the plot is rife with masculine presumptions and behavior that are today being addressed by the "Me Too" movement, as noted with an apologia in the program. However, nobody wishes to rewrite the immortal Shakespeare; rather, it is the mission of Midsommer Flight to make it accessible to all, and this they have done with their fine command of diction, physical artistry, intriguing music and authentic costumes. A better bargain in live theater in natural surroundings cannot be found this summer.
Remaining Performance Schedule:
Lincoln Park
2045 N. Lincoln Park West, 60614
August 25-26
Touhy Park
7348 N. Paulina, 60626
August 18-19
Chicago Women's Park and Garden **NEW IN 2018!**
1801 S. Indiana Avenue, 60614
August 4, 5, 11, 12
All photos by Tom McGrath Photography