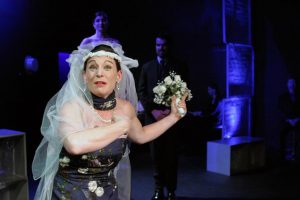 Stephen Sondheim is arguably one of, if not, the most prolific song writers in musical theatre. Don't think so? Just check out this list: Sondheim Guide. Now the musical tribute to the great writer of music is on stage at the Odyssey Theatre in West Los Angeles. '"Side by Side" is directed by Dan Fishbach, a true Trojan with musical direction by Richard Berent and starring a long time and esteemed star of Los Angeles stage Chris Kerrigan along with Sarah Busic and Rachel McLaughlan all with abundant vocal and acting talent. The performance is narrated by Mark D. Kaufmann , whose grace and wit tie it all together in a very pleasing manner.
You will enjoy renditions of "Company Follies, A Little Night Music, A Funny Thing Happened on the way to the Forum and Anyone Can Whistle." And then there are other songs Stephen Sondheim wrote with such musical theatre giants as Leonard Bernstein, Mary Rodgers, Richard Rodgers and Jule Styne including "West Side Story, Gypsy and Do I hear a Waltz." What you won't get is the flash and splash of your typical Broadway musical. There are no flashing lights, no full orchestra, no abundance of back up dancers just good solid memorable music presented well in a modest setting by superb talent. From a guy who has watched literally thousands of shows on Broadway, in London's West End and locally in Los Angeles at the marvelous Pantages this is not one of those shows but it is very smooth, relaxing and enjoyable.
I do however offer one word of caution. "Side by Side" has great appeal to all those who enjoy the music of classic musical theatre but if you happen to be someone who does not particularly like that musical form you probably would not enjoy this show. Other than that I recommend you go forth and be fully entertained.
"Side by Side" Is playing now through September 16th, 2018 at the Odyssey Theatre, 2055 S. Sepulveda Boulevard, Los Angeles, California 90025. Reservations and ticketing is available by calling 310-477-2055 Extension 2 or online at: OdysseyTheatre website.
Photo credit:  Enci Box