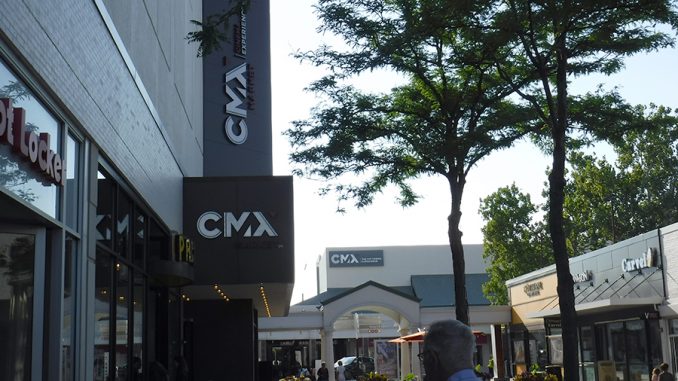 The opportunity to explore the two new CMX Cinemas in Old Orchard was too good to turn down. On a lovely summer evening my husband and I joined a group of journalist to view two state-of-the-art cinemas that offered a bit of everything. We enjoyed the chance to learn about the creative approaches to dining and movie viewing.
Bring these concepts to Skokie before other places in the Chicagoland area was unusual and attention getting. "CMX, a wholly owned subsidiary of Cinemex and the eight largest movie theater chain in the United States, opened its doors in April 2017 at Brickell City Centre, Miami, FL, offering new features to give guests an innovative and VIP movie – going experience. CMX provides state – of- the art technology that can be enjoyed in – seat or at the theatre's trendy and exclusive sports – lounge bar, making CMX the one-stop – shop for entertainment. CMX has 30 sites, 342 screens and 2,030 employees, in venues located in Florida, Illinois, Minnesota, Georgia, Alabama, North Carolina, Ohio, Virginia, Maryland and Colorado."
Entering the newest theater, we found a huge space that offers choices beyond those usually found in cinemas. CMX has an on – site mixologist crafting artisanal cocktails on a nightly basis. Sample cocktails include: the "Bucking Mule" with Russian Standard vodka and Fernet Branca and the "Shaken Carajillo," and the ultimate coffee- lover's temptation with a blend of Licor 43 and a fresh brewed espresso, shaken and served over crushed ice.
"With two entirely new luxury movie-going concepts for the Chicago market, CMX Cinemas is taking the theater experience to an entirely new level. At the CMX Market, guests of all ages are welcomed to enjoy their choice of elevated favorites with a lineup of gourmet food stations, custom cocktails and more, all while enjoying the best films of the season," said Jose Leonardo Marti, CEO of CMX Cinemas. "The Cinebistro location is a fresh take on the luxury dine-in theater experience, with a wholly updated menu and the newest audio-visual technology. These new locations are just the beginning –we're expanding our footprint in the Chicago area and on a national scale."
"This dual opening will redefine the movie-going experience in Skokie, offering guests two different high-end experiences in one mall," said Frank Stryjewski, COO of CMX Cinemas. "These new openings are part of the ambitious expansion plan that CMX Cinemas has for all of the United States –starting in Illinois, where there will be two other new openings in the near future."
After exploring the CMX Market, listening to the chef describe preparing pizza dough from scratch and seeing the other real food offerings and the bar, our group headed to the Dine – In Cinema for a unique experience in dining and cinema. The meals that we ordered ahead were served to us in our luxurious seats. We were instructed that arrival half and hour BEFORE the show begins is very important to getting the most from the dining experience. My husband and I were very impressed with the comfort of the seats, the delivery of food to our seats, the quality of the food, and the world's finest audiovisual technology in every viewing room.
We were delighted with our movie choice, "Mamma Mia: Here We Go Again". This was a very charming movie that was fun and though it could have gone wrong in so many places, it was "just right". Viewing it with the visual clarity and surround sound that allowed us to hear every word, enhanced the cinema experience. We had a lovely experience, which we would like to recommend. This is the perfect solution to "do we have dinner before or after the movie?"
Show Times and tickets: CMX Chicago Old Orchard website
Admission for guests over the age of 21 at CMX Cinebistro will be $16 on weekend evenings, $13 on weekday evenings, $12 for matinee showings on weekends and $10 for matinee showings on weekdays. Seniors and military guests receive admission for $12 every day of the week at CMX Cinebistro. At CMX Market, admission for adult guests is $13.50 on weekend evenings, $12 on weekday evenings, $10.50 for matinee showings on weekends and $8.50 for matinee showings on weekdays. Students and military guests receive admissionfor $10.50 on weekends and $9.50 on weekdays, and children's and seniors' tickets are $9.50 every day of the week. LOOK AT THIS: Both locations offer special admission prices on Tuesdays, with Tempting Tuesdays at CMX Cinebistro for $10 and Terrific Tuesdays at CMX Market for $5 admission all day.
Photo credit: Courtesy of CMX Cinemas unless otherwise noted.