Fifteen of the latest and most innovative healthy, organic, non-GMO, vegan, non-toxic and natural beauty brands products were on display at the Healthy Brand Showcase Los Angeles in West Hollywood.
CBD For Life was showcasing their lengthy lineup of cannabidiol (CBD) beauty and pain management products. Their CBD rub comes in two great scents, orginal and lemongrass and it provides near instant relief of pain anywhere on the body and will help with inflammation. You can also try shampoo and conditioner as well as eye serum and face cream, all of which is free of: gmos, parabens, sulfates, phthalates, formaldehyde and artificial coloring and it is never tested on animals. For more information, visit: CBD For Life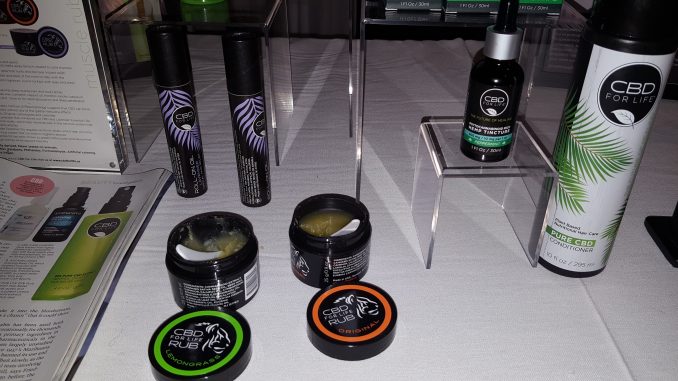 Flax4Life was created as a possible solution to a family problem that turned out to have everyone either being gluten-intolerant or having Celiac Disease. They developed a line of bakery products that are are gluten-free, made with all natural ingredients and taste amazing! From muffins to cakes, brownies and toaster buns, Flax4Life has created everything you would want in wide range of great tasting flavors. For more information, visit: Flax4Life
Cocos Organics was showcasing their great lineup of products that are chemical and preservative free and come in black glass jars. Cocos featured their activated charcoal that will change the way you look at brushing teeth as this tooth polish will do just that by leaving your teeth a beautiful white. Cocos Organics uses ultraviolet glass jars to cut down on waste and they also have a recycling program so you can send your empty jars back and they will be reused and you get a reward to be used as a credit on your next purchase. Cocos Organics also has face scrubs, body butter, lip balm and more. For more information, visit: Cocos Organics
Dirty Beauty was sampling their farm-to-lab-to-face collection of skincare and cosmetics that is not only headquartered right outside Atlanta, Georgia, but that is also where the farm is that the ingredients come from. Dirty Beauty also helps educate the next generation with their STEM Beauty Camps + DIY Lab Beauty Kits for fun + expert training. For more information, visit: Dirty Beauty
Dr. Sanda Moldovan was introducing her Orasana Probiotic Mints that support optimum oral health and digestion. In our mouths we have over 500 million species of bacteria and fungi all living harmoniously together. When we experiencing bleeding gums and cavities, there is an imbalance of the 'good' and 'bad' bacteria in our mouths. Taking Orasana Probiotics Mints help to restore the 'good' bacteria in our mouths and intestinal tract. Dr. Sanda sees patients at her institute, Beverly Hills Dental Health and Wellness in Beverly Hills, California and Manhattan, New York. For more information, visit: Orasana Probiotic Mints
Saffron Road was introducing their Dark Chocolate Crunchy Peas, a great sweet but healthier treat that fits perfectly in their product line. Guests were also treated to their Chickbean Crisps, there's a colorful mosaic of real vegetables—lentils, peas, sweet potatoes and chickpeas. And each serving is filled with 4 grams of plant-based protein. For more information, visit: Saffron Road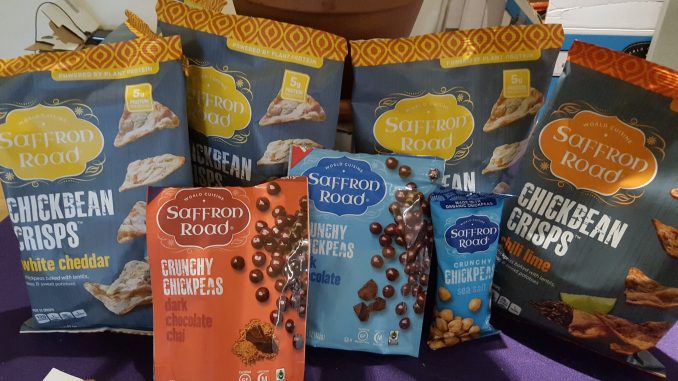 Brutus & Butch, haircare with a conscience was showcasing their recently released clean shampoo, clean conditioner and gembira: elixer vitae. No more worrying about lengthy labels and ingredients you can't pronounce, Brutus & Butch is are formulated with Indonesian essential oils, contain no parabens, sulfates or sodium chloride and phthalates. Simply natural and organic ingredients as well as being vegan and they are never tested on animals. For more information, visit: Brutus & Butch
G2G Protein Bar is a protein bar that is truly different than all of the rest. G2G is loaded with so many fresh ingredients that they recommend refrigirating it. G2G has no preservatives and no refined sugar and gets its great flavor beginning with: coconut oil, cinnamon and honey. They also include: whey protein, whole oats and flaxseed. The flavor selection is truly unique and tasty, you can choose from flavors such as: almond fruit nut, peanut butter chocolate chip, almond coconut, peanut butter coconut chocolate and more. Each bar comes in with 18 grams of protein. For more information, visit: G2G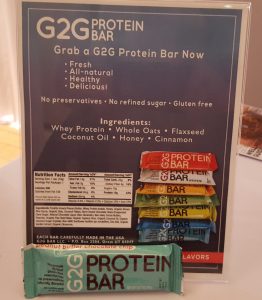 Simplipur launched its new, all-natural weight loss supplement Lean 2.0 at the Healthy Brand Showcase. Lean 2.0 was created with an understanding of chronobiology, the science of times and rhythms, and how they work in the human body. In the morning, the human body burns fat as energy. At night, it builds lean body tissue and collagen. Only Simplipur Lean 2.0 A.M. Proprietary Blend burns fat as fuel for an energetic day. The P.M. blend supports lean muscle and tissue building while we sleep. The combination of both formulas works in harmony with these cycles and produces results far more meaningful than just numbers on a scale. For more information, visit: Lean 2.0
For those of you who want to erase your wrinkles and look younger without botox or a surgical procedure, Koko Hayashi was showcasing her "Face Yoga" program that she offers classes in Los Angeles as well as has instructions on YouTube. For more information, visit: Face Yoga and follow on Instagram @KokoHayashi
UpTime was sampling their mental-physical energy supplement drink that comes in original and sugar-free, both with a wonderful taste. You get your energy boost from ginseng, ginkgo. For more information, visit: UpTime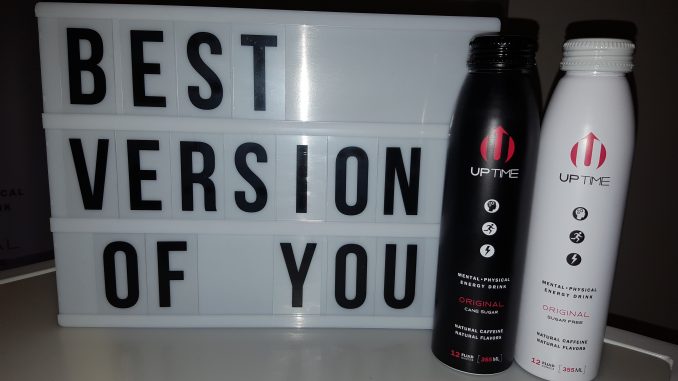 Other products included:
Barr Necessities, which live up to their nickname of "Not-To-Good-To-Be-True-Cookies" that are far more than a cookie, they are a meal. These are made from only a few clean, whole-food ingredients, createing a high fiber, high protein, high fat, low glycemic as well as paleo and vegan cookie that is also gluten-free and grain-free. For more information, visit: Barr
If you love coffee, CUP-O's revolutionary delivery method of a hot drip brewed coffee in a pod is blended with Hydrolyzed Collagen Protein, enabling the amino acid bonds to break upon contact with heat, making the protein 95% bio-available to your body – in short, this Next Generation Protein™ is quickly introduced into the bloodstream upon consumption. For more information, visit: CUP-O
If you love peanut butter but can't have nuts anymore or you want your kids to enjoy a peanut butter and jelly sandwich and not worry about allergies, try peanut-free WOWBUTTER. Alter Eco was sampling their organic coconut clusters that are covered in dark chocolate. Hempz gifted their Morning, Noon and Night aromabody collection made with essential oils an hemp seed oil. Bolthouse Farms was sampling their non-dairy plant protein milk that contains 10 grams of protein per serving.
(Photos Courtesy Stephan Martin)