August 26 through August 29, 2018 marked the 50th anniversary of the 1968 Democratic National Convention that ended up in violence between anti-Vietnam War protests and police and ultimately put Chicago in the national spotlight.
With the technology of  virtual reality, audiences can now see historical film and photographs taken  that day. "Chicago 00: The 1968 DNC Protests" is an experience that brings photographs and documents from the Chicago History Museum's archives for this tour of this fateful 1968 event. David Farber, PhD., author of "Chicago '68,' narrates the 14-minute VR tour that can be viewed through YouTube; the Chrome browser; or with Google Cardboard VR glasses.  Images can also be explored in Google Street View.
I watched the video on Youtube and thought it was interesting. While I had heard bits and pieces of what occurred in Grant Park during the 1968 Democratic National Convention, I didn't know many details, such as how Richard J. Daley had refused to grant permits to allow legal protesting, hoping that it would prevent demonstrators. Ultimately, that did not deter many of the groups or individuals that came to protest. The video goes over the how, why, and what ultimately led to the violence. The video  includes many images and voice overs from the demonstrations. I also used Google Street View to see the images taken during the convention. It almost felt as though I were getting flashes from the past as I scrolled through the images in the Grant Park area.
To go along with this video and images, the Chicago History Museum has a permanent display of the 1968 Democratic National Convention all-year round found in "Chicago: Crossroads of America." The display has a documentary playing along with protest posters and a riot helmet worn by a Chicago police officer.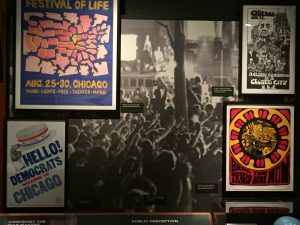 This is a piece of Chicago history that others may find interesting. While it may not be considered a pleasant piece of time, it shows an event with an outcome and coverage that is still relevant today.
For more information about the Museum's hours, programs and exhibitions, visit chicagohistory.org.
The 1968 Democratic Convention virtual reality experience was produced as part of The Chicago 00 Project, a partnership between the Chicago History Museum and filmmaker Geoffrey Alan Rhodes to produce and publish a series of site-specific, multimedia experiences that showcase the Museum's film, photo and sound archive. Visit them here for more information and links to the video and Google Street View Pictures.