On Friday, September 7, 2018, Madison Cunningham opened for the Punch Brothers at Symphony Center, 220 S. Michigan, Chicago. Their 33-date tour began on July 12th in Charleston, S.C. and will come to a close on September 15th in Oklahoma City, OK.
Cunningham, 21, has already created a place for herself as a gifted singer and songwriter. Her voice is clear and evocative, bringing the listener into the personal space created by her intimate and somewhat mercurial lyrics and strong guitar playing. The multi-instrumentalist's sound is reminiscent of folksinger Judi Collins, filled with a quiet and compelling confidence. The songs sounded honest and already familiar, a mélange of folk and alternative country, although the single guitar sounded a bit lost amid the vast interior acoustics of Orchestra Hall.
The setlist included: When Love Loves Alone, Beauty into Clichés, Plain Letters, I Close My Eyes, Looking Alive, All at Once, Something to Believe In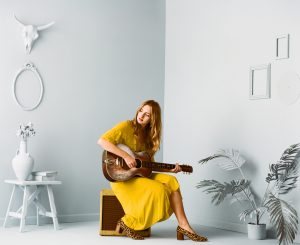 Punch Brothers is an American band consisting of Chris Thile, mandolin; Gabe Witcher, fiddle/violin; Noam Pikelny, banjo; Chris Eldridge, guitar; and Paul Kowert, bass. Their style has been described as "bluegrass instrumentation and spontaneity in the structures of modern classical" as well as "American country-classical chamber music". The quintet blends beautifully together in complex harmonization, both instrumentally and vocally.
Their repertoire can be described as a genre-straddling hybrid of folk, blues, country and alternative symphonic bluegrass. Thile and Pikelny bantered good-naturedly before the crowd, once devolving into an extended description by Pikelny on the varieties of squirrel cheeks (?!) Thile's lyrics are conceptual/confessional and imagistic, his vocals delicate, his voice bell-like, even in falsetto mode.
Punch Brothers are captivating performers with a seemingly intuitive ability to match each others' tempo changes and spin trance-like sounds, even amidst unusual changes of tempo, never atonal. In a couple of instrumental pieces, the members demonstrated their strong bluegrass influence with complicated and joyous "picking" and jazzy semi-improvisational melodies that spun out with a classical emphasis.
The band's 5th and latest album, All Ashore, was self-produced and released in July by Nonesuch.
The setlist included: Movement and Location, My Oh My, All Ashore, Watch 'at Breakdown, This Girl, The Angel of Doubt,Three Dots and a Dash, Just Look at This Mess, Jumbo, Another New World, Passepied, New York City
 For information and tickets to all the great programming by The Chicago Symphony Orchestra and at Symphony Center, go to www.cso.org