Tap House Grill in Wheeling is the 8th location to open in the Chicagoland area. It is located next to the Chicago Executive Airport on Milwaukee Avenue, attached to the Ramada Plaza Wheeling Hotel.
As you pull into their parking lot, you are met with a view of the airport hangars, runways, private jets and control tower. It is a pretty interesting backdrop to have while you are dining.
Once seated with a menu, I was faced with so many choices. There were options for several sandwiches, burgers, and tacos. What I thought was nice about the tacos was that you had the choice of flour, corn or hard shell tortillas. Also available are several shareables and appetizers. One that jumped out at me was their wings with Devil's Catsup which is a 2017 award winning hot sauce. I'm sure that for anyone who likes spicy, hot food this would be appealing. For anyone else who is adventurous, there is the King Kobe Burger Challenge. Priced at $29.99, for anyone who can eat this massive burger in 8 minutes ends up on the house while also earning a free King Kobe t-shirt. Hopefully without a stomach ache.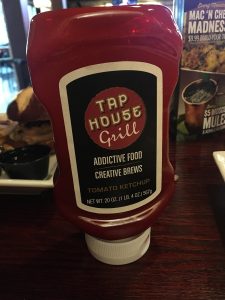 Just as the extensive food menu, the drink menu carries just as many beverage options. There are many cocktails,martinis, margaritas, and wines. I was surprised to see kombucha drinks available too. While rising in popularity, I have yet to see them on many menus. Tap House Grille prides itself on their extensive beer list. There was a range of IPAs, Ales, Pilsners, Stouts, and other craft beers available. Featured is also a beer of the month.
I thought the food was very tasty and fresh. Our waitress was attentive and very nice. I did not care for the mixed drink I originally ordered and she replaced it with a new one.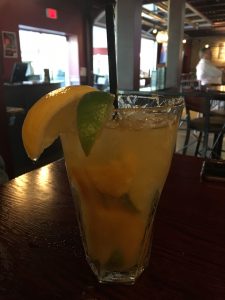 It is a bustling place with television sets in place for anyone wanting to watch a sports game or simply have a friend or family meal outing. With 50 "creative brews" on tap among other drinks, you are sure to find something that satisfies your palate along with a variety of pub food. There are daily food and drink specials and calendar events with themed parties, holiday festivities, brewery tours, and beer tastings! They also have a rewards program which is also a nice perk for customers.
Tap House Grill in Wheeling, IL is located at 1090 S. Milwaukee Ave. They are open 11AM-2AM Sunday to Thursday and Friday to Sunday 11AM to 3AM. For more information about the menu, events and different locations visit their website here.
Photos courtesy of Alisa Bay