The premiere of Downstate, by Pulitzer prize winning ensemble member Bruce Norris, currently in production by Steppenwolf Theatre Company at their Upstairs Theatre, 1650 N. Halsted, Chicago, through November 11, 2018, is an enthralling emotionally wrought journey through the questions of forgiveness, restitution, self-awareness, the nature of memory, and what it means to be a victim and a perpetrator.
Directed by Pam MacKinnon with a fine hand at detailing the nuances of character, the play features brilliant acting by Glenn Davis as Gio; K. Todd Freeman as Dee; Tim Hopper as Andy; Frances Guinan as Fred with Cecilia Noble as Ivy; Eddie Torres as Felix; Aimee Lou Wood as Effie; and Matilda Ziegler as Em. In fact, the characters are so skillfully drawn, the script so cunningly crafted, that before the audience has any chance to reflect, it may well be drawn into supporting a point of view generally considered to be unsupportable.
This is a story about some of society's most hated, its most determinedly cast out- men who are confessed and convicted sex offenders against minors. They have served time for their crimes, and are living in a group home in downstate Illinois. Tethered by GPS devices, confined to a designated area recently made so small as to eliminate their nearest supermarket, they are bound to each other by the constraints of their truncated lives.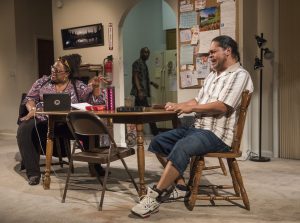 Felix lives in agony; he can't control his perusal of porn on the internet at the library; he also can't control his visits to his underage daughter's Facebook page; it is she whom he has sexually violated. Gio keeps up his incessant plans for getting out of the group home with a hypomanic desperate rap; he disdains his housemates and seeks to distinguish his past behavior from theirs; the minor he violated was a 17 year-old female who looked older. Dee's crime was "loving"- and "making love with"- a 14 year-old boy with whom he still believes he had a long term consensual and legitimate affair.
Fred, now in a wheelchair, was a piano teacher who fondled one of his students, Andy, and he also committed oral sex on Andy's brother, some 30 years before. Andy has been participating in a therapy group for self-styled "survivors" of sexualized trauma and, as the play opens, Andy and his wife Em have come to confront Fred and get him to sign a confessional document, the purpose of which is never clearly delineated. It is this ongoing confrontation as well as the manipulative relationship between parole officer Ivy and desperate Felix that drive the play, and the relationships between the housemates themselves draw on our sympathy.
Even before the multi-dimensional tragic denouement, this reviewer was imbued with a sense of protectiveness towards the "villains" and a feeling of outraged frustration with Andy for getting "stuck" in self-righteousness. Most importantly, the play turned the tables on my prior knee-jerk reaction to view these offenders as pariahs. I came away believing that we are all caught in this human web together, that we all suffer in the struggles of being human, that it would be best if we could all forgive our selves and each other, and that atonement must come from a higher place.
The play is stunningly performed, extremely well crafted, and very well staged.
Thanks to scenic designer Todd Rosenthal, costume designer Clint Ramos, lighting designer Adam Silverman, sound designer Carolyn Downing, fight choreographer Matt Hawkins and the rest of the production team for giving us an incredibly natural and realistic setting that left us able to concentrate on the language and the action.
For information and tickets to all the great productions at The Steppenwolf Theatre, go to the Steppenwolf website
All photos by Michael Brosilow