The Daryl Roth Theatre was transformed into a Happening. Persian rugs and decorative throw pillows on bleachers, set in the round, created a comfy, cozy safe haven. Like one used for a consciousness-raising group. As such, GLORIA: A Life, written by Tony Award-nominee Emily Mann (Having Our Say), and directed by Tony Award-winner Diane Paulus (Waitress, Pippin) began.
In the title role the remarkable Christine Lahti, Oscar, Emmy and Golden Globe winner, strode in. Lithe, dressed in black, blonde hair parted down the middle, the resemblance to Gloria Steinem was uncanny, down to her signature aviator glasses. She introduced the fabulous all-female cast, and invited us to hear stories of the life that revolutionized women and society.
We all bore witness to the limitations that continue to confront women. For before we could look back we had to be present; 2018 was in the room – the current White House, Me Too Movement and recent Kavanaugh hearings. Then, seeing the world through Gloria's eyes, we traveled through history, starting at the beginning.
Born and raised in Toldeo, Ohio, Gloria lived with her parents in a trailer. The family traveled about for her father's antique business. Her mother, Ruth, had suffered a nervous breakdown prior to marriage. Ruth (heartbreaking and poignantly portrayed by Joanna Glushak) ultimately became mentally ill. When Gloria was but ten-years old her father left, and her parents divorced. Gloria's care giving led her to really see the complexities of her mother's experience, and they became pivotal to her understanding of social injustices.
Upon Gloria's graduation from Smith College, where she discovered that most of the very bright young women were there to find husbands, she spent two years as a law clerk in India. Gloria returned to the States to become a political journalist. Except she soon found out that male journalists got all the political assignments, and most women got assigned family, food and fashion stories. Gloria went undercover as a Playboy Bunny and wrote a story to expose the exploitative conditions and sexual demands of the bunnies. That article was a turning point in her career. (It was also quite exciting to see it dramatized on stage).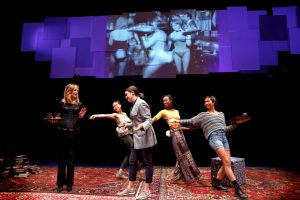 But it took an assignment on New York Magazine, when she attended an abortion speak-out in a Greenwich Village church basement, to provide the "big click." That work led her to Dorothy Pitman Hughes (fiercely played by Fedna Jacquet), the creation of Ms. Magazine: "Making Revolutions – Not Just Dinner," and the Women's Liberation Movement.
At the conclusion of Act I, feeling blissfully immersed in the theatrics of the storytelling, we, the audience, had also gotten educated and were getting fired up. So we were primed for the exciting surprise revealed after the curtain call. Act II would be a Talking Circle. To spur the Circle on was a very special guest. With that, Gloria Steinem, in the flesh, walked into the theater. Standing next to Christine Lahti you had to ask, "Will the real Gloria Steinem please stand up?"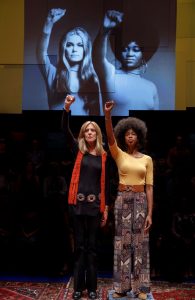 Footage of Gloria had played on screens all night. Now she stood before us. A powerhouse of charismatic calm, Gloria, who still suffers from a fear of public speaking, was exhilarating. She explained that the purpose of telling her story was to get us to tell ours. And so we did in the Talking Circle. The mic was passed. Audience members spoke. Some cried, like two Millennials, distraught from the recent Supreme Court decision and the fear we're moving backwards. Peers of Gloria, like audience member and actress Diane Ladd, voiced concern for the preservation of Roe vs. Wade and all that entails. Gratitude for Gloria's work was expressed and praised.
This writer had the opportunity to personally thank Gloria for paving the way for freedoms I have always enjoyed and, regrettably, taken for granted. Actress Joanna Glushak said, "Working on this piece truly opened my eyes to being grateful for all the people who put their lives on the line. They needed a lot of courage. As I continue to learn, I also continue to be more active."
Gloria encouraged us to do one outrageous thing in the cause of social justice. She suggested we look at it all from the bottom up. "I always felt that if we could just explain what's wrong, that people would want to fix it," said Gloria. "But injustice, it seems, is profitable."
Still, she said we have a duty not to obey unjust laws. Gloria felt we'd always come from the place of support because we are communal animals who now feel lonely, suffering from eleven hours of daily screen time, causing too much alone time. She said the worst stretch is right after a victory. For example, eight years of Barack Obama only increases our vulnerability. And she felt that men raising children is the key to world peace because, overall, Gloria has great hope. In fact, she is a hope-aholic.
"I feel this is a very healing and affirming experience that reaches across generations, gender, age and race," said playwright, Emily Mann. "At a time when many people are searching, Gloria gives us hope. Hope is a reality. It is a form of planning. There is so much to do. We will do it together and we will prevail."
The stellar cast includes Brittany K. Allen (True Right, Minor Character), Joanna Glushak (War Paint, A Gentlemen's Guide to Love and Murder), Fedna Jacquet (Ain't No Mo, The Tempest/ Henry V), Francesca Fernandez McKenzie (As You Like It, Othello, Our Lady of 121st Street), Patrena Murray (Venus, The Death of the Last Black Man), DeLanna Studi (And So We Walked, August: Osage County), and Liz Wisan (Other Desert Cities, These Paper Bullets!)
The creative team features scenic design by Amy Rubin (Miles for Mary, Nobody Loves You), costume design by Jessica Jahn (One Night…, Love, Loss and What I Wore), lighting design by Jeanette Yew (KPOP, Fruit Trilogy), sound design by Rob Kaplowitz (Our Lady of 121st Street, Fela!) and Andrea Allmond (Something Rotten 1st National Tour), and projection design by Elaine J. McCarthy (Notes from the Field).
Casting director is Tara Rubin, CSA (The Band's Visit, Indecent). Production manager is Mary Duffe (Ecipsed, The Normal Heart). Production stage manager is Ana M. Garcia (Fiddler on the Roof, It Shoulda Been You). Act 2 coordinator is Laura Fischer (The Last Scene, The Laramie Project). Creative consultants were Amy Richards (PBS's "Makers: Women Who Make America") and Kathy Najimy ("Veep," "Younger").
Tony Award-winning producer Daryl Roth (Kinky Boots, The Normal Heart, Indecent) is joined on the producing team by Jenna Segal (Small Mouth Sounds, What We're Up Against), Elizabeth Armstrong (Indecent, Fun Home), Sally Horchow (Meteor Shower, Small Mouth Sounds), Janet Kagen (Natasha, Pierre and the Great Comet of 1812, On the Town), and Alix Ritchie (Hello, Dolly!, Indecent).
Now Extended through March 31, 2019 tickets are on sale at the gloriatheplay website. 

Follow Gloria: A Life on Facebook, Twitter and Instagram