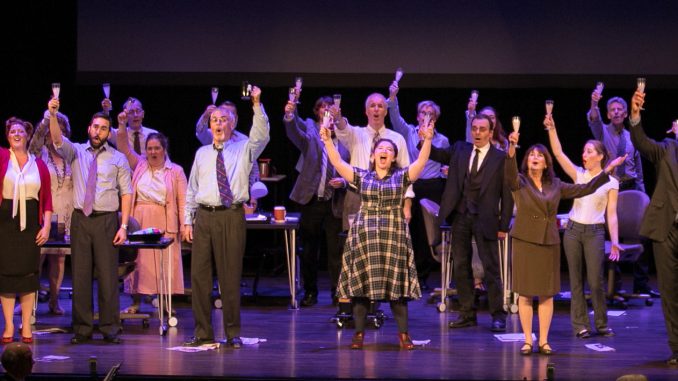 Once a year, the Bay Area musical theatrical theatre Lamplighters, slightly diverts from its main mission of keeping alive the late 19th century Gilbert and Sullivan tradition of satirizing British class structure and other foibles. Lamplighters make uproarious fun of contemporary society as the main event of an annual champagne splashed gala. To raise funds to support its mission, Lamplighters channels its Victorian essence into a contemporary production, putting new words to the classic tunes, taking off from a contemporary vehicle like Saturday Night Live or Masterpiece Theater.
Last year's take off was Patterday Night Live, bringing the Gilbert and Sullivan sensibility into the long term American TV comedy show, with Siri, Alexa and Cortana, the digital assistants, breaking into the Three little maids song. In 2013 it was Upside-Downton Abbey or the Lass That Loved a Chauffeur (with optional subtitles). You get the idea! Joyful song, satire, the spirit of Gilbert and Sullivan inspirited into a contemporary vehicle.
This year's show Extra! Extra! Sing along about it! took on the fraught condition of print journalism through a mashup of Annie and the Post. A serious newspaper is caught in a dilemma between upholding high journalistic standards versus going the tabloid route of gossip and scandal in order to survive.  A devil-like character offers a low road Faustian bargain of hiring a paparazzi photographer in the hope of juicing up sales, while an upright Editor begs the papers owner, Merle, a facsimile of the classic Washington Post owner of the Watergate era to hold the line. In a brilliant ensemble scene, the principals descend into a sub-basement of the newspaper plant, where geriatric "newsies" the youngsters stationed on street corners in an earlier era, entombed, come alive and hawk their papers. This pantomime was reminiscent of the British tradition of nude scene only allowed on stage if the persons stand absolutely still but in this version the elders were fully clothed. Leaving Gilbert and Sullivan for a moment the pa, pa pa, duet, channeling Mozart's Marriage of Figaro was a delight. In finale, Annie, the Intern, is revealed as Publisher Merle's long separated orphanage mate. The Editor is about to upgrade her to the mailroom when he looks at his watch and asks: what year is this? Annie becomes a junior reporter, letting go her soprano voice full force.
The event also included the silent auction of Sonoma valley wine tours, art prints such as the Banksy girl with a balloon and, of course, Gilbert and Sullivan artifacts from ties to socks, sporting images representing various shows. For many, the highlight is a live auction, run classic "tobacco auction" style.
If you are a Lamplighter fan in the regular season and haven't been to a gala, or would like to make their acquaintance sooner, you don't have to wait until next year. This Spring, the Lamplighters will play the classic Trial by Jury, followed by Trial by Jury Duty, a revival of a gala original from a few years back.
Photos: Courtesy of Lamplighters Music Theatre
More information about Lamplighters Music Theatre at the lamplighters website
,