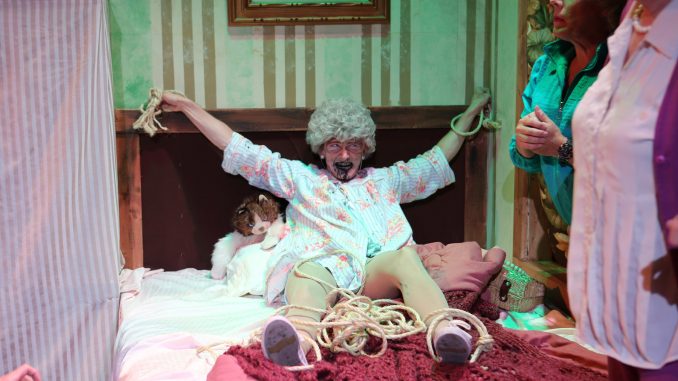 Hell in a handbag productions presents The Golden Girls: Bea Afraid! – The Halloween Edition was written by artistic director David Cerda and directed by Becca Holloway now thru November 3, 2018, at Stage 773, 1225 W. Belmont Ave. in Chicago.
Growing up, The Golden Girls was one of my favorite television shows. My family and I would gather around the television to get a weekly dose of laughter. To this day, I still watch The Golden Girls every morning and night. This production of The Golden Girls was not quite what I expected. The set was nothing like the beautiful Miami Beach house owned by Blanche Devereaux. The set was less desirable and resembled a cheap seedy hotel.
The show opens with the infamous theme song, "Thank You for being a Friend," and from that point on, the show takes an unfriendly turn. The first act was a bit chaotic. The acting was okay at best and the storyline not quite clear.
In between scene changes, audience members are given an opportunity to win wacky gifts for playing The Golden Girls Trivia game. The show picks during the second act. There are funny, however, it becomes raunchy. My favorite performance of the night was Adrian Hadlock who portrayed Sophia Petrillo.
Overall, there were some entertaining moments. If you are a Golden Girl fan and are expecting to see the usual quick wit or the subtle sarcasm between the foursome then you'll be disappointed. Tickets are currently available at the handbagproductions website or by calling 773-327-5252
Photos by Rick Aguilar Studios