It's great to get away from today's news headlines by enjoying the engaging, humorous play called WaistWatchers, The Musical. Simply put, my husband and I loved it! Actually, we ate it up as a delectable treat that has already extended its schedule at the Royal George Theatre at 1641 North Halsted Street, Chicago, until December 31, 2018.
This  90-minute non-stop musical, dance, exercise, humorous and banter-filled show captivated the audience to join in the singing of 24 songs- parodies based on hit songs of the 1970s on. Songs like "Botox Queen" (like Abba's "Dancing Queen"),  The Diet Song," "Buffet Line,' and other laughter-filled songs kept  the audience happy. The five actors were terrific, too; the costumes were amazing; the on-stage energy was unstoppable.
Katherine S. Barnes is the Emcee, appearing in the audience before the show formally opens. She sings and dances her way throughout the show in some amazing costumes and great conversations. She was especially illuminating dressed as a Viagra Pill!
Inside Miss Cook's Women's Gym, the action shapes up as Carla (Kiley L. McDonald), Cindy (Sarah Godwin), Cheryl (Krissy Johnson) and the one-and-only Martha Wash as Connie lament about their relationships  with food, fitness, friendships and love. The end result is self-acceptance of each woman's shortcomings and values to themselves and others they care about. There's no such thing as perfection – it's in the eyes of the beholder to visualize the perfection in each of us.
Producer Dana Matthow said "After touring the country, women have described WaistWatchers the Musical! As an empowering vehicle – one that defines happiness as confidence, laughter and love."
As the Miami Herald exclaimed, "The audience eats the show up." No pun intended…
A special treat was seeing Martha Wash of the singing group The Weather Girls becoming Connie, the oldest actor, who valiantly keeps up with her younger cohorts in song, dance and exercise. Martha is fabled as the unmistakable voice of such songs as "It's Raining Men," and "Everybody Dance Now."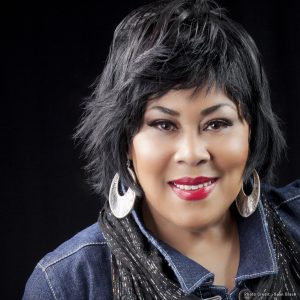 And, I had the pleasure of being brought up on stage by Martha after the show's finale to dance to the fabulous song "YMCA." That was a treat of a lifetime – the stage filled with men, women and children, plus the actors, being in such an uplifting musical and dance moment.
Kudos to Alan Jacobson, the show's creator who also wrote the book and lyrics; Vince Dimura, the musical director and composer; Dani Tucci-Juraga, the choreographer; Matt Silva, the director; Joe Schermoly, the set designer, and Jill rose Keys, creative costume designer. Special shout out to producer, Dana Matthow.
I urge you to grab some seats at WaistWatchers: The Musical before New Years. It's a touring show and has already been seen in California, Massachusetts and Arizona among other locales. Dance your way to The Royal George Theatre sooner than later.
Schedule: Wednesdays-7:30, Thursdays-2:00 & 7:00 pm, Fridays-8:00 pm, Saturdays-2:00 & 8:00pm, Sundays-2:00pm
Price: $45-$65
Show Type: Musical
Box Office: 312-988-9000
Running Time: 1hr, 35mins
For tickets and more information go to theroyalgeorgetheatre website
Photos: Courtesy of Waistwatchers