Wine riot has been creating a fun ruckus, all access pass for millennials curious to check out a multitude of wines since 2009. The Chicago event this year at the Revel room in the West Loop contained jam packed entertainment with a live DJ spinning energizing dance beats keeping sommeliers busy pouring delicious samples of wine, wine, and why yes, more wine! Wine riot lives up to its name serving to also educate attendees while they peruse through interactive booths, crash courses, and an hour long mixology master class led by Hennessey craft experts. Add a fun photo booth stocked to the brim with silly props, as well as a large temporary tattoo booth full of any design you would like, sip on some prosecco from the bubbly bar while you wait in line for another wine tasting or perhaps munch on some cheese, crackers and grapes the possibilities are endless.
Entering the large yet welcoming space, coat check greeters made sure to lighten your load from the wintery cold outside. Immediately to the right, a table filled with stemless wine cups beckoned to you as giant letters surrounded with tiny fluorescent lightbulbs announced "WINE RIOT".  Decorating the wine glasses involved colorful markers to enhance the creative, artistic strokes placed strategically around the chubby body of the glass.
Slowly people trickled in and the next thing you know the place was packed with fashionable wine aficionados ready to party and dance their way through each room in the massive space.  Upbeat music played loudly and was dance inducing, as everyone mingled, smiling faces near and far, wine in hand.  Favorite snacks to munch on for the night included Effie's corncakes, oatcakes and cocoacakes along with Cabot cheeses, which displayed which wine pairs best with the cheese, like the creamy and spicy pepper jack with Moscato.
As for wine favorites, one can never go wrong with fancy prosecco from Blue Nun with gold flakes or the sweet, delectable red wine Chevalier de Bayard tasting of red berries with a hint of lemon from PRP Wine International who offer a 90 minute wine sampling home experience with a professional wine consultant who shows at least 6 exclusive wines up to four people.
The only downside to attending an attendee packed event is missing out on cool experiences such as the tutorial for Hennessy 'Le Voyage' that offered an hour long master class in Cognac and cocktail making where participants find out more about Hennessy and it's pertinence in the world's most celebrated cocktails. The course detailed the craft making and taste complexity involved in becoming better at mixing your own cocktail classics with cognac.
Crash Courses were held from three different wine producers, the schedule announced a 7:45pm Beaujolais Villages featuring the Gamay grape from Burgundy with red, white and rose options, the fun continued at 8:30pm where Sonoma County Winegrape Commission discussed the 2019 achievement of becoming the first 100% sustainable winegrowing region and taught about sustainable winegrowing practices, 18 diverse American Viticulture areas and array of more than 60 incomparable wines. The last class featured the Riboli Family wines with a 100 year family history. As a global industry leader of wine production that has been inspired by four generations, the wine comes from with production facilities in Italy and California.
Wine riot delivered on being a joyous wine filled dance party commotion with high energy in a wide layout as hosts noted that they were still checking people in even though the event was going to be over in half an hour. Bustling crowds erupted near every interactive booth as wine pairings were indulged.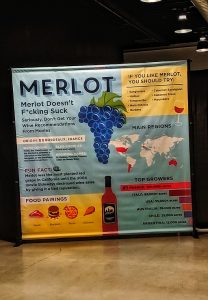 Ernest Hemingway captures wine's essence, "Wine is one of the most civilized things in the world and one of the most natural things of the world that has been brought to the greatest perfection, and it offers a greater range for enjoyment and appreciation than, possibly, any other purely sensory thing." Take that sage advice and experience how this event injects the 'riot' in Wine Riot!
For more information including dates and locations near you, check out: http://wineriot.com
Photo credit: Yvonne Pulido