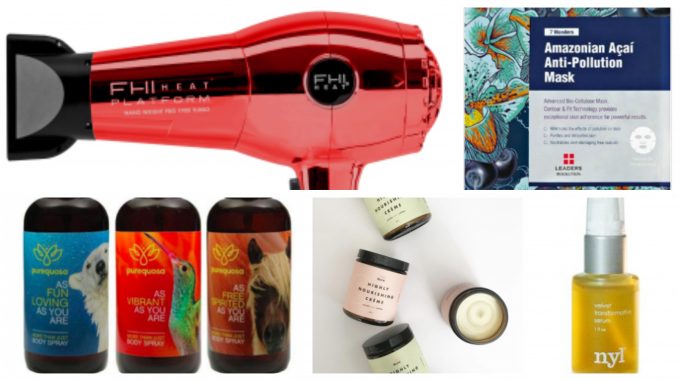 ll items listed from most to least expensive.
iRestore Laser Hair Growth System
The iRestore is a FDA-cleared and clinically-proven medical device that uses laser technology to treat thinning hair and regrow fuller hair for men and women who suffer from androgenic alopecia (genetic hair loss). It uses non-invasive, pain-free red light therapy to stimulate growth of thicker and healthier hair. We recently completed a clinical study to determine the effectiveness of our laser system for treating hair loss – and the results were incredible. An astounding 100% of the tested iRestore users showed visible hair growth with an average increase of 43.2% (calculated by terminal hair count).
iRestore is engineered to be lightweight, comfortable, and durable. The hands-free design allows you to go about your day uninterrupted, so you can save time and focus on the important things in your life. iRestore provides a safe, drug-free way to experience hair regrowth without the frustration of negative side effects. Although individual results may vary, you can expect to see visible growth in as little as 3 to 6 months.
$695 Buy now!
KM by Dr. Kenneth Mark Antioxidant Boost
Created by board-certified cosmetic dermatologist and Mohs skin cancer surgeon Dr. Kenneth Mark, with practices in New York City, the Hamptons and Aspen.A strong boost to treat and protect the skin.
This powerful formula contains encapsulated astaxanthin (Dr. Kenneth Mark's proprietary ingredient), stem cells, peptides, precious mineral extracts, and vitamins to efficiently protect your skin from free radicals and significantly decrease the appearance of wrinkles. A powerful combination of ingredients that BOOSTS 6 skin-rebuilding essentials, to preserve and revitalize your skin. A unique combination of Argan Oil, Açai Oil, Shea Butter, Olive Oil and Grape Seed Oil provides long-lasting hydration and silky-smooth finish to the skin.
Boost firmness and density of your skin – Collagen Booster – Protects the skin against free-radicals – Decreases the appearance of wrinkles by up to 46% – Lifting effect by up to 77% – Boost vitality of the skin to delay skin aging. Active Ingredients: Apple Stem Cells, Peptides, Hyaluronic Acid Booster, Iron Extract, Algae Extract, Green Tea, Vitamin A, Encapsulated Astaxanthin – Dr. Kenneth Mark's proprietary ingredient.
$190.00 Buy now!
KM by Dr. Kenneth Mark Moisture Cure
Created by board-certified cosmetic dermatologist and Mohs skin cancer surgeon Dr. Kenneth Mark, with practices in New York City, the Hamptons and Aspen. Deep and long-lasting hydration for maximum SKIN comfort.
INTENSE moisturization; DEEP hydration – this formula will restore hydration to your skin and help sustain the hyaluronic acid activity. It will bring a maximum of comfort for the skin with the addition of Argan Oil, Açai Oil, Grape Seed Oil and Shea Butter.
Smoothens wrinkles by up to 96% and Increases skin suppleness and resistance. Smoothens wrinkles from the inside by rebuilding the skin where it is needed. Increases cell renewal with a natural source of Alpha Hydroxy Acids (AHA). Active Ingredients: Peptides, Hyaluronic Acid and Hyaluronic Acid Booster, Green Tea, Vitamin B5 and AHA.
$175.00 Buy now!
The Gift of Ultimate Brightening
A powerful brightening set that helps to strengthen the skin's inner defenses and targets the appearance of dark spots. Give her skin a visibly smooth appearance with Shiseido's high-performance brighteners. This six-piece set features two full size products plus samples in a luxe carton with ribbon.
Set Includes: · NEW Ultimune Power Infusing Concentrate, 30 ml (Full Size) · White Lucent MultiBright Night Cream, 50 ml (Full Size) · NEW Clarifying Cleansing Foam, 50 ml · NEW Treatment Softener Enriched, 30 ml · White Lucent MicroTargeting Spot Corrector, 9 ml · Urban Environment Oil-Free UV Protector SPF 42, 7 ml
· WHAT IT DOES: · Intensively targets the appearance of dark spots · Reveals skin with dramatic luminosity and beautiful-looking translucence · Using Ultimune Power Infusing Concentrate as a pre-treatment enhances your skin's power to prevent and resist damage and boosts the visible brightening benefits of White Lucent MultiBright Night Cream
$162.00 Buy now!
FHI Heat Chrome Hair Dryer in Red
The FHI Heat Chrome Hair Dryer is one of the lightest and most powerful professional dryers on the market; it is the go-to and must-have for any age and any hair type.
$139.99 Buy now!

Restoration Body Oil by Green Helix
An all natural joint and muscle pain relieving body oil that was created to combat pain while leaving your skin rehydrated and protected from anti-oxidants. Bonus: also leaves your skin smelling divine
$139.99 Buy now!

Hope Fragrances Eau de Parfum Vaporisateur Spray
100% of the net profit goes to the Hope for Depression Research Foundation, which funds the most advanced research on depression in the US. The uplifting fragrance. A magnificent fusion of the most aromatic white flowers – including lily of the valley, jasmine, gardenia and tuberose – the most pure and delicate essences that lift our senses. A garden green note adds a lively layer of crisp freshness.
Hope, with its meaning of optimism and promise, evokes one of the most positive feelings a person can experience. Wear hope and feel uplifted and positive about yourself and the world around you.
$115.00 Buy now!
KM by Dr. Kenneth Mark Tighten & Lighten Eye Cream
Created by board-certified cosmetic dermatologist and Mohs skin cancer surgeon Dr. Kenneth Mark, with practices in New York City, the Hamptons and Aspen. This complete eye cream formula contains the newest active to efficiently treat the GLOBAL contour of the eye. Lifts the fold of the upper eyelid and diminishes the crow's feet wrinkles, strengthening the dermal structure and increasing its contractile properties. It will also help fade dark circles and diminish puffiness by consolidating the microvascular network and reducing the pigmentation. Contains Peptides, Hyaluronic Acid booster, Green Tea Extract and Encapsulated Astaxanthin – Dr. Kenneth Mark's proprietary ingredient.
91% reduction of drooping Eyelid – 34% decrease in crow's feet volume and depth – 30% decrease in dark circles – Results obtained after 7 DAYS of clinical study on 105 volunteers.
$95.00 Buy now!
Pregnancy Bundle
If you have a bun in the oven, this kit is for you! The Prenatal Vitamin is packed with the most premium nutrients in a minty fresh package, while Energy Boost and Digestion Relief curb pregnancy fatigue and constipation. Save $15 when you buy this bundle. What's included: 2 months of the Prenatal Vitamin. 1 month of the Energy Boost Drink Mix. 1 month of the Digestion Relief Chews.

Prenatal Vitamin: A once-daily complete prenatal multivitamin with your full quota of folate, iron, calcium, choline, and omega-3 fatty acids, as well as all the other essential vitamins and nutrients you need. Natural peppermint makes these easy to take, easy to digest, and easy to enjoy. Energy Boost: A pregnancy safe drink mix that's designed to give you the energy you need while expecting. It's gluten-free, vegetarian, and non-GMO, with a natural watermelon flavor. Digestion Relief: A supplement that's designed to relieve pregnancy-induced constipation. It's pregnancy safe and vegetarian, with a natural caramel-vanilla flavor, almost like a candy that's good for you.
$89.99 Buy now!
iRestore Fast Hair Growth Bundle
This bundle combines three of the most powerful products designed to combat thinning hair and promote fast hair growth. The shampoo is engineered with essential nutrients that nourish and strengthen hair roots. The 3-in-1 supplement is a potent growth formula made with biotin, saw palmetto, and DHT blocker blend—all scientifically researched ingredients that revitalize hair follicles and improve hair density.
The serum is a breakthrough in biotechnology that is formulated with patented molecules, Redensyl®, which is proven to reactivate rapid growth of thicker, fuller hair. All of the products are made in USA in GMP-certified facilities with high quality ingredients. This bundle of hair restoration products provide a drug-free and effective method for those seeking to finally end the search for a hair loss solution that delivers results.
$89.99 Buy now!
KM by Dr. Kenneth Mark Exfoliating & Hydrating Mask
Created by board-certified cosmetic dermatologist and Mohs skin cancer surgeon Dr. Kenneth Mark, with practices in New York City, the Hamptons and Aspen. Younger looking skin the effective way. Smooth and airy in texture this mask is composed of a unique combination of Alpha Hydroxy Acids (AHA), Peptides, Jojoba and Calendula oils and Hyaluronic Acid. Exfoliate to soothe and smooth the skin revealing a glowing complexion.
Increase cell turnover with this Patented delivery system of AHA'S. This time release mechanism prevents skin irritation that can be associated with AHA'S. Suitable even for sensitive skin and especially effective for men's skin after shaving. Benefits are: – Exfoliation, moisturization, Skin firming, Skin lightening, AND Reduction of fine lines and wrinkles. Increase in cell turnover by 34%
$85.00 Buy now!
The Gold Q 2-in-1 Daytime and Nighttime Hemp-Infused Eye Repair
Lifts, firms and smooths under eye skin with whiten/brighten technology to relieve the dark circles and puffiness associated with sleep issues and stress. Daytime cream leaves no visible residue and can be used as needed. Nighttime cream leaves a thin sheen of Vitamin E oil and is designed to restore the under-eye skin while sleeping. Active Ingredients: Refined Hemp Extract – Gluten Free, Paraben Free, Vegan.
$78.00 Buy now!
The Ultimate Elixir
The Ultimate Elixir is a powerful, alkalizing blend of nature's most nutrient rich superfoods and supergreens, providing a full spectrum of perfect nutrition to help maintain and restore your body's optimal pH balance, vitality and wellness.
8 Alkalizing Greens, 4 Immune Strengthening Mushrooms, 6 Superfruit Antioxidants, 6 Adaptogenic Herbs and 5 Natural Plant Enzymes nourish, alkalize, detoxify, balance and restore your body for peak performance and enlightened health.
$75 Buy now!
Super Pure Tincture by Green Helix
The Super Pure Formula 900mg Full Spectrum CBD Tincture aids in full body homeostasis. This product is best for those seeking a full body benefit from our Full-Spectrum Cannabidiol Oil. Crafted for individuals who are seeking to attain a higher level of comprehensive full body wellness as well as relieve acute stress symptoms
$69.99 Buy now!
nyl Skincare
A true luxury that feels like velvet and makes your skin glow. We blend the highest quality oils known for their anti-aging and anti-inflammatory properties. The result is a dry oil that vanishes quickly into the skin, nourishes, moisturizes, and leaves a dewy radiance. High in vitamin C and antioxidants, it helps fight free radical damage, believed to contribute to the formation of wrinkles. Non-Comedogenic (won't clog pores).
This serum nourishes and restores balance to all skin types and transforms mature skin. Use twice a day after cleansing. Work a few drops between fingertips and press into skin, a little goes a long way. Dab a little extra around eyes before bed.
$68.00 Buy now!

WrapCurl
WrapCurl barrels are are filled with minerals, crystals and bio beads. As it curls, it conditions, smooths and adds gorgeous shine and volume to your hair. Once microwaved, the barrels are activated releasing steam and super low heat, creating long lasting curls in 25 minutes – with no heat damage! The barrels provide up to 45 minutes of soothing, low heat, but you only need 25 minutes to create beautiful curls.
$65-$69 Buy now!
KM by Dr. Kenneth Mark All-In-One Cleanser
Created by board-certified cosmetic dermatologist and Mohs skin cancer surgeon Dr. Kenneth Mark, with practices in New York City, the Hamptons and Aspen.
A multi-tasking formula exclusive to Dr. Kenneth Mark to efficiently cleanse the skin and remove make-up. The All-In-One Cleanser will deeply remove impurities with the addition of a mild cleansing agent and protect the skin from pollutants with Green Tea Extract. The conditioner will produce a toning effect to the skin. The ALL-IN-ONE CLEANSER is ideal to prepare the skin before applying Dr. Kenneth Mark Skincare products. Contains a natural cleansing agent, Green Tea, and Hyaluronic Acid for synergistic actions.
$65.00 Buy now!
Airelle Skin
A product line that supports the skin's integrity on a cellular level. Airelle® Skincare is a living testament to the unique collaboration of Hollywood and science, and Stephen and Kasey's passion for helping people protect and beautify their skin for years to come.
$64.00-$496.00 Buy now!
The Gold Q Hemp-Infused Face Cream
Hydrating, lifting, and firming serum designed to relieve redness and puffiness in the morning. Active Ingredients: Refined Hemp Extract. Gluten Free, Paraben Free, Vegan.
$62.00 Buy now!
4-Pc. Men's Skincare Essentials Set
The perfect gift for the men on your list. This four-piece set features essentials for men to deeply cleanse and hydrate skin, all in a luxe carton with ribbon. Set Includes: · Shiseido Men Deep Cleansing Scrub, 125 ml (Full Size) · Shiseido Men Moisturizing Emulsion, 100 ml (Full Size) · NEW Ultimune Power Infusing Concentrate, 10 ml · Ultimune Eye Power Infusing Eye Concentrate, 5ml
· WHAT IT DOES: · Leaves dull, fatigued skin with a fresh, energized look · Eliminates the appearance of roughness, blackheads and dull surface cells · Delivers exceptional moisture to skin to counteract and fight razor burn · Reduces the appearance of fine lines
$61.00 Buy now!
ModernMatte Powder Lipstick Expressive Deluxe Mini Set
Product Description: RIBBONESIA LIMITED EDITION: Create an endless range of looks with the ModernMatte Powder Lipstick Expressive Deluxe Mini Set, featuring 5 unique shades of ModernMatte Powder Lipstick. Inspired by the curated shades inside the reusable acrylic keepsake box, Ribbonesia's art creates a colorful statement on the outer package. Each tone of this expressive, ultra-thin lipstick draws its inspiration from Japan's captivating nightlife, eliciting visions of the vibrant neon signs and dazzling billboards that furnish Tokyo's trendiest neighborhoods. Glide past the velvet rope with any of these bold and daring shades. Included shades: Disrobed, Rose Hip, Sling Back, Exotic Red, Dark Fantasy.
$61.00 Buy now!
Forehead Line Eraser from Nassif MD Skincare
Hydrating lightweight gel made with shitake mushroom extract and other key ingredients that helps firm the look of skin and reduce the appearance of fine forehead lines
Features:
Fast-absorbing formula helps reduce the appearance of fine lines and wrinkles on the forehead
Helps restore a youthful glow and the look of skin's luminosity
Helps smooth and firm the appearance of skin
Helps temporarily reduce the appearance of pores
Contains Actifcol, a shitake mushroom-based extract that has been shown in pilot studies to help firm the appearance of skin; also contains Aquacell, which has been shown in a pilot study to help moisturize skin and reduce the appearance of fine lines
$60 Buy Now!
Bratoxinsta
When it comes to banishing wrinkles and crow's feet, an immediate result is where it's at. Gone are the days of waiting 8 to 12 weeks for improvement. People want noticeable wrinkle fading within minutes. They want to feel it working and look in the mirror as the change is happening. Brazilian Skin's line of masks and serums delivers exactly that. It combines science and ingredients from the Amazon rainforest to deliver dermatologist-approved topical age reversal with effects similar to Botulinum Toxin, aka…Botox.® Wrinkles are gone within minutes without needles. Brazilian Skin offers a type of Botox result without the appointments, expense, and needles. Dr. Vishal Kapoor, a Beverly Hills, CA Board Certified Plastic Surgeon and Medical Advisor to Brazilian Skin explains how this skincare lie really delivers results quickly. What sets Bratoxinsta apart is that within 60 seconds of application, the state-of-the-art minerals and antioxidants found in this serum get to work fast to plump up the skin, tighten and smooth out wrinkles. The powerful combination of stem-cell, antioxidants from Açai and peptides help to improve the long-term appearance of wrinkles and will address sun damage and other issues with skin texture and tone. You will see results almost instantly and the results are unlike any other moisturizer you will try.
$59.99 Buy now!
Celebrate the Blonde Life
Nothing makes blondes bubble over with joi like a mane that's bright and beaming with good health. So this holiday season, give them a reason to celebrate with this terrific trio of Blonde Life's most essential pale perfectors. (And you'll jump for joi at the savings!) Nothing makes blondes bubble over with joi like a mane that's bright and beaming with good health. So this holiday season, give them a reason to celebrate with this terrific trio of Blonde Life's most essential pale perfectors. (And you'll jump for joi at the savings!)
Offer Includes: • Blonde Life Brightening Shampoo, 10.1 oz • Blonde Life Brightening Masque, 5.1 oz • Blonde Life Brightening Veil, 5.1 oz
$59.97 Buy now!
StretchPatch
StretchPatch, a new stretch mark and scar remover, created with highly effective ingredients that are specifically designed to aid in skin health and regeneration. StretchPatch also acknowledges the beauty of one's stretch marks and scars by promoting confidence in your own skin.
$59.90 Buy now!
Hope Fragrances Eau de Parfum Purse Spray
100% of the net profit goes to the Hope for Depression Research Foundation, which funds the most advanced research on depression in the US.
The magnificent hope fragrance is packaged in a convenient, portable bottle that you can take with you anywhere and everywhere. Carry the fragrance with you for a continuous uplifting feeling from day to evening. The slim and elegant bottle becomes an essential accessory to carry in a large handbag, a small evening clutch and every size in between. It's the perfect way to lift your senses 24 hours a day. The luxury purse spray enables you to never leave home without hope.
$55.00 Buy now!
Jersey Shore Cosmetics' Vanilla Scrub and Body Butter Spa Bundle
Jersey Shore Cosmetics Gentle Face & Body Scrub is made with dead sea salt and fair trade sugar to polish, stimulate and restore balance your skin for a radiant, youthful glow. Dead Sea Salt, Fair Trade Sugar, Natural Vanilla, Golden Seal, Chamomile, Echinacea, Aloe Vera, Vitamins and Minerals. Gentle enough to use on face, hands, and body.
Paired with Jersey Shore Cosmetics Moisture Rich Hydrating Body Butter. Made with Fair Trade Shea Butter, Babbasu Butter, Argan Oil, Vitamins. AND Pure Vanilla. Deeply nourishing and super hydrating. May be used on all parts of the body and as a hair conditioner and pomade. Use fresh out of the bath or shower to lock in moisture on damp skin. Made with 100% natural ingredients. Paraben-free. Petrochemical-free. Cruelty-free. Vegan.
$55.00 Buy now!

Resilience
Resilience is a line of premium Cannabidiol (CBD) products that helps everyday athletes recover naturally. Launched in 2018 and headquartered in Denver, Colorado, Resilience was founded by U.S. Military Veterans seeking a solution to relieve both physical and mental tensions and wake up recharged for a new day. Resilience is dedicated to transparency, trust, community, and progress. Resilience is the champion for recovery. The Resilience line of premium CBD products are designed to ease pain and help reduce inflammation, increase physical and mental stamina and promote a sense of calm and well-being.
Resilience is committed to inspiring a community of everyday athletes to crush their goals, even on their toughest days. To fuel this commitment, Resilience has created 'The Give & Rise Project,' which gives each Resilience customer the opportunity to share the profound impact of CBD with a person they care about. 30 days after an initial Resilience purchase, customers will be able to gift one free product (of equal or lesser value) to a friend of their choice, to support and inspire them to rise to their best.
$50.00-$90.00 Buy now!

Hope Fragrances Scented Candle
100% of the net profit goes to the Hope for Depression Research Foundation, which funds the most advanced research on depression in the US.
The aromatic scented candle extends the hope fragrance experience to your surroundings. It is a convenient way to infuse your environment with the magic and beauty of hope. The candle allows you to enjoy up to 55 hours of the uplifting scent in all the rooms of your home. The elegant simplicity of the gold circle artwork coordinates with every lifestyle and every interior — from the most modern to the most traditional. A perfect gift for everyone at any time of the year, the candle — from its beautiful design and packaging to its special fragrance — is the best way to give the gift of hope to all those you love.
$50.00 Buy now!
The Gold Q Daytime Hemp-Infused Firming & Lifting Eye Repair
Lifts, firms and smooths under eye skin with whiten/brighten technology to relieve the dark circles and puffiness associated with sleep issues and stress. Leaves no visible residue and can be used as needed. Active Ingredients: Refined Hemp Extract. Gluten Free, Paraben Free, Vegan.
$48 Buy now!
The Gold Q Nighttime Hemp-Infused Eye Repair
Lifts, firms and smooths under eye skin with whiten/brighten technology to relieve the dark circles and puffiness associated with sleep issues and stress. Leaves a thin sheen of Vitamin E oil and is designed to restore the under-eye skin while sleeping. Active Ingredients: Refined Hemp Extract – Gluten Free, Paraben Free, Vegan.
$48.00 Buy now!
Scent Bar – Diptyque Do Son/Tuberose Pocket Gift Set | ROW DTLA
Offer the gift of indulgence with this Parisian holiday gift set complete with 7.5 ml Do Son eau de toilette, 10 ml Do Son shower oil, and 35g tuberose candle.
$45 Buy now!
bioDOT Energy Booster from energydots
energydots are a range of self-adhesive 'dots' that have been programmed to harmonize the effects of man-made electromagnetic emissions that surround us in our wireless world. Newsflash! Those EMF's all emit low level radiation. Unfortunate, but true. An increasing number of people find the constant level challenging and experience tiredness, inability to concentrate, headaches and anxiety. bioDOT is the personal DOT. It is like recharging your battery, restoring and rebalancing your energy.
$40.00 Buy now!
Hope Fragrances Hand and Body Crème
100% of the net profit goes to the Hope for Depression Research Foundation, which funds the most advanced research on depression in the US.
The luxurious body crème extends the hope fragrance and fusion of magnificent white flowers from head to toe. The emollient and moisturizing ingredients help soften, smooth and rejuvenate the skin. The crème penetrates to leave a dewy finish that doesn't transmit to clothing, and leaves the skin feeling fresh and looking translucent. The mere application of the sumptuous crème helps create a relaxing feeling which is further amplified by the floral ingredients of the fragrance. The layering of the hand and body crème reinforces the uplifting hope fragrance experience.
$40.00 Buy now!
Veritas Farms Tinctures
Tinctures –These pharmacist formulated tinctures contain phytocannabinoid-rich, first cut whole plant hemp oil, MCT oil, and essential oils for flavoring. Beneficial for pain relief, mental focus, insomnia, stress relief, nausea, mood imbalance, and more. Natural, Peppermint, Citrus, Strawberry, Watermelon, Salted Caramel – Serving size: up to 1mL -,250 mg/ 500 mg/ 1000 mg / 1,500 mg / 2,000 mg – Contains 0.3% or less THC
$39.99 Buy now!
The Gold Q Hemp-Infused Face Cream
Exfoliating hand cream designed to nourish dry skin and prevent surface veins on the back of your hand. Active Ingredients: Refined Hemp Extract. Gluten Free, Paraben Free, Vegan.
$38.00 Buy now!
Leader's Cosmetics
Treat yourself to an exotic getaway in the comforts of your own home! Experience the wonderful benefits of botanical fruit and plant extracts sourced from the most exotic regions of the world. These coconut-gel masks are drenched with potent yet gentle antioxidant-rich extracts to calm, nourish, and soothe the skin.
Includes: – 7 Wonders Amazonian Açai Anti-Pollution Mask – 7 Wonders Caribbean Coconut Calming Mask – 7 Wonders Himalayan Camellia Pore Minimizing Mask – 7 Wonders Kalahari Melon Moisturizing Mask – 7 Wonders Mediterranean Olive Brightening Mask – 7 Wonders Tundra Cranberry Anti-Aging Mask – Cat Ear Headband
$36.00 Buy now!
ENVIE Hair Straightening System
Not only can you do this AT HOME, it will also refresh your look with a formula that keeps hair straight for up to 90 days. This easy, four-step process contains safe, non-damaging, toxic-free ingredients that leave you with zero negative side effects. ENVIE provides healthier, shinier, smoother and softer hair than their competitors. The formula is free from sulfates, parabens, phthalates and formaldehyde-releasing preservatives, protecting its users from cancer-causing chemicals and unwanted hair damage.
$34.99 Buy now!

Veritas Farms Lotion
Veritas Farms Lotions – Made with premium organic moisturizer, Veritas Farms' full spectrum hemp oil and organic essential oils for scents are made using advanced extraction techniques from both flower and leaves. Beneficial for anti-aging, dry skin, chronic skin conditions, pain relief, joint and muscle stiffness, inflammation, mood imbalance, and more. Natural, Citrus, Minted Lavender, Fruity Pachouli – 250 mg/ 500 mg/ 1,000 mg/ 1,500 mg – Bottle: 4 oz
$34.99 Buy now!
APOTHIA
Give them something to remember…Stand out, make an impression with APOTHIA from Ron Robinson. Synonymous with beauty, design, and style, APOTHIA offers aromatic candles, diffusers, hand, and body care and Eau de parfums – blending art, luxurious ingredients and world-class craftsmanship.
$32-$95 Buy now!
Vitamin Friends
Introducing the BRAND NEW Immune Gummies from Vitamin Friends. This company is truly your friend for effective and responsible daily supplements for kiddos and adults. They have scientific research and a true purpose for every ingredient in their products and want you to understand why. This is a company that truly cares about the wellbeing of their customers, because they understand the importance of high-quality vitamins.
$31.49 Buy now!
iRestore Hair Gummy Vitamins
These hair gummies improve hair health, density, thickness, fullness, nourish the skin, and strengthen nails with a proprietary blend of premium ingredients. Our biotin gummies are an easy-to-use remedy for thinning hair, balding, receding hairline, breakage, hair loss, acne, premature wrinkles, and brittle nails.
There are no preservatives, gluten, or animal products used in these hair vitamins gummies. We're proud to be vegan & cruelty-free, and naturally colored & flavored with 100% plant-based ingredients (different from brands like Sugar Bear Hair). With these biotin gummies, you don't need to worry about swallowing pills or dealing with negative side effects that numerous other brands suffer from, such as digestive upsets and breakouts.
$29.99 Buy now!
Loma Lux Dandruff Pill
Dermatologist developed, Loma Lux Dandruff Pill contains 7 all natural, earth derived minerals that are taken like a vitamin to relieve dandruff flakes and itchy scalp from the inside out – for a healthy, happy scalp. All Natural Minerals Vegan Gluten Free Lactose Free
$29.99 Buy now!
Veritas Farms Gummies
Gummies – Made with organic ingredients and CBD isolate and Melatonin, shaped as red berries and hearts and mixed together. Beneficial for mental focus, pain management, better sleep, stress relief and more. Quantity: 30 Gummies – 5 mg/ 5 mg with Melatonin
$29.99 Buy now!
Chemist Confessions' Moisturizers
The chemists believe that a good moisturizer should accomplish three functions to boost your skin barrier function: instantly hydrate, soothe irritations, and provide long term fortifying benefits. Each product in our moisturizer line was created with these 3 core functions in mind.
$29.00-$90.00 Buy now!
Deew Beauty – Highly Nourishing Crèmes
Embrace your higher health — Deew Beauty and Wellness' Highly Nourishing Crèmes elevates your skincare routine to a soulful ritual while supporting a holistic approach to physical health and well-being. Each creme is full of vitamins, minerals and is rich in nourishing essential fatty acids that absorb easily into the skin. All products focus on skin energizing, skin protecting, and anti-aging, while promoting focus and/or sense of calm.
Deew Beauty and Wellness' Highly Nourishing Crèmes are available online in two different scents – CHILL: Relax & Unwind your skin. Scent: Lavender, Patchouli, Bergamot. UPLIFT: Uplift & Energize your skin. Scent: Spearmint, Peppermint, and Rosemary. Each jar is packed with omega fatty acids which sink deep into your skin leaving it nourished and "deewy." Vegan, tested on humans not animals, made in Canada, 100% legal.
~$28.97 ($38.00 CAD) Buy now!

Comodynes Huile Hydrating Oil
Comodynes, the innovators of the sunless tanning and makeup remover towelettes, has added a NEW hydrating dry oil for face, body and hair to their offerings. Introducing Huile Splendeur.
Made with 7 natural, organic oils (Wild Rose, Macadamia, Argan, Olive, Avocado, Rosemary and Carrot) and vitamins E and F, Huile Splendeur moisturizes, repairs and softens even the driest hair and skin. The proprietary, 98.7% natural formula quickly penetrates skin leaving it soft and supple, and with no greasy residue. Instantly boost hydration and shine to hair with a few spritzes onto damp or dry hair. Style as usual. Remember: a little goes a long way!

$25.99 Buy now!
Voke
These energizing tabs provide almost instant mental clarity and focus in a convenient, healthy chewable tablet without the annoying jitters that accompany other alternatives.
$25.95 Buy now!
VitaCup Beauty Blend
VitaCup, the first and only vitamin-infused coffee and tea K-Cup pods on the market, has newly launched a new formula to their roster, Beauty Blend Coffee. Boosted with an expertly formulated combo of some of the most buzzed about beauty/grooming ingredients, this caffeinated drink works to promote your healthiest hair, skin and nails:
Collagen Type 1 + 3: Master no-makeup mornings with your skin's new BFF. This powerhouse protein is crucial for skin's elasticity, keeping it supple and radiant. Biotin (B7) + Folic Acid (B9): Killer B's, each an all-star in the beauty community! These vital nutrients are key in helping our bodies to maintain envious hair and nails. Antioxidant Cinnamon: Sweet and powerful, this super-spice is loaded with antioxidants and medicinal properties that help fight against free radical damage. Most Importantly- Great Taste: Smooth, satisfying medium roast made with 100% Arabica beans sourced from Brazil and Mexico.
$25 Buy now!
Schmidt's Natural's Holiday Collection
Nostalgic in essence, the collection includes three distinct deodorant scents: Oh, Christmas Tree — inspired by the cherished tree-trimming tradition, Oh, Christmas Tree is crisp and enchanting, with the scents of spruce and hemlock. Perfectly suited for the holiday season. Snow Day — clean and powder fresh, Snow Day is inspired by snowball fights and endless sledding hills. Soft, light, and oh so clean. Holiday Spice — warm festive, with notes of orange, cinnamon, and clove. This modern take on classic holiday potpourri is abundant with holiday cheer. Available at schmidts.com and Whole Foods Market nationwide for $24.99.
$24.99 Buy now!
Sunshine & Glitter
This luxurious formula features SPF 30+ broad spectrum UVA/UVB protection and 80 minutes of water resistance, with our eco-friendly biodegradable glitter. Infused with natural antioxidants and essential nutrients, PABA and Paraben free. Because when we're protecting your skin, you look amazing. Only the best.
Forever and always made in the USA.
$24.95 Buy now!

Honua Skincare
Honua offers a new experience in skincare. Honua's daily facial ritual not only transforms skin, but allows customers to experience a touch of aloha daily. From formulation to production, Honua incorporates the spirit of aloha along with a combination of traditional Hawaiian healing botanicals and methodologies, with modern skincare technology
$24 – $148 Buy now!
Gấc
Say hello to Gấc a new super-fruit infused health and beauty water. Packed with 90 different healing compounds, it's your all-natural drinkable health and beauty boost. Keeping you healthy, hydrated, and protected, Gấc still and sparkling waters offer the highest amount of all-natural antioxidant carotenoids with no added sugar, free from preservatives and unwanted chemicals, and weighs in at less than 25 calories per bottle.
Gấc is infused with gac fruit — a rare superfruit indigenous to Southeast Asia that is also known as the "fruit from heaven" packed with age-defying antioxidants, including carotenoids, polyphenols, as well as Vitamins A, C & E. Each can contains 20mg of carotenoids which can be used by your body to increase collagen levels, skin elasticity, improve hydration and reduce the appearance of fine lines and wrinkles. To get that many carotenoids in your body you'd have to eat 1 regular size head of cabbage, 5 large tomatoes, 15 large carrots, and 30 bunches of spinach.This new tasty beauty boost is available in six flavors: lemon, pineapple, peach, sparkling mango, sparkling lemon, and sparkling passion fruit.
$24.00 per six-pack Buy now!
The Kami Pad
Forget expensive treatments or harsh chemicals – the path to smoother skin is as easy as peel, stick, relax. Formulated with 100% medical grade silicone, The Kami Pad is proven to reduce the appearance of fine lines and wrinkles and is the largest, thickest, plushest and longest-lasting pad available on the market. Comfortable to wear and easy to use, just stick on a Kami Pad, sit back and relax while skin is smoothed to a gorgeous, youthful glow!
$24 Buy now!
Wax Buffalo Roll-On Fragrance
For all you babes that want to take your wax buffalo fragrance with you everywhere! These tiny treasures are nourishing for your skin and smell absolutely dreamy. ingredients: pure fragrance oil.
$22 Buy now!
Zaca Recovery Chewables
Zaca's chewables are sugar-free, nutrient packed yummy tablets that replenish the electrolytes you lose while imbibing or during long haul travel. Zaca isn't jam packed with unfamiliar, scary ingredients, the tablets are simply science-backed vitamins, antioxidants and century old herbs (like Japanese raisin) that do wonders for hydration, fatigue and foggy head.
$20.99 Buy now!
Lip Freak Tints Buzzing Lip Balm – COMPLETE SET
All four original Lip Freak Tints shades. An electrifying lip balm with light-weight, buildable color for healthy lips all year long. Lip Freak Tints are 100% natural have the signature "buzz" you love, with color that literally pops in four nourishing and richly pigmented shades. With a color for every occasion, collect all four to match your evolving moods. Whether it's date night, weekend brunch, or time for a new tat – – Lip Freak Tints has got your lips covered.
Finally! Vibrant color with no bad ingredients, our shades are so vibrant you'll forget all about lipstick!
$19.95 Buy now!

Honestly Margo's Bubble Fizz Bath Powder
Unlike the bath bomb, Bubble Fizz is in its original, loosened powder form and is stored in a compact jar that allows users to pour as much or as little into their baths for a personalized fizzing, bubbling and shimmering experience! Offered in six different scents. The photo is MELODY, Orange Sorbet.
$19 Buy now!
Better Body Foods
People go nuts for PBfit® and here's why: they don't expect it to taste as good as regular peanut butter. So when it does, they get super excited, even a bit obsessed. Imagine snacking on peanut butter that's only one-third the calories and 87% less fat*. That means guilt-free smoothies, PBJs, peanut butter dips, oatmeal, pancakes—you get the idea. It's your new non-guilty pleasure.
$17.98 Buy now!
Purequosa
Purequosa is a unique cleansing body spray that nourishes the skin, fights odor-causing bacteria, and requires no additional water. The perfect on-the-go solution for yogis, bikers, CrossFit enthusiasts, and all other lifestyles, active or not.
$16.00 Buy now!

Crystals: The Modern Guide to Crystal Healing
From choosing and using to programming, charging, and cleansing, Crystals is a modern guide to enhancing your life with these enchanting stones. Often referred to as 'wisdom keepers', crystals hold millions of years of the Earth's history within them. Through emitting steady vibrations, they will help you to become more centered and balanced, creating spaces of Zen around you and your home. Featuring 51 of the most common and interesting crystals, this is a practical guide that will teach you about each stone's individual properties and how to harness their powers. Discover which crystals are right for you, where best to position them, the perfect pairings, and learn how to look after your crystals on a daily basis to deflect any negativity in your life.
Whether you use Jade to improve your health, Smoky Quartz to detoxify, or Rose Quartz to create harmony in your relationships, this practical guide will equip you with all you need to harness the power of your crystals. Disconnect with the digital world and reconnect with your spiritual self as Crystals provides a fresh take on crystal healing that helps you to enhance your inner positivity.
$14.99 Buy now!
Sunshine & Glitter
All you daydreamers and night thinkers, we concocted this just for you to glitter vamp it up! PABA and paraben-free, infused with antioxidants and essential nutrients, this magical potion leaves your skin feeling bewitching.
Moisturizing potion with black holographic glitter.
$14.95 Buy now!

Peppermint Latte CBD Bath Bomb
Limited Edition 25mg Peppermint Latte CBD Bath Bomb will help you celebrate the season while easing stress and soothing dry skin. Take in the warm and inviting scents of peppermint, as you drift away to a wintery wonderland.
The nourishing bath bomb is hand made with 100% Organic essential oil blends, lab tested C02 cannabis oil, and CBD isolate. There are no artificial dyes, or preservatives and the high quality food coloring will never stain your tub and is safe for absorption.
$12.99 Buy now!

WhitenFresh
EverSmile WhitenFresh is a patented cleaning, freshening and tooth whitening spray that also kills bacteria that cause bad breath and tooth decay. WhitenFresh is perfect for refreshing your breath after a meal or before an important meeting. Used regularly, WhitenFresh can prevent coffee stains from ever setting in and will work to correct wine and smoking stains.
Because WhitenFresh uses a low dose of hydrogen peroxide, it does not cause the sensitivity you experience with whitening strips and gels and can be used safely up to 6 times per day. Keep your WhitenFresh in your pocket or purse all day long to freshen breath and whiten teeth. Be striking.
$11.99 Buy now!

Wowe Lifestyle
As you think about getting all dolled up for the season's festivities, why not use products that works to save the Earth? It's estimated that about 2 billion razors and almost 50 million pounds of plastic toothbrushes are thrown into landfills every year. All that plastic can take up to 1,000 years to decompose and can even leak pollutants into the surrounding soil and water. With that said, it's time to make a difference with Wowe Lifestyle this holiday season by investing in hygienic essentials like Bamboo Razors and Toothbrushes.
The Double Edge Safety Razor is made with a smooth and natural bamboo handle for a sleek modern look and it's eco-friendly, repels water and won't splinter. The Natural Bamboo Toothbrush Pack comes with four toothbrushes that will last one person a full year, making it easy to remove bad bacteria. The Bamboo Toothbrush and the Double Edge Razor are 100% plastic free zero wasting packages. Smooth and natural bamboo handle will never splinter and is water resistant. 100% BPA free. Packaging made from 100% recycled material. One percent of sales are donated to One Tree Planted.
$11.97-$21.97 Buy now!
POLISHED by Dr. Lancer
POLISHED by Dr. Lancer is a men's grooming brand dedicated to helping men live better lives through quality skin care designed by men with high standards for men with high standards. POLISHED began when two friends, renowned Beverly Hills dermatologist Dr. Harold Lancer and long-time patient, creative entrepreneur and popular TV/radio host and producer Ryan Seacrest decided to bring to market a high-quality men's skincare product line, that delivered both results and value.
$10.00-$55.00 Buy now!
Natrol Hair, Skin & Nails Gummies
Enjoy beautiful hair, skin and nails with great tasting, raspberry flavored Hair, Skin & Nails gummies. Natrol Gummies are made with organic ingredients and are non-GMO, gelatin-free and vegetarian. Natrol Hair, Skin & Nails Gummies deliver 5,000 mcg of biotin in just two gummies, making them one of the most nutrient-dense Hair, Skin & Nails gummies available.
$7-$15 Buy now!
Funnel your Energy
Place Funnel Your Energy in the open neck of any recyclable water bottle. Then pour powder product into funnel, shake, and drink.
$6.97 Buy now!
Ola Tropical Apothecary Lomi Stick
If your sinuses, sciatic nerve or neck is causing you grief, instead of reaching for the Tylenol, you might want to give Ola Tropical Apothecary's Ola Pono Lomi Stick a try.
Lomilomi is traditional Hawaiian massage that uses the hands and carved sticks to realign the body, mind and spirit. Empowered by the breath of life and the healing power of plants and nature, lomilomi transfers the mana/energy that restores health and beauty, and relieves pain. This makes it ideal for use with reflexology, "the application of appropriate pressure to specific points and areas on the feet, hands, or ears. Reflexologists believe that these reflex points correspond to different body organs and systems, and that pressing them creates real benefits for the person's health." [Source: University of Minnesota.
$6-$14 Buy now!
Leader's Cosmetics
The Açai berry, from the Amazonian rainforest in Brazil, is an antioxidant powerhouse that will purify and neutralize the effects of pollution on the skin. Vitamin C, B, and E help protect, fortify and rejuvenate skin. Coconut Gel Mask!
$6.00 Buy now!

Vanessa Petronelli's Passage to Peace Meditation Album.
2018 has been in an intense, life altering year filled with great transformation and plenty of challenge. The world is READY and waiting for YOU, the heart-driven leader to embody more of WHO YOU ARE and operate from your most grounded, authentic and fullest expression. If you've landed here, maybe you are…
A global or community changemaker, visionary, healer or spiritual leader on an accelerated path of personal and spiritual mastery desiring to continue to deepen your connection to the entire Universe and your true self. Ready for greater clarity and vibrational alignment to your mission and your highest version of yourself.
Feeling the urgency to be on the cutting edge of consciousness work and humanity's transition forward to create a new Earth. Wanting greater access and information to support you in your leadership and purpose from higher dimensions and beings of light and be able to bring that information into your daily life and mission in a grounded and strategic way. If so, you're invited to join Vanessa as she takes you and a group of fellow leaders and influencers on an exquisite, interactive journey of guided meditation, galactic transmissions, clearings and upgrades with her Passage to Peace Meditation Album.
FREE Get now!
*All images courtesy of respective companies. – Splash Magazines is not paid for this content.