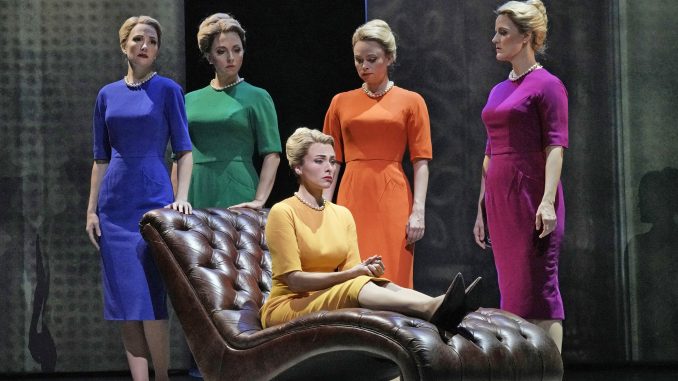 This new opera from composer Nico Muhly, and librettist Nicholas Wright, commissioned for the Met and based on the 1961 novel by Winston Graham, is a remarkable achievement as a work of theatre.  It is stunningly staged and costumed, interestingly directed and impeccably performed.  While you're watching it, you are absolutely drawn in.  And once you've seen it, you'll never need to see it again.
And that's a horrible shame. There's so much right about this, that the thing that is wrong – the music – is the thing that's going to kill it in the future.  What is it about modern opera composers that they can't write something with an actual melody?  Is that a RULE somehow?  There are long arias in this, all of which had the potential to be the next Nessun Dorma or Queen of the Night, something that could live on in opera repertoire for generations to come and be beloved worldwide.  But no.  Nothing has a through-line or a payoff or is anything you can remember the second it has stopped happening.
The opera certainly hangs together as a piece.  The opening scene in the office with the chorus singing about mundane office work is nothing short of brilliant.  It's hectic, it's full of energy. It's exactly the cacophony of modern society in a bullpen-style office. It creates something in its busyness.
And it was Muhly's only idea, apparently.  Because all of the character through-lines are the same conversational, pointlessness.  Random pitches that go nowhere, that show off the singer's range, but don't build into anything coherent. Opera used to have melody, dissonance used to have purpose. Where has it all gone?
When you listen to the interviews and the thought and care Muhly lavished on this, the idea of doubling vocal lines with instrument lines, the multiple Marnies with their different tonal palates indicating the main character's inner turmoil (which is utter genius and I can't commend the idea highly enough, not to mention how superbly it's pulled off), the use of strategic repetition, it's all there.  And yet why care when the "music" seems to be made up of random pitches drawn out of a bucket?  I could throw an accordion down a flight of stairs and get a sequence of pitches for this score that made as much sense as what I listened to.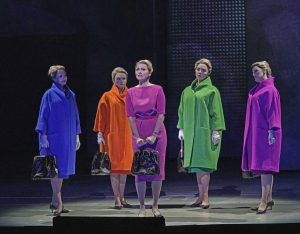 During the interview sections of the HD broadcast, the Producer and Composer speak engagingly about how Marnie truly is an operatic story. They are not wrong.  It has amazing characters, it's melodramatic in the way grand opera is melodramatic, and it has a fresh, modern, psychological storyline that gives the singers great things to play.  The Met made sure to hire singers for this production who are also all superb actors, from Isabel Leonard as Marnie (who the writers had in mind as they were crafting this) to Christopher Maltman as Mark Rutland, Iestyn Davies as Terry Rutland and Denyce Graves as Marnie's Mother, to the chorus, all of whom get great turns as office workers, party guests and gossipy mourners at a provincial funeral.  They are all, every one of them, superb and really dig in to their parts.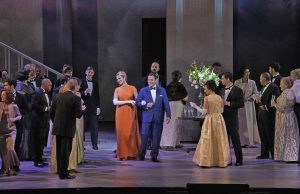 The set, with its interesting use of lighting and projections designed by Julian Crouch and 59 Productions and Kevin Adams, its gorgeous mid-century costumes by Adrianne Phillips, this opera looks gorgeous. But what is the point, ultimately, when it doesn't sound good?
It's not unlistenable.  Watching the story, with these fine singers and actors is compelling.  But I never need to see it again. I won't be buying the soundtrack.
People are hungry for new repertoire. People want to see new things.  But those new things should really be recognizable as music.  They can be challenging. They can show off great singing.  They can capture modernity in the way great movie scores do.  But the thing that great movie scores seem to have learned that modern opera seems to fail at, is that there needs to be a melody for people to hang onto.  At least from time to time.  This could have done that.  Cacophonous crowd scenes, and something more introspective for the main characters.  I so wish Mark's love aria could have had a nice melody.  I so wish Marnie's love song about her horse hadn't sounded like random notes thrown at a wall to see what stuck.  I would have loved for Marnie's awful mom to have had an awful mom melody line that people would have left the opera house wanting to hear again.  Melody does not equal musical theatre.  Don't let them steal it from opera.
As always, the extras you get viewing Marnie in HD add greatly to your enjoyment of the opera.  I understood where the creators were coming from. The bits about Isabel Leonard's costume quick changes were adorable.  As usual, the Met, and Fathom Events did a superb job with everything. I only wish I ever wanted to listen to this opera again.
Upcoming productions, including next up La Traviata, can be found here.
All images provided by The Metropolitan Opera.