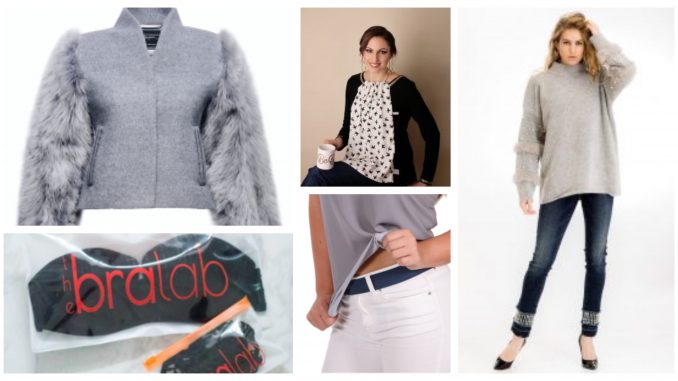 All items listed from most to least expensive.
BOMBER JACKET WITH FUR SLEEVES, SHALE GREY
The Bomber Jacket with Fur Sleeves is a standout from the FW18 Collection. This day-to-night, statement-making piece features a body crafted from baby alpaca, and sleeves crafted from luxurious and cruelty-free Suri alpaca fur. Can easily be work with both jeans and runners during the day, or with leather leggings for an elevated and fashion-forward evening look.
$1895.00  Buy now!
The Harper in Shore
A Feminine fit. The 50's inspired Harper jacket is tailored on the torso and cropped at the waist, and therefore the quintessential accompaniment to your high-rise denim. Outland benefits women rescued from the sex trade industry and employs those at risk of falling into poverty (a contributor to trafficking vulnerability) with a mission to set a standard for the treatment and remuneration of young female workers in the garment manufacturing industry.
$275.00  Buy now!

Myrtle Greta Sweater | ROW DTLA
We're so in love with this perfect green pop! An unexpected but beautiful choice to shake up your fall wardrobe. Pair with the Perfect Beanie (MSRP: $70.00) for more fall lime! 100% merino wool. DIARTE is designed by Ana Diarte and produced in Spain.
$236  Buy now!
Mott50 Margherita Suit
Mott50, the leader in fashionable sun protective apparel has collaborated with the renown Italian designer, Margherita Maccapani Missoni to create a capsule collection. The Margherita swim style is a retro take on our Mila swimsuit with an added collar and flattering colorblocking to accentuate the waist. Each piece has built in UPF 50 protection.
$195  Buy now!
dRA Kyler Jacket | ROW DTLA
A fall favorite (Gigi Hadid wore it in yellow), the Kyler Jacket, cut in faux fur, features front patch pockets and hidden hook and eye closure. It's the perfect jacket to dress up your holiday look.
$188.00  Buy now!

Ochie Swim
A contemporary label inspired by exotic locations and white sand beaches. Focused on fit, design, and gorgeous custom prints, Ochie is the definition of laid-back glamour.
$165.00-$215.00  Buy now!
KUT From The Kloth
Make this holidays season COLORFUL & COZY with Faux Fur at an amazing price. The exclusive Faux Fur collection starts at just $148, so you can get faux fur fabulous without breaking the bank. Dress like celeb Heidi Klum, she was sighted sporting last years emerald green Kut From The Kloth faux fur style on the set of Germany's Next Top Model.
$148  Buy now!
Baciano Gray Genesis Sweater
Pearls? Faux Fur? Yes, please! This gray knit sweater screams "festive party wear!" Donned over jeans, leggings or a leather skirt, the Gray Genesis is a showstopper.
$115.00  Buy now!

Cambiami
Champagne Holiday Set sandals with interchangeable straps
Under $100  Buy now!
Teddy Faux Fur Coat
For a touch of luxe, look no further than our faux fur coat. With its relaxed silhouette, rounded notch collar with hidden snaps and snap front covered placket, the two side pockets add a practical edge. Crafted in soft faux fur, it's perfect for cooler days.
$74.90  Buy now!
Koy Resort Beachwear
Soak up the sun in style! Koy Resort offers a beautiful collection of breezy, effortless beachwear, and they just dropped their new spring 2019 collection. Each piece is crafted to be light and airy to keep you covered and cool, while the no-fuss fabrics flatter every body type.  Since 2015, Koy Resort has been creating effortless pieces for the sun-seeking traveler. We take inspiration from beach life and exploring cultures, art, and music all around the world. Every piece is carefully crafted to be light and airy to keep you covered and cool, poolside or in the sand. Each style offers no-fuss fabrics and flattery for every body type. With looks that transition seamlessly from dawn to dusk, all your suitcase is missing is Koy Resort.
$81.00-$91.00  Buy now!
BloqUV – Full Zip Crop Top
The BloqUV Full Zip Crop Top has a UPF 50 plus rating, blocking out 98 percent of the sun's harmful rays. The Crop Top is a great layering piece over a tank top, swim suit, sun dress – Available in fresh vibrant colors to match any of your outdoor activities.
$74.00  Buy now!
Cotton Citizen
Born in LA's premium denim dye house, Cotton Citizen uses their own signature denim-influenced dye process to create the most unique washes and rich hues in their collection of editor-coveted luxury basics. Each garment is processed individually by hand with exceptional design detailing, epitomizing what it means to Live and Dye in LA.
$65-$350  Buy now!
sts blue
sts blue offers FREE embroidery options to customize a jean jacket with something special. That solves the problem of "what do I get her she has everything!?" You can now customize something for her so it's one of a kind.
$59  Buy now!
Tie Sleeve Sweater
A feminine update to your classic knit with ties at the wrist make this sweater fun. A V-neckline & hem slits with ribbing add to the relaxed vibe. It will look equally chic with casual denim or cropped pants & oxfords.
$42.90  Buy now!
Marika
Marika is known for making athletic wear that looks and functions great at the gym but also doubles as fashionable streetwear. Whether dropping the kiddos off at school, waiting in line for morning coffee, or having girls' night in, rock the styles from Marika and look chic and fashionable for whatever the day or night may bring.
$40  Buy now!
Ellie
Ellie subscriptions are extremely affordable. Pricing starts at just $40/month for a high quality and stylish 3 piece outfit. Outfits include a legging, sports bra and seasonal tops ranging from tanks, tees, hoodies and lightweight jackets. For an additional $10, select the 5-piece option and get two fun fitness accessories to compliment a pre-styled 3-piece outfit!
$39.95  Buy now!
Bravity
Bravity is a revolutionary sleeping bra to prevent wrinkles. Every woman should own Bravity — an anti-wrinkle, no-cup bra that stops the formation of creases and wrinkles in the chest area.
Bravity has Y-shaped padded straps that go in between the breasts leaving them exposed to allow the natural lymphatic cleaning process to occur. Made of nylon and spandex so it's soft and cool to the touch. Each strap has a hook and eye on the upper front of the shoulders to adjust the straps. Wear Bravity to bed at night and watch the wrinkles disappear!
$33.99  Buy now!

BeBibs
BeBibs is a line of fashionable clothing protection that safeguards clothing from accidental drips and spills during hectic life! They're made of lightweight, machine washable fabric that drapes nicely over clothing and are worn around the neck with an easy slip on and off necklace. BeBibs are a must-have accessory for working women who eat and drink on-the-go or at their desks, the morning routine of brushing teeth and applying makeup, new mothers, as well as for dancers, pageant contestants and soon-to-be brides.
From pretty floral designs in a variety of colors to funky and fun geometric shapes, inspirational messages, animal prints and an elegant bridal bib with custom embroidery, there are more than two dozen designs that are perfect for any age and style.
$28.00-$46.00  Buy now!

Infinity Belt
The InfinityBelt is an exceptional product designed specifically with women in mind. The smooth and sleek InfinityBelt does everything your regular belt is designed to do, but better! The clasp is flat and undetectable… no bulging, no bulk! It's all the belt, without the buckle! The belt itself is made of a specially chosen material, with just the right amount of stretch for your comfort and support for your security. It's so easy and comfortable to wear, you'll forget you even have it on.
$24.95  Buy now!

Holiday Nights Velvet Skater Dress
The season of celebration is here! It's time to gear up for a calendar filled with holiday cocktail parties, family gatherings, and office soirees…so get a handle on the top "nights out" trends that will leave them speechless when you walk in! From short, flirty hems and sparkle detailing, to plunging necklines or textured shimmer, gift a beautiful Speechless dress for the perfect holiday outfit!

$19.99  Buy now!
VICI
For the modern fashionista in your life, VICI specializes in the versatility of what makes us who we are. They offer a wide range of casual pieces to beautiful statement dresses, keeping you chic and always comfortable.
$12.00-$150  Buy now!
The Bra Lab
The Bra Lab allows their customers to customize their bra in every way, such as the cup size, interchangeable backs, and multiway straps.
$12.00-$104.00  Buy now!

*All images courtesy of respective companies. – Splash Magazines is not paid for this content.