All items listed from most to least expensive.
Lafia NameIT Diamond Personalized Necklace
Say it with words. Modern cursive personalized necklace is not limited to wearing your name. Handcrafted and fixed on 14 karat gold fine rolo chain.
Handcrafted with love in Canada. Diamond weight varies by letters. Select your 14 karat fine rolo chain length, 16" adjustable at 15" and 14", 18" adjustable at 17" and 16". Signature Lafia lobster clasp.
$1,800.00  Buy now!

Adina's Jewels' MULTI COLOR CHOKER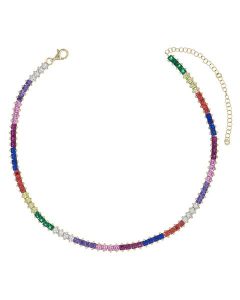 At ADINAS, each piece of jewelry is designed for perfection with the intention of delivering quality jewelry that'll make YOU stand out. Our items are Sterling Silver & Plated in 14KT Gold. We add an extra layer of tarnish resistance to avoid discoloration or rusting of any sort. We provide FREE repairs in the rare case of discoloration or defective pieces.
$225.00  Buy now!
1/4 CARAT DIAMOND STUD EARRINGS AND NECKLACE
Stocking Stuffer Option!
$199.99  Buy now!

Komuso Design
A mindfulness breathing necklace inspired by Japanese monks, designed by a therapist
with a tested circumference to slow your exhale and reduce anxiety. This necklace comes in styles for men and women and is engineered to slow breathing pace and help the user relax.
$85.00-$115.00  Buy now!
11 CARAT EMERALD SHAPE CREATED PADPARADSCHA SAPPHIRE AND DIAMOND RING IN STERLING SILVER
Stocking Stuffer Option!
$59.99  Buy now!
Flont
Typically, gifting fine jewelry is synonymous with a depleted savings account and days spent feverishly canvasing department stores – this year, Flont is here to break the mold.
Flont AKA the 'Rent-the-Runway for fine jewelry', is here to put an end to your holiday havoc by enabling you to give your loved ones access to unlimited jewelry from brands such as Cartier, Bulgari, Deborah Pagani and Noor Fares on a rotating basis so she can wear what she wants, when she wants it.  Flont offers premium gift cards that are the perfect holiday gift for her!
$59 – $399  Buy now!

ANTIQUE REPRODUCTION 1/5 CARAT DIAMOND TENNIS BRACELET IN WHITE GOLD OVERLAY
Stocking Stuffer Option!

$49.99  Buy now!
Brass & Unity
Brass & Unity creates beautiful beaded, rope or metal bracelets and necklaces featuring real forged reproduction brass shell casings finished with laser etching. Not only are they eye-catching, every time you wear them you're reminded to stay true to your mission.
$45.00  Buy now!

Lapis Bracelet
TAPS.org focuses on Families of the Fallen, not just in the US but worldwide in this never-ending war on terror. In addition to serving more than 80,000 grieving families stateside, they also have been doing incredible work with Aghan widows, who have been left with no resources and no way to support their families after the loss of their husbands, fighting and translating on America's side.
TAPS found a new way to support these widows and their families while also lifting up their own mission of hope and healing; with the abundant supplies of highest quality lapis lazuli available to them, TAPS has been employing these widows to make bracelets similar to those made by high end designers like David Yurman with all proceeds going to the surviving families and TAPS.
$32-80  Buy now!

Lavish Leathers Flutter Earrings
Handmade double layered and hand fringed earrings – tell me, have you ever seen an earring so cute? And perhaps best yet, they are so feather light, you'll hardly notice you're wearing them and won't get those nagging achy lobes after a day's wear. They're flirty, they have movement, they make a statement, they're divine!
$26.00  Buy now!

AJ's Collection
Women, especially Moms, love personalized gifts and many of them love jewelry too! The AJ's Collection line of beautifully hand finished, sterling silver necklaces and charms will fulfill both desires for the ladies in your life.
Each of the hundreds of charms they offer can be customized with the names of loved ones, or even the recipient's own name. Swarovski birthstones can be added as well. The perfect customized gift for Moms, Grandmas and women of all walks of life!

Prices vary  Buy now!
*All images courtesy of respective companies. – Splash Magazines is not paid for this content.