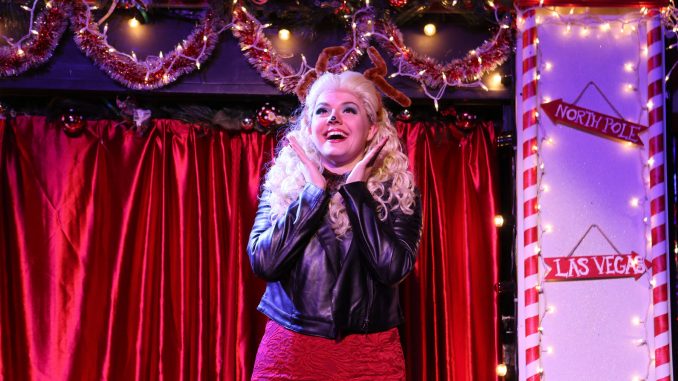 Welcome in to the Hell in a Handbag Production – and World Premiere – of SnowGirls – The Musical in the cute and somewhat eccentric Mary's Attic Theater in Andersonville (5400 N. Clark Street, Chicago). It features a wild, way-out 10-member musical ensemble who are equally at home with singing, dancing, telling jokes and double, off-color, humorous innuendos.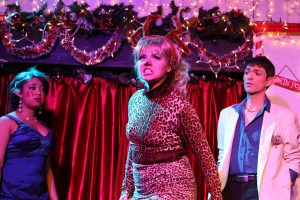 It sounds like a holiday-themed fun play – and the show certainly is entertaining. It is a parody of the classic cult film Showgirls, which I am probably one of the few who never saw. It's the story of Snowmi Malone, a pretty, ditzy blonde bombshell who is a rebel who dreams of becoming a dancer.  Things get complicated as her dancing dream leads her to the cold and cruel world of the North Pole (temperature fairly similar to Chicago's weather). Snowmi's misadventures are humorously played out during her adventurous year there by Harper Leander.
SnowGirls – The Musical features Ensemble Members Sydney Genco*, Grant Drager* and Terry McCarthy* with Amelia Bell, Erin Daly, Harper Leander, Max McKune, Sharon Rae Ryan, Patrick Stengle, Marissa Williams and Brittani Yawn.
The production team for SnowGirls – The Musical includes: Kate Setzer Kamphausen (costume design), Cat Wilson* (lighting design), Keith Ryan* (wig design) and Drew Donnelly (stage manager). The costumers are terrific and the flamboyant hair styles make me want to change my hair dresser!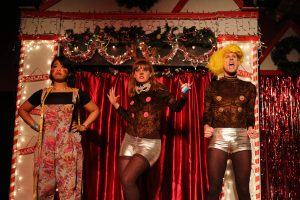 The original book  is by Derek Van Barham. The Music Director is JD Caudill. He is also the co-founder of Hell in a Handbag Productions. Jeff Thomson is Orchestrations head, filling the small theater with non-stop musical arrangements. Along with Scott Lamberty.
The Director, Jon Martinez, aptly makes his debut with the Handbag Production company. How he gets the ensemble in and out of each scene is fascinating to watch!  It almost seems like magical theater!
We enjoyed the festive scenery, banter, humor and non-stop stage activity of SnowGirls – The Musical. It kept us up on our twinkle toes!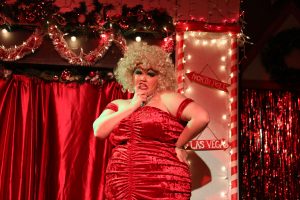 Put this fun show on your holiday to-do list, please.  It runs through Sunday, December 30.
Curtain times are Thursdays, Fridays and Saturdays at 7:30 pm; Sundays at 6 pm. (please note there will not be a 6 pm performance on Sunday December 2 due to the Handbag Gala)
Tickets are $27 in advance; $30 at the door. Group rates $24 for 10 or more. $20 senior and student rates. Order your tickets at brownpapertickets or by calling by calling
800-838-3006.
Go have yourselves a jolly good time at SnowGirls – The Musical. You will be happy that you did.
Chicago-splash.com recommended this fun-filled evening