There's no place like home for the holidays, and A Christmas Carol at the Goodman Theatre is its own kind of theatrical home. I imagine it must be for the actors, designers, and stage crew who work on it year after year, and I know it has become so for me. I've written about this production several times now, and browsing Christkindlmarket before attending the opening performance has become a holiday staple for me, right alongside decorating a tree and baking Christmas cookies.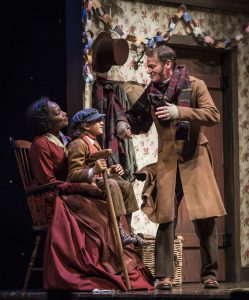 What is it that brings folks back to this production year after year? It seems easy to grow tired of watching the same play over and over again and yet, I never do. Some of it is the sheer magic of the production; elaborate flying sequences, glittering costumes, spooky ghost effects, and more are dazzling to behold. Scenic design by Todd Rosenthal and costumes by Heidi Sue McMath are a feast for the eyes, immersing the audience both in Dickens' London and the magical, semi-real worlds of the past and future. Onstage musicians add beautiful live music to the performance. In addition to the magic, both the stage magic and the intangible holiday magic unique to this production, there is the appeal of the people onstage. The Goodman's giant cast features of some of Chicago's best actors who can't help but feel like friends by the time the night is over.
Larry Yando, of course, is a commanding stage presence. How he keeps his performance of quintessential curmudgeon Scrooge fresh year after year is beyond me, but it's impossible not to look forward to his gradual transformation from a holiday hater to a giddy, childlike Christmas lover throughout the course of the story. Kareem Bandealy is a delight as well, portraying the Narrator and Jacob Marley. The opening "dead as a door nail" monologue, which could be quite dull in other hands, becomes a light and fun welcome to the story about to unfold.  
I'm always impressed, as well, by the young people in the show, including the charismatic Paris Strickland as Tiny Tim and Maggie Chong as Emily Cratchit. The dancing the children do in various scenes will warm your heart, and Breon Arzell as Dick Wilkins lifting the petite Strickland to dance with her will melt it completely.

It's difficult to find high enough praise for this production. If it's within your means, you absolutely must make time this Christmas season to enjoy Goodman's A Christmas Carol.
Ticket Information
Location: The Goodman Theatre (The Albert), 170 N. Dearborn
Dates: November 17 – December 30, 2018
Tickets: $25 – $119 (subject to change). Available by telephone 312.443.3800, online at The Goodman Theatre website or at the Box Office (170 N. Dearborn). Accessible and Spanish-translated performances available.
All photos by Liz Lauren.