I'll never forget the moment in college when my Women's and Gender Studies professor pointed out how many historical revolutions, seeking equality among men, sought exactly that—equality for men, never women. "The motto of the French Revolution, after all," they said, "was liberté, égalité, fraternité."
Playwright Lauren M. Gunderson seems to have noticed the same lack of women in French Revolution stories and has set about righting that wrong with her play The Revolutionists, the story of four historical women who approach France's fight for freedom in different ways. For playwright Olympe de Gouge, the struggle is to create a work of art that is timely, relevant, and revelatory—a struggle any artist can relate to, I think. For spy Marianne Angelle, the focus is ending slavery in the Caribbean, a practice that hypocritical white Frenchman fail to see as contradicting their ideals. Charlotte Corday ties her personal rebellion into a single act: the murder of Jean-Paul Marat, whose incendiary writing led to hundreds of deaths. And Marie Antoinette—well, Marie's a cause unto herself, albeit a rather strange one.
The Revolutionists places these four women into conversation with each other and with the larger historical events around them. Ultimately, though, the trappings of the French Revolution are simply a vehicle for debating larger questions of legacy and the significance of art, especially theatre. Is there any point to putting on a play while the world falls to pieces around you? No, the play says, and then yes, and then maybe.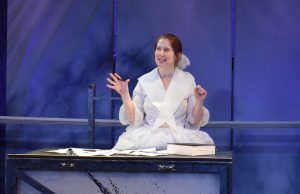 Meta-theatre, at this point, is no longer the fresh and innovative form that it once was; I know I for one have seen plenty of plays about plays, and while it's a genre I enjoy, even I found de Gouge's musings about how she'll tell her story a little tiresomely familiar by the end. The real strength of the storytelling comes from the relationships between the women. Angelle and de Gouge have a longtime friendship that is put to the test when tragedy strikes and the women's values clash. Corday and Antoinette both burst into Angelle and de Gouge's lives unexpectedly, but as is wont to happen in both theatres and revolutions, intense relationships form quickly.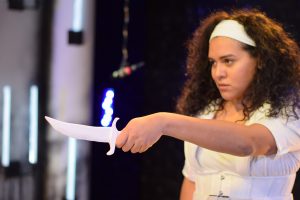 The most fascinating portrayal onstage is that of Marie Antoinette. The last queen of France has long been a subject of cultural fascination, inspiring films and plays galore, usually written with an emphasis on both her glamor and shallow materialism. Here, Antoinette is more human: wide-eyed, naïve, odd, and sometimes, unexpectedly wise. Portrayed with a desperate smile and quiet resolve by Sarah Goeden, the overthrown queen and her fascinating deconstructed costume (designed by Leah Hummel) commands attention even on a stage full of arguably more interesting women. Izis Mollinedo's Charlotte Corday is commanding as well, filling the room with her bold declarations and fierce determination to do what's right at any cost.
The Revolutionists is a quirky little play. While its messaging is not as revolutionary as its heroines, it's still engaging and unique, and Strawdog Theatre has done a great job bringing it to life.
Ticket Information
Location: Strawdog Theatre Company, 1802 W. Berenice Ave., Chicago
Regular run: Friday, November 30 – Saturday, December 29, 2018
Curtain Times: Thursdays, Fridays, and Saturdays at 7:30 pm; Sundays at 4 pm. Please note: there will be an added performance on Monday, December 3 at 7:30 pm.
Accessible Performance: Sunday, December 9 at 4 pm, includes a pre-show touch tour at 2:45 pm, audio description and open captioning.
Industry Performance: Monday, December 10 at 7:30 pm
Tickets: $35 – $40. Seniors: $26. Single tickets and season subscriptions are currently available at the Strawdog Theatre website. Half price rush and student tickets available at every performance and other discounts available. Call (773) 644-1380 for details.
All photos by Collin Quinn Rice.