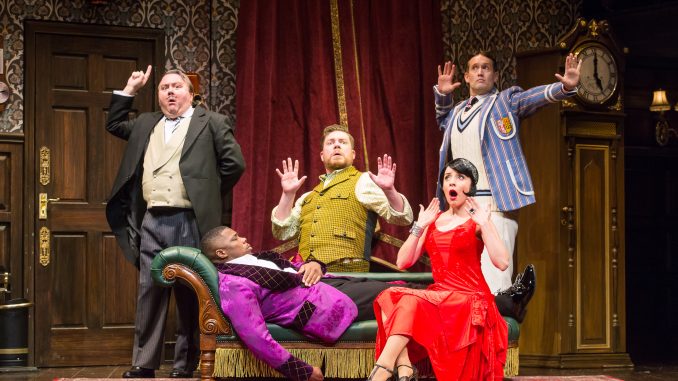 If you want to laugh yourself silly at the theater, buy show tickets to The Play That Goes Wrong. It's the right show for many reasons, including, but not limited to:
Actors dangling in mid-air and other places
A corpse who moves around throughout the play (and isn't even dead)
Props falling off walls
Props that are missing and brought on stage by one or more of the characters
A door that won't close, closes much too frequently, and the handle falls to the floor
Actors who grin, smirk and dance when the audience applauds for them
Actors who trip over everything – including their lines
Snow falling from the window where you see the actors throwing up paper snow
Much more than we can remember because we were laughing so hard our tummies hurt
This is a classic murder-mystery gone rogue, madcap ongoing humor exploding within almost every line and lie, the actors sputtering on stage. The premise seems almost too simple: the actors are performing in the opening night performance of The Murder at Haversham Manor. It is a special time for the actors to launch a theatrical success about a 1920s murder mystery…until everything turns in the wrong direction (the forgotten lines, actors, the set, the interruptions, the actors falling all over each other, literally).
Sometimes it was difficult to hear all the actors' lines because the audience laughter couldn't be contained. It was almost like a theatrical Ripley's Believe It or Not on an enjoyable, stupidly funny scale. In other words, this show is not anything like any other show you've ever seen!
Broadway in Chicago features this limited two-week run at The Oriental Theatre (24 West Randolph Street) through Sunday, December 16, 2018.
You can thank co-writers Henry Lewis, Jonathan Sayer and Henry Shields for penning this theatrical hit. It originally opened at a fringe London venue, with only four paying customers, but since then it has been playing for four successful audience of over 2 million people worldwide.
Director Matt DiCarlo, set designer Nigel Hook, lighting designer Ric Mountjoy, sound designer Andy Johnson and costumer designer Roberto Surace all bring to authentic life this play within a play set in a 1920s English mansion. It sounds plausible and complimentary that The Play That Goes Wrong won a Tony Award for Best Set Design, Broadway.com's Audience Choice Award for Best Play and the Theater Fans Choice Award for Best Play.
The ensemble cast is first-rate and funny…truly and absolutely and very outrageously funny.  Kudos to actors Scott Cote, Peyton Crim,  Brandon J. Ellis, Angela Grovey, Ned Noyes, Jamie Ann Romero, Evan Elaxander Smith, Jaegel T. Welch and the four understudies for bringing this English farce to Broadway in Chicago.
This limited run through Sunday, December 16 is featured on Tuesdays, Wednesdays, Thursdays Friday and Sundays at 7:30 PM, Saturdays at 2 PM and 8 PM, and Sunday at 2 PMI and 7:30 (no evening performance on Sunday, December 16).
Individual tickets are on sale now, ranging in price from $25 -$98. Tickets are available now for groups of 10 or more by calling Broadway in Chicago Group Sales at 312-977-1710 or emailing Gr********@Br********.com.
Smile and laugh your way to the Oriental Theatre as soon as you can. It's a holiday treat that can't be beat.