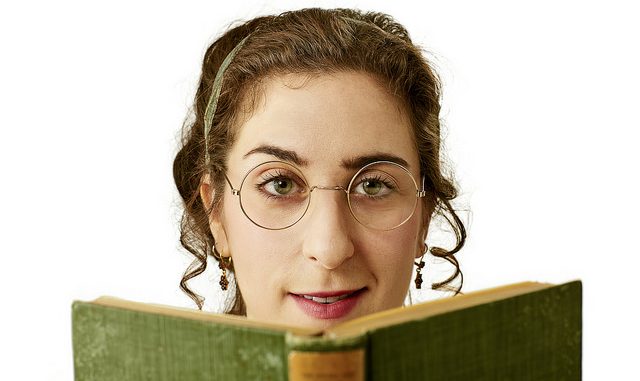 (St. Petersburg, FL) December 5, 2018 – "A Christmas Carol," Three Godfathers," "It's a Wonderful Life," "A Miracle on 34th Street," and "A Christmas Story" ("You'll shoot your eye out, kid!"). These timeless tales capture the essence of a season that is less about exchanging gifts and more about celebrating peace and love. But love is the primary ingredient, especially with regard to "Miss Bennett: Christmas at Pemberley," which makes its Tampa Bay premiere at American Stage in St. Petersburg. Artistic Director Stephanie Gularte – who also directs this production – brilliantly chose to stage this beautiful story during this Christmas season. An amazing Jenny Lester and Josh Odsess-Rubin lead a talented cast, resulting in a perfect play that celebrates the magic of love and Christmas.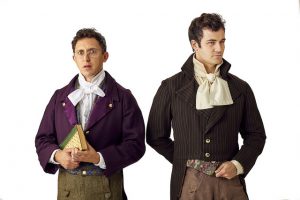 An inspired sequel to Jane Austen's romantic novel "Pride and Prejudice," "Miss Bennett" takes place two years after the end of that literary masterpiece (and bravo to playwrights Lauren Gunderson and Margot Melcon for not only capturing the tone and dialogue of 19th century England, but also wonderfully crafting a story where it can appeal to those who have seen "Pride" and those who have not). At a grand estate in Pemberley, Fitzwilliam and Elizabeth Darcy (Brooke Tyler Benson and Britt Michael Gordon) – the lead characters in "Pride," but are now supporting players – are preparing a Christmas celebration with three of Elizabeth's sisters: the pregnant Jane and her husband Charles (a charming Sadie Lockhart and Lucas Calzada), the youngest sister Lydia (Courtney Anne McLaren), and the middle sister Mary (Jenny Lester), whose bookish and inquisitive demeanor captures the eye of Arthur de Bourgh (Josh Odsess-Rubin), a friend of Darcy's whose superior intellect and warm heart also catches Mary's attention. And when Anne de Bourgh (Katie Cunningham) arrives unannounced, all hell breaks loose where love and misunderstandings come hand in hand.
Director Gularte's crisp direction is a joy to experience throughout the show, most notably the scene transitions which utilize cheerful Christmas music while the actors mime actions to show the passage of time. Courtesy of Trish Kelley's costume designs – which symbolizes each character in very subtle ways – and Steven K. Mitchell's cozy scenic design of the Pemberley home, the audience is easily transported back in time.
The superior quality of the acting from all the performers is something to behold. Returning from an award-winning performance in American Stage's production of "Bad Jews," Lester is completely unrecognizable as Mary in terms of her physicality and emotional range. Whereas last year's role was brazen, abrasive and explosive, her Mary is witty, controlled and silently compassionate and loving. It's a transformative performance which reveals so much of her dynamic range as an artist. Her chemistry with Odsess-Rubin – who combines a sweet awkwardness with an inner strength – is pure magic.
Benson and Gordon as the Darcys are absolutely enjoyable as they combine their comic timing with a nice dose of sensitivity. McLaren's Lydia is a pleasure as she drives the farcical tone of the first act, while Cunningham's more refined comedic delivery drives the second act. And when all this talent comes together like a jigsaw puzzle, "Miss Bennett: Christmas at Pemberley" becomes a must-see for those who want to experience a wonderful feel-good love story during the Christmas season.
Peter A. Balaskas is a fiction writer, copyeditor, and playwright.
Miss Bennett: Christmas at Pemberley runs from November 28 through December 30, 2018
163 3rd St N.
St. Petersburg, FL 33701
Photos by Joey Clay Photography