If you're looking for a seasonal offering that is a bit different and nerdy, you only need travel to the Edge Theatre to see this year's production of A Klingon Christmas Carol. The Edge of Orion Theatre Company has thrown themselves into the tale of SQuga' learning the true meaning of The Feast of the Long Night. It's honor and courage, this time, though charity and fellow-feeling are not entirely forgotten.
A Klingon Christmas Carol was written for the stage by Christopher Kidder-Mostrom and Sasha Warren and translated into Klingon by Laura Thurston, Bill Hedrick, Christopher Kidder-Mostrom and
Chris Lipscombe. It is performed, with the exception of a few pieces of narration, entirelyin Klingon. But have no fear if you're not a super-fan speaker of Klingon, this production has fully operational multi-media subtitles, so you will understand every word spoken on the stage. I had the opportunity tosee it during their final tech rehearsal and the sound, lighting, and multi-media came off flawlessly.
So, the casual Star Trek fan has much to enjoy here. A seasonal story that is immediately recognizable and the charm of seeing how the familiar story is cross-culturally translated, often to great comedic effect. This is a very funny show and this company is terrific at making the most of the comedic moments. Elise Soeder as the Vulcan Narrator, Alex Dematralis and Xander Ferguson in their turns as the fundraisers for the warrior orphan charity, and Tony Bunnell as SQuga', himself, are particularly adept with the comedy beats and timing. Julia Williams as EmIl' wife of QachIt, is also snarlingly wonderful.
There have been other productions in Chicagoland over the years which have been far better funded, and this one suffers from the lack of finances. The set, costumes and makeup are not the best, but the actors more than make up for it with enthusiasm and exceptional commitment to the fight choreography. There is a lot of fighting in this production, and the entire ensemble pulls it off superbly. Kudos.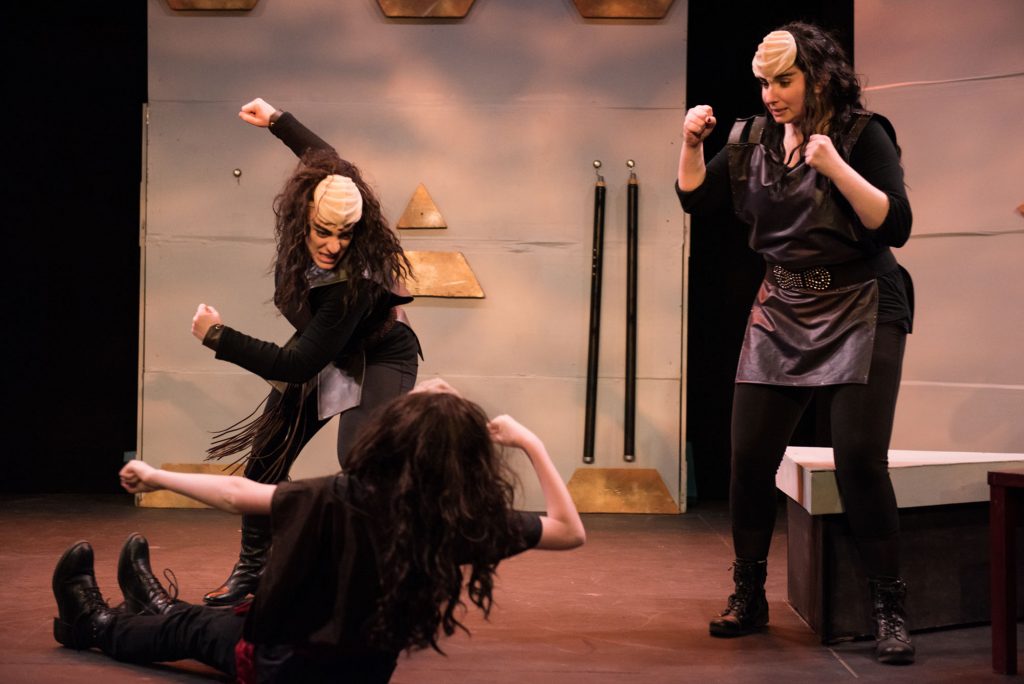 There is a bit of an issue with the difficulty of the Klingon language. While a few of the company, notably Mandi Carrao who is absolutely superb, speak it like a genuine language, you can hear other members of the cast agonizingly pronouncing it by rote. It's like when anyone performs something in a foreign language and really has no feel for it, so that can be offputting. Reading the subtitles and watching the great action help in this production, though. You can never doubt any of the actors' commitment even when they're struggling with guttural syllables.
All in all, it is a fun time at the theatre. It runs from now through December 16, 2018. Tickets are available here.
A couple of notes here, Orion Couling, Executive Director of Edge of Orion Company, gave a bit of an introductory speech about the company's mission as a teaching company and a company with a commitment to mainstreaming differently abled actors. It's very much worthy to note this. He also stated that "we roll nerdy." Which is also worth noting.

You may also be interested in their other project, a Star Wars Fan Film called Easy Target, which has been accepted into a film festival and stars differently abled actors. More information on that here.
The play also includes an original movie-style soundtrack composed especially for it by Joe Griffin called The Feast of the Long Night, which is also quite remarkable and reminiscent of the music used in the Star Trek TV shows and Films. Disclaimer, I've known Joe for over twenty years, but don't take my word for it, you can hear samples and purchase it, here.
Photography by Jennifer Frankfurter and Photography with Heart.