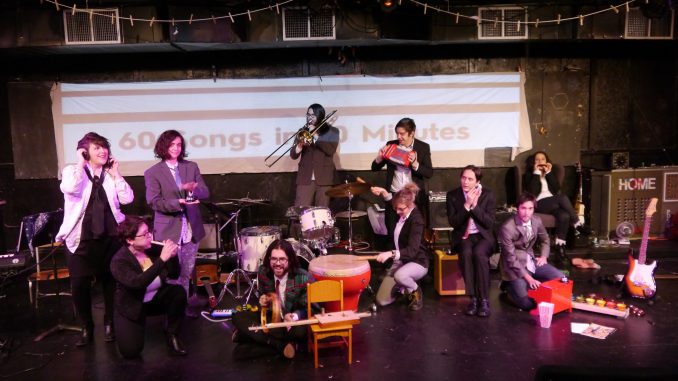 When I was discussing this show with a coworker prior to seeing it, I misremembered the title as 30 Songs In 60 Minutes, I think because the actual title and premise, 60 Songs in 60 Minutes, seems so completely and utterly impossible. Every song has to be a minute or less, preferably less to allow for transitions. Even in the early days of radio when the length of pop tunes was limited by available record technology, songwriters got a full three minutes to play with.
Of course, the definition of a song is flexible, especially with a company like The Neo-Futurists, who are by nature experimental. In this show, more than any other I've seen by them, I felt the sense of experimentation as scientific, with each work possessing a hypothesis, methods, results: we can create a song by dropping glow-in-the-dark bouncy balls from the ceiling. The audience will sing in harmony with us if we ask them to. We can fit an inflatable Christmas dragon through the double doors leading to the theatre. The very premise of the show is a hypothesis designed to be tested: four people can perform sixty songs in sixty minutes.
As in science, sometimes things fail, but there is both beauty and knowledge in that failure. The bouncy balls apparently missed their target, but probably the performers learned something they can use to make adjustments for next time, and damn were they cool to watch. The audience did sing along, even if some of us (me) were slightly off-key. And the dragon mostly fit through the door, but it didn't really matter because the important part was that there was an inflatable Christmas dragon.
The titles of each of the sixty songs are projected on a screen onstage before they're performed, and I found a particular joy in watching the performers shout "great!" or "f*ck!" in response to each title, sometimes both at the same time from different people with comically different reactions to the songs. Between numbers, there was scrambling, check-ins: "you good?", requests to hold, cursing, calls for reminders of what was needed. At one point, a performer proclaimed "I'm gonna f*ck this up" before starting a guitar lick, another performer responded "you got this"—and the first performer f*cked it up. They started over.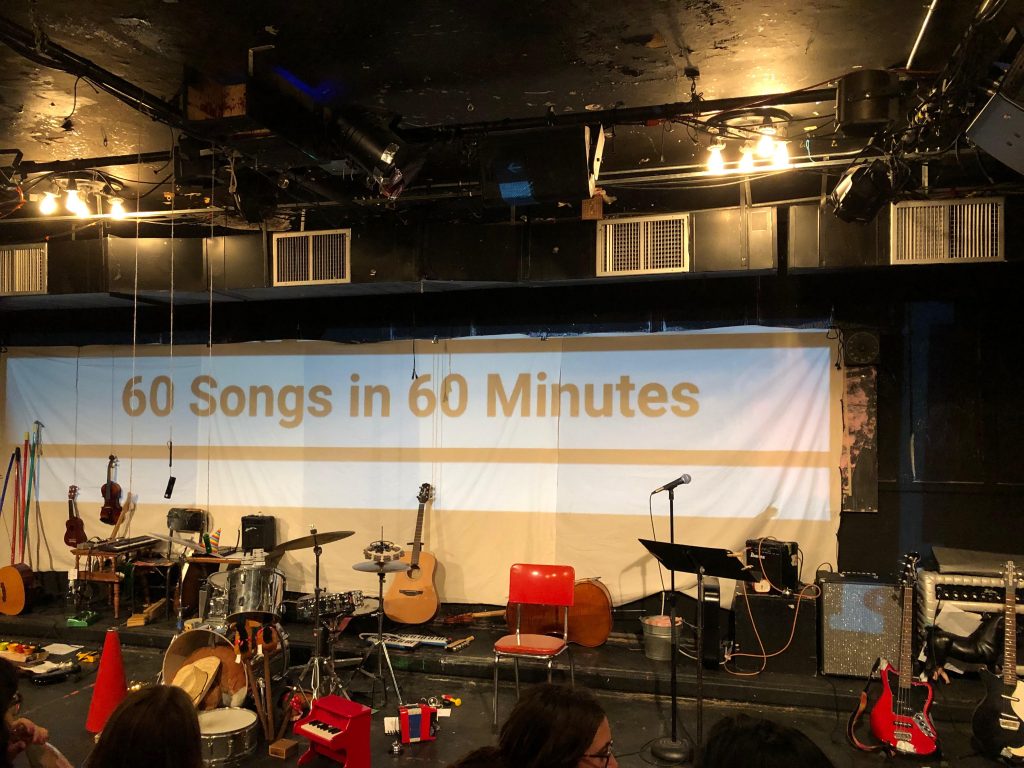 This kind of transitional chatting, complete with The Neo-Futurists' trademark unapologetic honesty, creates an intimate feel and bond with the audience; the vibe is very much that of studio banter included on recorded albums. It puts the audience on the performers' side; we're rooting for them to reach their goal, to find the items they need. Ours, too, is the voice saying "you got this," and that's what makes The Neo-Futurists so unique; everyone's along for the ride.
Hypothesis: you'll enjoy the earnest, amusing, chaotic performance that is 60 Songs in 60 Minutes. There's only one way to test it out: see it for yourself.
Ticket Information
Location: 5153 N. Ashland Avenue, Chicago
Dates: December 13 through December 15, 2018
Time: 8 p.m. daily
Tickets: $10-15. Available on The Neo-Futurists' website.