A staple to Chicago, comedy club and improv school , The Second City holds a variety of shows for theatergoers and touts many big names as alumni. While I had gone to Second City before, this was my first time watching a production on the mainstage. Specifically, the brand-new Algorithm Nation or The Static Quo which was written by second-time Mainstage cast members Ryan Asher, Tyler Davis, Jeffrey Murdoch, and Nate Varrone and new cast members Emma Pope and Kimberly Michelle Vaughn.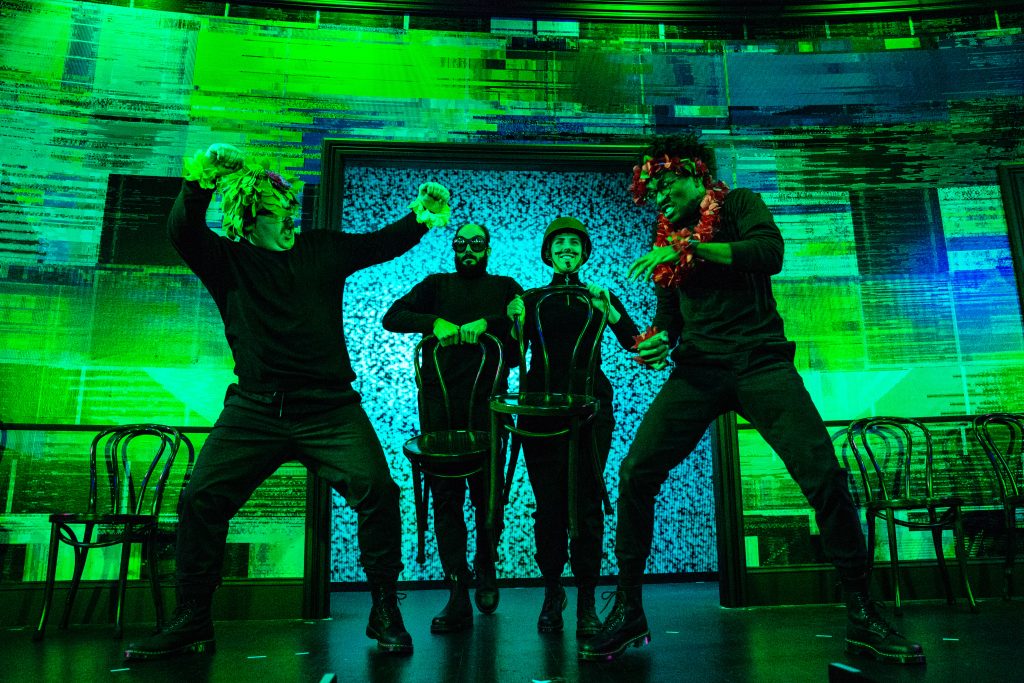 It was exciting to walk in and see a full house. However, chairs were lined up close together and tight so be prepared to get comfortable with your seat neighbor. That being said, it was nice to have servers walking around taking food and drink orders during half of the show.

The show started as a literal bang, with cast member Jeffery Murdoch being held hostage and guns being pulled out at the other cast members. I was not expecting it -even through there was a sign before entering the theater about gunshot noises. At that moment, I wondered what the show was going to revolve around. From then, the cast members moved from sketch to sketch by a flash of light and voiceover that reminded me of some sort of motherboard. I am happy to say that what followed were plenty of sketches that bought more laughs and entertainment than none by a talented and funny ensemble. Some of the cast such as Tyler Davis also showcased their musical talent.

My favorite sketch of the night was of a girl group comprised of Asher, Pope, and Vaughn singing about astrology, going into the crowd to ask audience members, "What's your sign?"and how it relates to dating that particular sign. Once the show ended, was surprised to learn the cast members would be doing an impromptu third act of Improv Freeze Tag. I opted to stay along with a large majority of the crowd.  

I enjoyed the show Algorithm Nation or The Static Quo. I thought it had a great and brilliant ensemble. Touching on many topics that we see and hear on the media everyday, some of the sketches may not be as amusing to some as it is to others. But the laughs are plentiful.

The production is approximately 2 hours, including intermission.Tickets start at $31.00 and are available by phone at 312-337-3992 or online at www.secondcity.com. The Second City Mainstage (1616 North Wells Street). The show schedule is as follows:
Tuesday – Thursday @ 8:00 p.m.
Friday – Saturday @ 8:00 p.m. and 11:00 p.m.
Sunday @ 7:00 p.m.