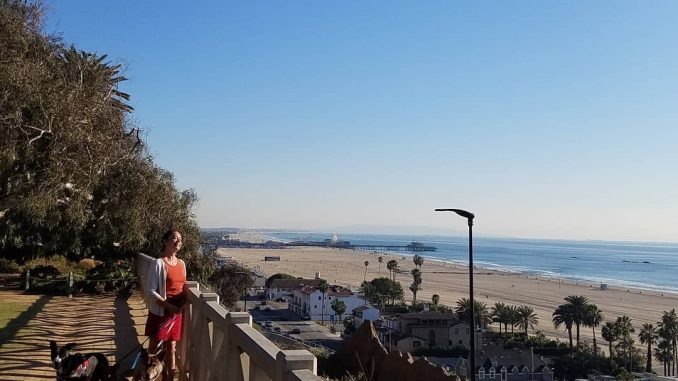 Upon my return in Brussels from visiting Los Angeles, I went for a little check-up with my doctor and he said to me: "Welcome back to the real world."… I was a bit taken aback.
I had stayed 3 ½ weeks at my friends' nice house in Santa Monica with a pleasant garden and within walking distance of the beach, in exchange for taking care of their 3 lovely dogs. Aside from hanging out with friends, a cozy Christmas dinner and a wilder 'Venice Beachhead' New Year's Eve party, I spent quite a lot of time at the beach, for daily walks and an occasional swim in the ocean.
lovely dogs playing in the garden

cute house of my friends where I housesit from time to time
The sunny and blue skies and the soothing sound of the waves always have a positive, even healing effect on me, and helps me connecting with my inner self.
While observing my environment: people excercising, jogging, biking, walking on the boardwalk; others meditating & doing yoga on the beach, near the ocean; surfers hitting the waves. It looked like the most normal thing in the world. For the people living in the beach cities, it is their "real world."
It must be said, when I return to Brussels from a long period abroad, the city always hits me as very filthy and chaotic. This time was no different. There was plenty of trash on the streets and sidewalks. There was messy and disturbing construction work going on on the central streets, grumpy people on the metro… It was not a beautiful sight. Not to speak of the gray and rainy skies that last way too long during the cold winter. A gritty. busy, serious city.
There is no doubt: there is a total different dynamic in Brussels, the capital of the European Union (EU) versus Southern California.
When I am in SoCal I honestly feel more "real" and "alive" than when I am in Brussels, my native city, mainly because I lived there – in Venice – for 12 years in my thirties and early forties. I am aware that's when you build up your life-determining friendships… intense and strong. Further, there is an overall "good feeling," an abundance of positive energy and enthusiasm which is very contagious.
I go back on a regularly basis to spend time in Santa Monica, and the vibes of the artistic community of Venice are inspiring and encourage me to develop creative activities. For me that's writing.
So in the coming months I will explore some topics related to daily life, (performing) arts, wellness, even food culture that I observe and experience as being different in approach and perception in California – and by extension the USA – versus life in Brussels as the center of the European Union.
From my "real" world in Brussels, at least for now …
all photos by © Kaat Cleenewerck except for the feature one