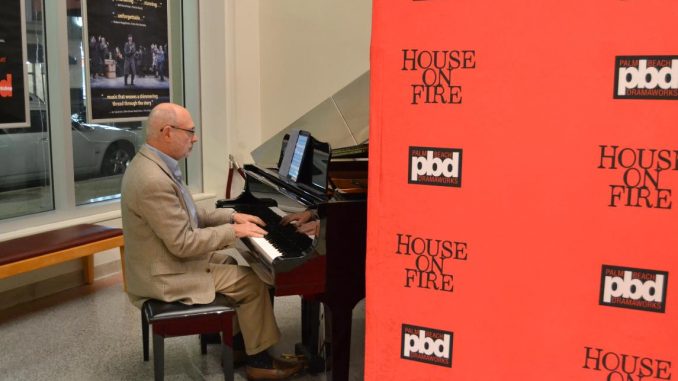 PALM BEACH DRAMAWORKS YOU DID IT AGAIN!  THIS TIME, YOU BROKE YOUR PERFECTION RECORD.  You put on a show AND a MUSICAL in your luxurious theater.  As usual, the stage setting was gorgeous and done with perfection and had a personality all its own.
SPITFIRE GRILL IS THIS YEARS' PRODUCTION TO SEE!  This is coming from a Broadway Girl.  If you haven't yet experienced a Palm Beach Dramaworks production, you just haven't seen real theater.  Currently, SPITFIRE GRILL IS THRILLING AUDIENCES.
I feel privileged as a critic to have the opportunity to review wonderful productions.  Palm Beach Dramaworks always puts on productions that keep audiences glued to their seats and then, when they leave the theater, they always have wonderful things to say.
The Spitfire Grill – 2019  – Cast –   Photo Credit:  Alicia Donelan
I've seen it all from Hamilton to shows that were cancelled earlier than planned. SPITFIRE GRILL can only be seen until FEBRUARY 24th.  So, please get your tickets.  If you are a repeat attendee at this beautiful venue, you have probably already purchased your tickets.  If you are new to the Don & Ann Brown Theatre on beautiful Clematis Street is in wonderful downtown West Palm Beach.  Do not wait for an occasion, treat yourself.  You will be hooked and you will absolutely love everything about this funny,sensitive story of a young girl who just gets out of prison and circles a map haphazardly and finds Gilead Wisconsin.  The town is never the same and changes lives of the residents completely.The songs are meaningful, beautiful and so professionally done.  The story will stay with you long after you leave the theater.
The Spitfire Grill -Pictured:  Ashley Rose
by James Valq and Fred Alley
based on a film by Lee David Zlotoff
February 1 – 24, 2019   –  Credit: Samantha Mighdoll
About this production:  The Spitfire Grill, is a warm and uplifting show by James Valcq (book and music) and Fred Alley, (book and lyrics) about starting over and second chances, forgiveness and redemption, becomes the first musical to be produced by Palm Beach Dramaworks as part of its subscription season. This internationally beloved work opened on February 1 and runs through February 24,. Bruce Linser directs this production.
The Spitfire Grill – 2019 – Pictured: 
"For the past several seasons, they've produced one or two musicals in the summer that have received great reviews and were a big success with audiences," said Producing Artistic Director William Hayes. "But a number of their subscribers are not around during the summer, so they missed out. Many of them asked about the possibility of including a musical as part of our regular season, and we quickly warmed to the idea. The Spitfire Grill seems like the perfect choice with its complex characters, powerful themes, and a really appealing score."  And, a perfect score it is!
The Spitfire Grill – 2019
Photo Credit: Alicia Donelan

Based on Lee David Zlotoff's 1996 film of the same name, this folk musical tells the story of Percy Talbott, a young parolee looking for a fresh start in Gilead, Wisconsin, a (fictional) town that one of its inhabitants' calls "a place for leaving, not for coming to." As Percy gradually adjusts to her new life, she and the town begin to awaken together.
The Spitfire Grill features, in alphabetical order, Amy Miller Brennan (PBD debut), Elizabeth Dimon, Patti Gardner, Johnbarry Green (PBD debut), David A. Hyland, and Ashley Rose (PBD debut) as Percy. The musicians are Joshua Lubben, who doubles as music director, and Katie Lubben, Michael Lubben, and Tom Lubben. Scenic and lighting design are by Paul Black, costume design is by Brian O'Keefe, and sound design is by Brad Pawlak.
The Spitfire Grill – 2019 – Pictured:
 The show that Valcq and Alley created is very different from the film. They moved the locale from rural Maine to their home state of Wisconsin, where they understood the landscape, the dialect, and the people. (As it happens, Linser is also from Wisconsin, and sometime in the 1980s, when he was starting out, he appeared in a community theatre production of Oklahoma! with Valcq.) Crucially, the show has a hopeful ending, which is not true of the movie.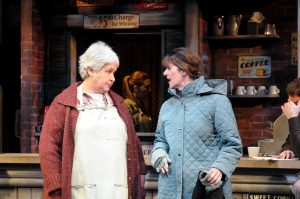 The Spitfire Grill – 2019
Photo Credit: Alicia Donelan
The Spitfire Grill received its world premiere in November, 2000 at the George Street Playhouse in New Jersey. It premiered Off-Broadway at Playwrights Horizons in October, 2001. The show has since received more than 600 productions throughout the country and around the world. Unfortunately, Alley did not live to enjoy the show's success. He died in May, 2001 of a heart attack. He was just 38 years old.
Palm Beach Dramaworks is a non-profit, professional theatre and is a member of the Theatre Communications Group, the South Florida Theatre League, Florida Professional Theatre Association, and the Cultural Council of Palm Beach County.
Evening performances are Wednesday, Thursday, and select Sundays at 7:30PM, and Friday and Saturday at 8PM. Matinee performances are Wednesday, Saturday, and Sunday at 2PM. Post-performance discussions follow Wednesday matinee and Sunday evening performances. Individual tickets are $75, with specially priced preview tickets at $55 and Opening Night tickets at $90. Student tickets are available for $15, and Pay Your Age tickets are available for those 18-40. Tickets for educators are half price with proper ID (other restrictions apply). Group rates for 20 or more and discounted season subscriptions are also available.
Parking garages are available and easily accessible.  On Banyon Blvd directly behind the theater is a large parking garage.  There is more than ample parking in any of the garages.
The Don & Ann Brown Theatre is located in the heart of downtown West Palm Beach, at 201 Clematis Street. For ticket information contact the box office at (561) 514-4042, or visit
www.palmbeachdramaworks.org .