If you love to hear great voices and are amused by melodrama, this potboiler of an opera by Francesco Cilea is for you.  Very, very loosely based on the life of a real French actress of the same name, who was famed at the Comedie-Francaise in the early 1700s, the real Adriana Lecouvrier was most famous for having invented a more naturalistic and less stylized style of acting, which endeared her to theatregoers of the era and made her quite wealthy.  She was also famous for her affair with Maurice, the Count of Saxony, which is basically the impetus of this opera's plot.  Her rival for his affections was the very powerful Princess of Bouillon and that is the other thread here as well.
This is a play about passion and the theatre and the entire cast leans in and has the best time with it.  Everyone turns it up to eleven and it makes the production incredibly lively and worth watching every minute.  There is literally not a dull moment anywhere.
Act One
It begins with stalwart and much older stage manager Michonnet, played wonderfully by Ambrogio Maestri, trying to keep everything in order backstage at the Comedie-Francaise with about the cat-herding results you'd expect.  We see all the actresses having affairs with rich noblemen, one called Duclos is having an affair with the Prince of Bouillon, as Michonnet expresses his love for the sweet Adriana building dreams of a little cottage in the country as he has managed to save a considerable sum.  He wants Adriana to marry him despite their age difference and wonders if he should tell her. But then Adriana confesses she's in love with a soldier (actually the Count of Saxony, Maurizio, in disguise).  So that's off.  Be In love with Adriana is pretty much all Michonnet does other than run errands and it seems like a plot thread the librettist included and then mostly forgot about.  It doesn't make it not be a good part, with excellent singing from Maestri, but it's not really resolved in any satisfying way.
Anna Netrebko plays the title role with the superb vocal control and beauty that have drawn so many powerful sopranos to this part.  Every note out of her mouth is rich and gorgeous, and you can see why people would be fascinated by this Adriana. And with every note, you can see why Netrebko is admired. However, she chews up every bit of scenery around and when she's done with that goes after the floorboards and possibly the audience as well.  It's odd when playing a character who both historically, and according to the text of this opera, was famous for her naturalism.
I have seen Piotr Beczala live at the Lyric Opera in Chicago and loved his voice but was a bit underwhelmed with his acting.  He is having such a great time here playing cad Maurizio that he is amazing and sparkly and charming while singing his pants off. I wish he'd do roles like this all the time because clearly it's his forte and you love him even while watching him be fairly awful to both of the women in his life. He mentioned in the interview section that he was very pleased to be Maurizio because this Count of Saxony was Polish in real life as well, and it was fun to play a historical countryman.
Maurizio and Adriana make a date to see each other after her performance, and she gives him a bouquet of violets, which he takes, but he's called away by the Princess of Bouillon, who has been helping him at court and so stands the actress up.  Adriana, still believing her lover to be a common soldier, accepts an invitation from the Prince of Bouillon to go to a party after the show at his estate with the other actors.  She wants to help recommend her lover to his supposed boss, the Count of Saxony (Maurizio, himself).  She's willing to do anything to help him, including seduce the Count of Saxony.  As you might imagine, hijinks ensue.
Act Two
Maurizio meets with the Princess of Bouillon (the absolute powerhouse Anita Rachvelishvili) and gives her the violets Adriana has given him.  But he breaks off their affair and tries to friend zone her. She is NOT having it.  I can't begin to say enough nice things about Rachvelishvili's performance here.  She is playing an absolutely horrible, selfish person and makes her so real and relatable and just sings so amazingly well, it is impossible to praise her performance enough. Anita Rachvelishvili needs to be cast in all the things.  She is just fantastic every second she's on stage and is an absolute match for both Beczala and Netrebko.  She makes the Princess an absolute seething ball of hate and spite and it's fabulous to watch.  She's also delightful in the interview later when she talks about how she approached the role and how selfish the Princess is and how "she wants what she wants." It's very insightful and one of the very best things about seeing these performances in HD in the theatre. The supplemental interviews are always illuminating ad it's lovely to hear artists talk about their art.
But, oops, while the Princess is alone with Maurizio, her husband shows up with all the actors and Maurizio hides her in a dark room where no one can see her face. He meets Adriana as she arrives, his true identity is revealed and he tells her his business with the Princess was all political. He begs her to help the Princess escape capture and exposure as an adulteress by her husband.  Adriana does this, in the dark, so the women never see each other.  But as she is helping the Princess, they have a catfight over Maurizio.  The Princess escapes but drops her bracelet, which is retrieved by Michonnet and given to Adriana.
Act Three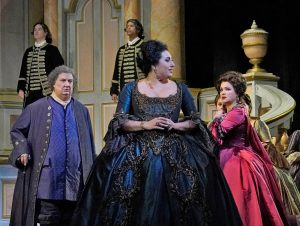 Some time after the events of Act Two, the Prince and Princess of Bouillon throw a party, inviting nobility and the actors from the Comedie-Francaise (as the Prince is still having an affair with Duclos). In the very beginning of the scene the Prince mentions he's guardian of a powerful new poison that is being chemically analyzed. This will be important later. When Adriana arrives, the Princess recognizes her voice and is consumed with jealousy.  She lies to Adriana and tells her that Maurizio has been killed in a duel.  Adriana is stricken, but then Maurizio arrives unharmed and tells an amusing tale about his exploits in the war. This allows Beczala to be supremely charming again, which is a good look on him.  A ballet "The Judgement of Paris" is performed, and it is really great here.  Done fabulously in 18th Century style with ridiculous period costumes.  It is the most effete thing possible and just shows off the decadence of the era and the dancers absolutely kill it.
Adriana finds out that the bracelet Michonnet gave her belongs to the Princess and that she was the adulteress Adriana protected at the request of Maurizio. It's time for cat fight round two. The Princess suggests Adriana perform a scene from Ariadne Abandoned.  Her husband requests Phedre instead and Adriana uses the play's text to denounce the Princess for her faithlessness.  The Princess vows revenge. Both Netrebko and Rachvelishvili are in towering diva form here and it's fantastic to watch this even match with Adriana being wonderfully self-righteous and the Princess twirling her proverbial mustachios with sputtering evil.
Act Four
In true melodramatic artiste fashion, Adriana has taken to her bed in a fit of anger and jealousy. It is her birthday and she plans to spend it moping.  Michonett comes to her house and waits for her to get up.  He has used his inheritance to get back a diamond necklace she had pawned to pay Maurizio's debts, seeing he now will never retire from the theatre as Adriana is uninterested in marrying him. Adriana appears as do her friends from the Comedie-Francaise who try to get her to return to the theatre.  She refuses.  A birthday present arrives. It is a small box containing a note and the violets she gave to Maurizio in Act One.  She is very hurt by this. She kisses the flowers and throws them in the fire.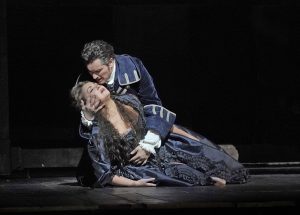 Maurizio arrives and tells her he wants her to marry him, even though he's a Count and she is just an actress. As he holds her, he realizes she is shaking and is ill. He tells her, he didn't send the flowers. Adriana has a nice mad scene here as the poison takes over because the Princess has used her husband's experimental toxin to kill her rival. Adriana comes back to herself at the end, but then sadly dies.  It's a very good scene for all three of the singers, who put in very, very strong performances here and send old Adriana out with a bang. It's very over the top as written but emotionally affecting all the same largely due to the efforts of Maestri, Beczala, and Netrebko in imbuing their broadly drawn characters with genuine humanity.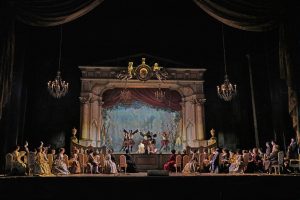 I'd also like to note the excellence of the period costuming, wigs and the set design. Everyone looked gorgeous.  This is a very glamorous opera.  The Met did a fabulous job by building a stage within their stage, to show us the backstage area of the Comedie-Francaise. It was then rotated and redressed slightly to become the inside of the Prince's estate. It was an immensely clever and economical use of a set and very much built up the feel of the theatrical nature of the entire enterprise. It also had the effect of a painting by Fragonard or Watteau in all the best ways.
As usual Fathom Events brought a fabulous opera to everyone not fortunate enough to be able to attend at the theatre. And the supplemental interviews, including one with Netrebko before the opera began, added nuance and genuine learning to the event.
All photographs provided by The Metropolitan Opera.