Each year I look forward to attending this great event. To get to review it is a blessing. I am surrounded by heros on both ends of the leash. This year, this event and luncheon was held at The Sailfish Club in Palm Beach. The setting fit the occasion. We share stories of wonderful pets who've changed lives forever; we get to meet and hug and kiss all the hero canine's who proudly stand by their owners. Most of all, I am privileged to get to know the dedicated and passionate Board, all of whom put their hearts and souls into this organization.
Country singer legend and Board member Naomi Judd and me. Photo Credit: Ellen Eichelbaum, Splash Magazines Worldwide
The annual American Humane Hero Dog Awards® gala luncheon paid tribute to the best of our best friends and one of the country's best friends to animals, Palm Beach philanthropist Lois Pope and Mike Oslansky, United Airlines' national director of U.S. Cargo Operations.
For nine years, American Humane, the country' First National Humane organization, and Lois Pope have honored America's bravest dog heroes through the annual American Humane Hero Dog Awards. This special event kicked off this year's nationwide campaign to identify and honor the nation's most heroic hounds by celebrating the extraordinary accomplishment of the top winners of the 2018 American Humane Hero Dog Awards. Among those in attendance were Elizabeth Howell, handler of the 2018 American Hero Dog Chi, and two of the top winners of the national Hero Dog Awards: 2018 Emerging Hero Dog Willow and his handler Heather Heath, and 2018 Military Dog Sgt. Fieldy and his handler Cpl. Nick Caceres (Ret.).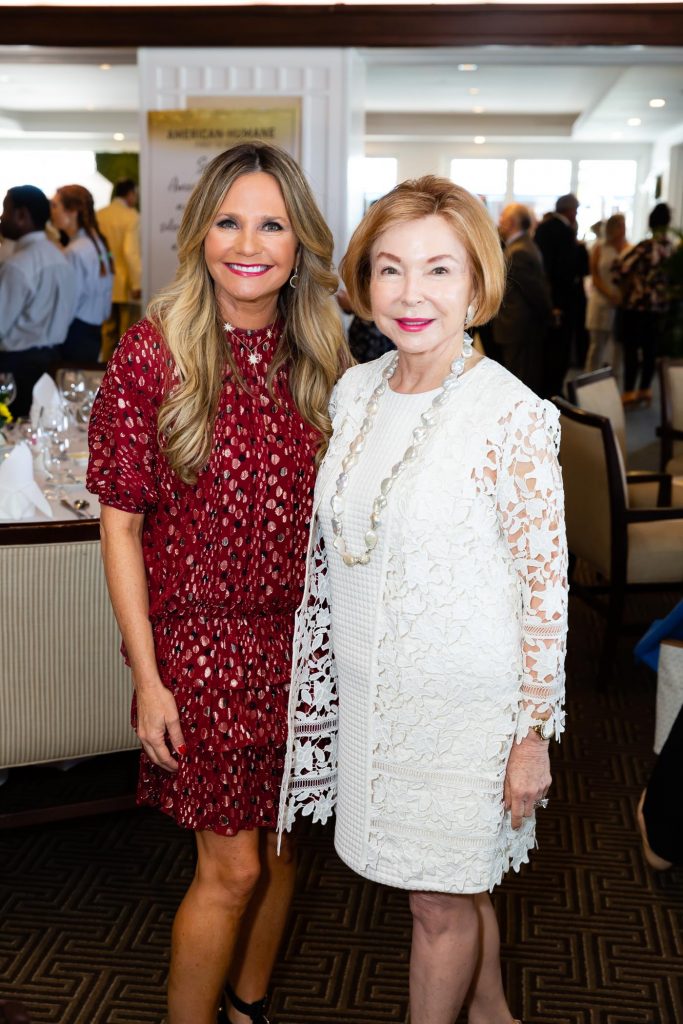 During the program, Robin Ganzert, PhD, American Humane president and CEO, presented Lois Pope, Platinum Presenting Sponsor of the Hero Dog Awards and one of American Humane's greatest supporters and advocates, a token of the organization's appreciation for her continued generosity and support.
Herb Krauss, a distinguished veteran and American Humane Palm Beach Military National Ambassador along with U.S. Navy Rear Admiral (Ret.) and American Humane Board Member Thomas Kearney helped present the "Humane Hero" award to Mike Oslansky of United Airlines. United Airlines has a long history of and commitment to transporting our nation's military working dogs (MWDs). More than 2,300 MWDs serve overseas protecting our service men and women and despite an unbreakable bond, they don't always come home together. American Humane is working to reunite as many of these military hero dog teams as they can and thanks to the help of Mike Oslansky and United Airlines, retired MWDs have been flown back to the U.S. to be reunited with their partner.
Congratulations to Marjorie Tharp, American Humane's new National Director of Communications.
"For thousands of years, people have had a special relationship with dogs, and the American Humane Hero Dog Awards are our way of honoring the best of our best friends," said Dr. Ganzert. "The luncheon was an inspiring afternoon and an opportunity to thank so many of our greatest heroes – from service dogs who improve veterans' lives to military hero dogs who fight alongside our troops and defend our freedom. We are grateful to all of them, to Lois Pope for her work in supporting these heroes, and to all of our generous sponsors and National Ambassadors for helping us recognize their remarkable accomplishments."
In addition to hosts Dr. Ganzert and Mrs. Pope, Dawn Assenzio, Bradley van Hoek and Sharon Jablin served as gala co-chairs.
For information on how to buy tickets to attend the 2019 American Humane Hero Dog Awards gala in Hollywood on Oct. 5, please contact Mari Harner at 561-537-5887 or [email protected].
About American Humane
American Humane, the country's first national humane organization, has been working with the U.S. military for more than 100 years, when they began rescuing and caring for 68,000 war horses wounded each month on the battlefields of World War I Europe. American Humane has been active in Florida for more than half a century, saving, sheltering and aiding animals caught in wildfires, floods, and disasters including Hurricanes Andrew, Ivan, Frances, Camille, Irma, and Michael. American Humane's famed animal rescue team and one of its giant 50-foot American Humane Rescue Vehicles funded by philanthropist Lois Pope are based permanently here in the community, ready to deploy at a moment's notice whenever and wherever animals are in need. For more information, please visit www.americanhumane.org or call 866-242-1877.
Feature Photo: Dr. Robin Ganzert Thomas Kearney Pat McLaughlin – Photo Credit: Capehart