On March 10, 2019 I headed to the Michigan Shores Club in Wilmette to join the 160 volunteers, 250 exhibitor representatives and nearly 1,000 guests at "Waste Not- Want Not". The space was completely filled with people visiting exhibits, sharing ideas and enjoying the warm, friendly environment. This annual event is a Community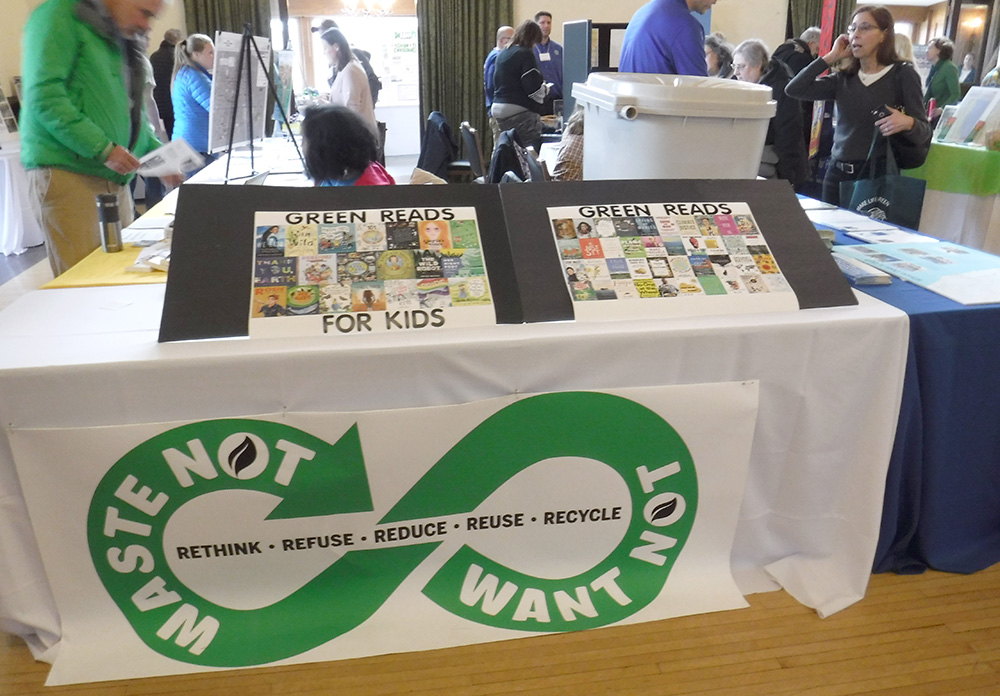 Environmental Fair presented by Go Green Wilmette and the Village of Wilmette, which seems to get bigger and better each year.
Go Green Wilmette President, Beth Drucker noted after the event that volunteers were very important in making it possible "to provide a well-run and informative experience for all. We believe everyone came away with new ideas and new energy for the important work ahead."
I enjoy attending this event because the people who attend are so pleasant and friendly. They are proud of what they are doing, of new, creative ideas about conserving and protecting the environment. Energy is in the air, Spring is on its way it is motivating to try new ways to "reduce, reuse and recycle".
Come along with me to "meet" a few of the people who were attending.
In the ENERGY space, I met Finess Ware Tanya Duffie who shared her story about Habitat for Humanity of Lake County. (Habitat for Humanity/New Trier High School Solar Panels & Women Build) "I am a partner family and will be getting a house in Waukegan, IL. It will be the second home within the organization with solar panels."  
There were many representatives from Solar groups including the Illinois Solar Energy Association and the Wilmette Community Solar Project.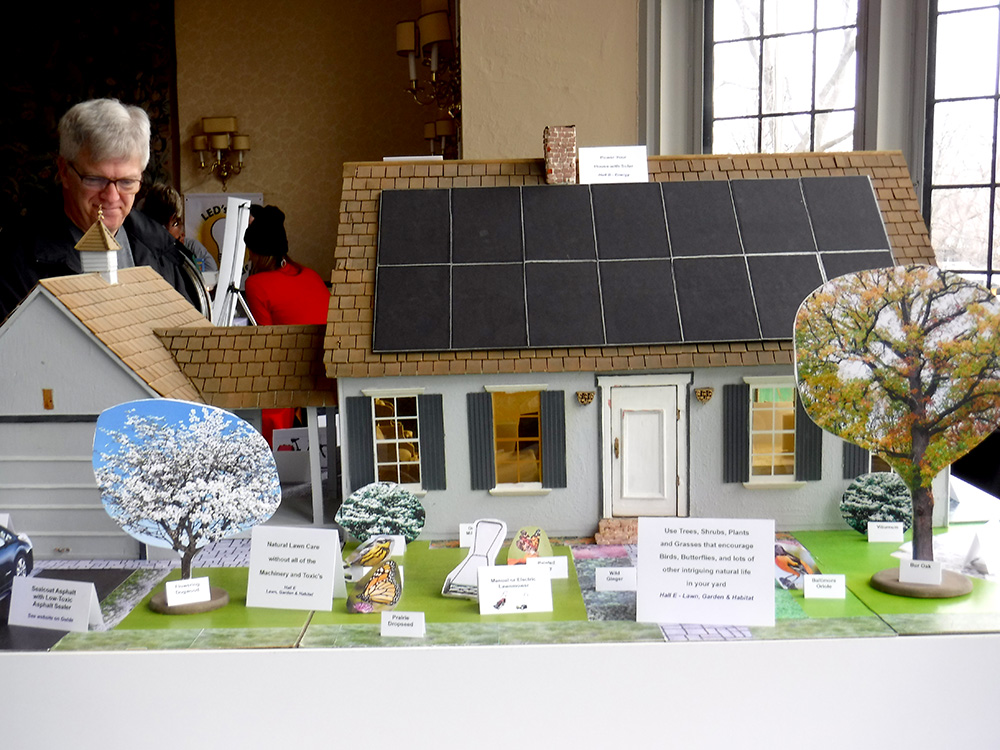 The updated model sustainable home demonstrated ways to reduce waste outside and inside.
Adam Pynkov filled in for his Mom who had laryngitis, and explained to visitors what happens to food waste.
Richard Huszagh explained the differences in the various light bulbs.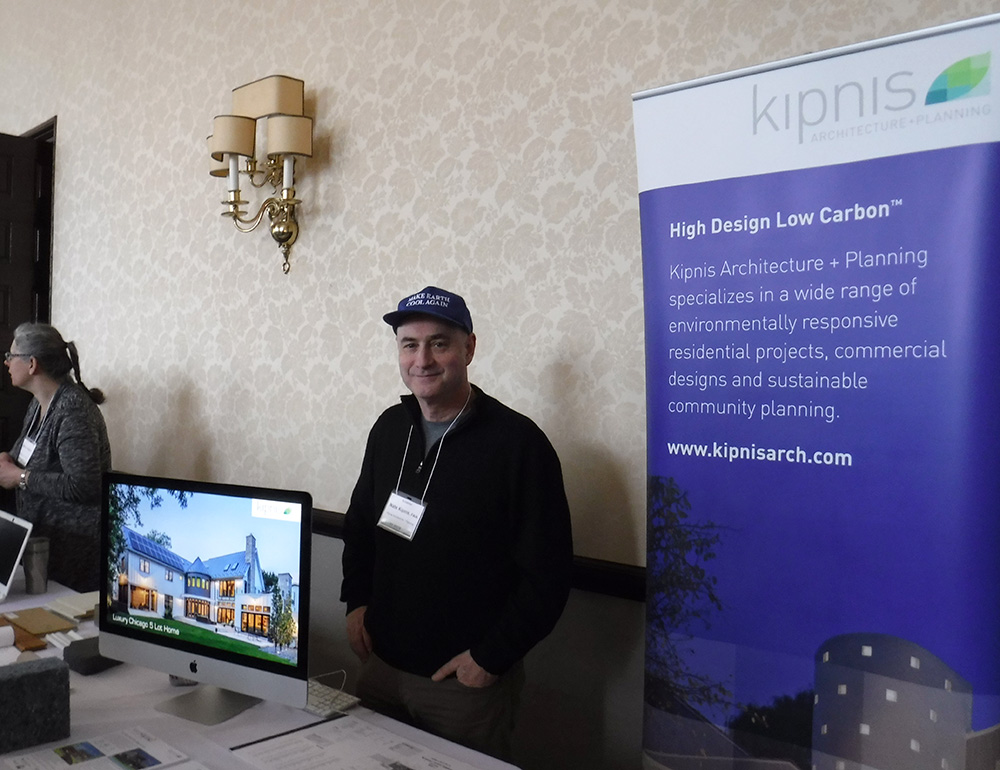 Nathan Kipnis of Kipnis Architecture + Planning shared photos of some of the beautiful, sustainable homes he has built in many parts of the country over many years. He also had samples of some of the building materials he uses to achieve "High Design/Low Carbon". More about Nathan Kipnis Architecture + Planning
Mary S. Allen of the Solid Waste Agency of Northern Cook County (swancc.org) shared a great activity calendar, a washable paper shopping bag and lots of ideas.
Go Green Wilmette Board members L. Kathryn Calkins and Nancy Pavkovic explained how to decrease waste.
In another location Rebecca Raines of the Center for Neighborhood Technology made sure that I received an application for "RainReady Wilmette" which helps residents better manage rain on their property through landscaping. Homeowners receive a free assessment of their property, recommended landscaping improvements, and a grant from the Village of Wilmette.
Kate Amoruso of the Village of Wilmette nearby had information on plans for Wilmette. A new program for picking up kitchen waste is about to begin.
In a special spot I found (L), Chris Wynn; (R) Christine Huszagh, both former Go Green Wilmette board members showing visitors how to make non-toxic cleaning materials.
Off to the Go Green Café where I was helping out. The staff of the Michigan Shores Club was very helpful and conscientious in refilling coffee and other drinks as well as the apples, bananas, cookies and other food.
Heidi and Walid Bitar from Chicago were relaxing, having circled the exhibits twice and were resting when I spoke with them in the café area. I wondered what they liked the best, and they said they were impressed with the turnout (people were everywhere), and the quality of the exhibits. They noted the "Alliance for the Great Lakes" display and on to 2050. And they were very impressed with an enthusiastic 11-year old who was telling everyone about Monarch butterflies and how to save them. (When I got to the exhibit, he had gone to see other things).
Anne Nagle was at the Treekeepers Booth. She would like to start a Treekeepers Chapter in Wilmette to care for our village trees in Partnership with Wilmette foresters.
When I looked around, I noticed these cuties, Dad- David Fleuchaus, 3yr.4 mo twins Eva and Gabriel and 1yr. 6mo. Pia
Amy Hanna Downey was photographing and managing a table. She is a GGW Board Member. As a consultant for Beautycounter (Amy Downey) – she gives presentations at Libraries and Green Drinks on Safer Products for Home and Body, and even talks about mold, which is a mycotoxin that is likely causing your health symptoms today! You can visit her second project at OvercomeMold
In the Food and Farm area, I discovered Irv and Shelley's Fresh Picks, where Irv Cernauskas and Shelley Herman are "delivering the Farmer's Market to Your Door". Fresh Picks website.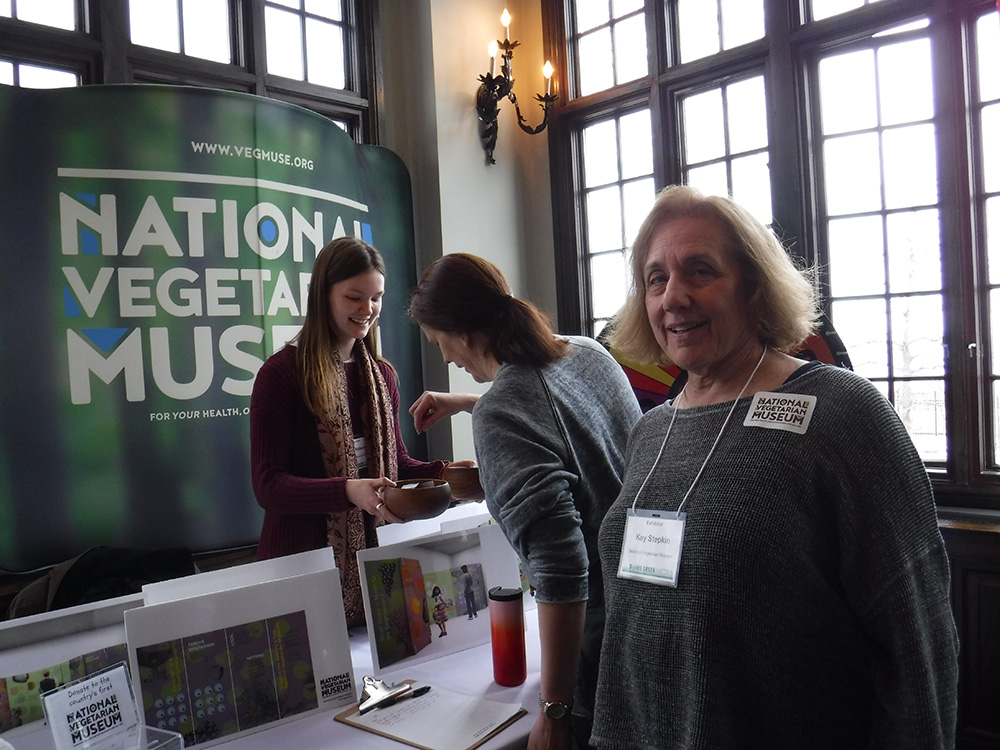 And I never knew there was a National Vegetarian Museum which move around Chicago and is the only one in the country.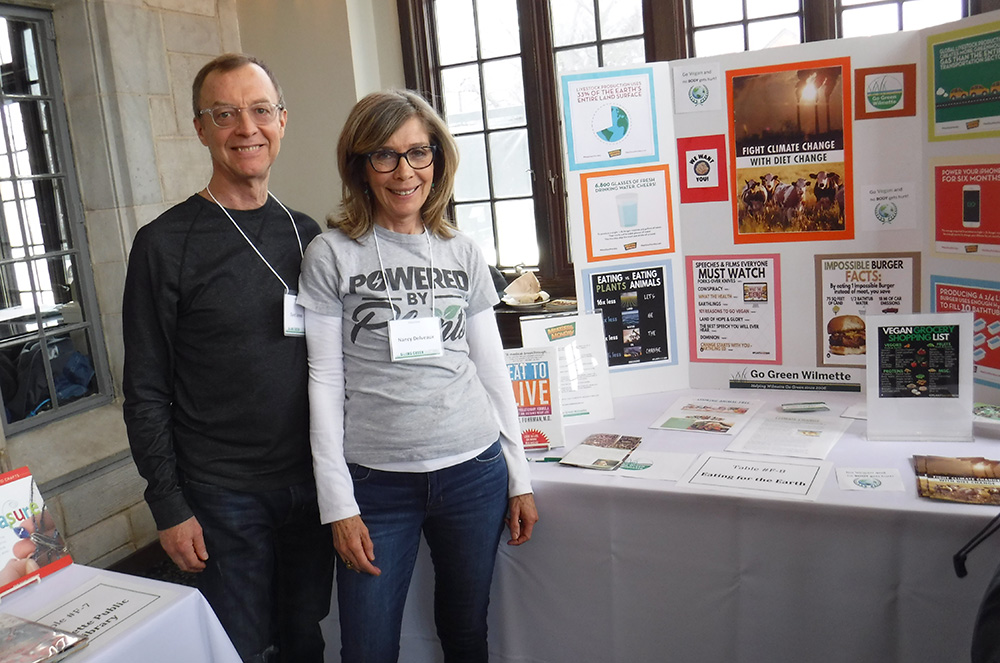 Nancy Delveaux and Gard Jones at their Eating for Health Booth shared great information and ideas on becoming vegan.
On the other side of the room Ava and Morgan were helping to fill out the pledge leaves for the pledge tree.
Trudy Gibbs is talking with a group of students from New Trier High School members of Binary Heart whose mission is to "Spread digital access!"
I finally got to see the Monarch Butterfly display where Martha Hellender was sharing milkweed seeds with Marti Ross Bjornson and other visitors.
Although there was lots more to see, my visit ended with a stop at the SkyDay Project where I spoke with Founder, Ben Whitehouse and LaGrange High School student Desa Bolger. Desa shared, "At SkyDay Project, we are working to promote the appreciation and protection of our sky. We have a collection of community Sky Photos at skydayproject.org, and we are working to build curriculum pieces for middle and high schools. We envision a world in which everyone looks up at our sky more often! www.skydayproject.org. @skydayproject on twitter and Instagram." I have found that since sending in my photos, the sky has become a palate the is visually and rewarding and renewing.
Saima Abbasi who has been in charge of the SkyDay Project for Go Green Wilmette along with Beth Drucker, Go Green Wilmette President, hope to keep the community engaged with SkyDayProject. "This was our intent right from the beginning when we decided to collaborate with SkyDay. We will keep up our outreach efforts with schools/ local community groups/ businesses and also expect to participate in the day when it is celebrated worldwide -Here is a link about Sky Day on September 20th.
It has been very exciting to see that we got the community involved in a project that is about bringing people's attention to the urgency of climate change through looking up at our one shared natural resource- the sky. People told us that they really enjoyed participating in this project."
The Going Green Matters Program
More about Go Green Wilmette
Photos: Barbara Keer unless otherwise noted.