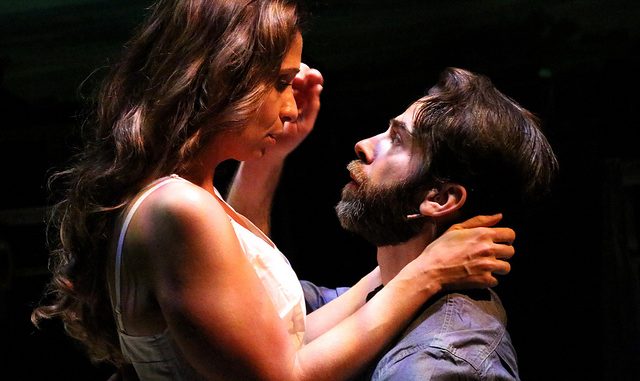 The Bridges of Madison County was a hugely best-selling romance novella by Robert Waller, rather sneeringly received in some critical quarters, an acclaimed film featuring Clint Eastwood, Meryl Streep and a passel of classic jazz vocal standards, and now a musical with a Tony Award-winning score of its own.
With that pedigree, the tale Bridges of Madison County tells is surprisingly delicate and practically generic; it's about a traveling photographer passing through rural Iowa in 1965 to photograph the titular covered bridges for National Geographic magazine, and his encounter with a bored and frustrated housewife, an Italian woman named Francesca Johnson who is moldering away in the midst of the cornfields with her well-meaning but homebody husband, a former G.I. who brought her back to his farm from Naples after the war. The story begins without a lot of complications, and ends with only one significant one, which is resolved mostly offstage. The rest is pure romance.
In its current production at Theo Ubique Cabaret Theatre, as in its other incarnations, the story traces an exceedingly simple arc; Francesca and the photographer, Robert Kincaid, begin to fall in love practically from the first moment he stops by her farmhouse to ask for directions to one of the covered bridges, which he can't find because the insular locals have removed the directional signs. They repair to Francesca's bed almost immediately (her husband, Bud, has taken the kids to a State Fair in Indianapolis for a week) and it's all quite transporting if a bit rushed; it is never entirely plausible that the handsome, uber-cosmopolitan Kincaid would fall so ardently and so sincerely in love (there is never even a hint that he is a player, or manipulative) with an older Iowa farm wife.
It's somewhat more plausible that Francesca, who has never really adjusted to the culture shock of leaving Naples, no matter how war-ravaged and desperately poor it was, for the interminable farm fields, nosy neighbors and omnipresent aroma of cattle dung of central Iowa, might find a handsome, world-class photographer such as Kincaid to be an attractive figure. But she gives herself over to Kincaid with virtually no conflicted feelings at all, even though her husband, who is portrayed as a decent man, and her two children, cannot ever be far from her mind. Her utterly complaisant and one-dimensional behavior – she is almost literally swept off her feet – creates a dramatic hole at the center of this story.
But it nonetheless works quite well in the movie version and almost as well in this new musical, directed for Theo Ubique by Fred Anzevino, for the same reason it seems to have been less successful on the silent page: The music, as it swells and swoons, sweeps away the audience, much like Francesca herself, by stirring in them the kind of romantic feelings they have had or have yearned for while obscuring any questions about either plausibility or, for that matter, morality.
The fact that this production, with a book by Marsha Norman, plays the story utterly straight, with virtually no irony at all (except for a snide-seeming recording of Tammy Wynette's "Stand by Your Man" that is played during intermission) ironically makes the issue of the characters' morality far more acute than they would be in a more contemporary-seeming play.  When a piece of theatre is as utterly un-transgressive as this one – except, of course, for that most ancient transgression of adultery — and when the play is set at a critical cultural inflection point like the mid-60s, it isn't entirely possible to dismiss Francesca's and Robert's actions.  And, indeed, Francesca makes a life-altering decision late in the story that suggests that even someone who gets swept up in the moment can, over time, understand that the actions of an instant can create ripples that last a lifetime. 
The music and lyrics, by Jason Robert Brown, take the musical in a rather different direction than the jazz soundtrack of the movie, but each in its own way – Brown's score is warmly lyrical but lacks the soundtrack's memorability – provides a lovely gloss on a timeless story. And Brown's music, as accomplished as it is, is taken to a much higher level by the singing of the Jeff Award-winning actress Kelli Harrington, who portrays Francesca with an astonishing degree of warmth and vulnerability. Her singing voice has an operatic quality, but at no point seems to be flaunted for its own sake; at every moment, we believe Francesca and sympathize with her decisions because Harrington has portrayed her character's inner life with such beauty and such genuine feeling. Carl Herzog, who plays Bud, is a fine singer too, and Molly LeCapitan, in the role of the photographers ex-wife, depicted in flashback, has a pretty, bossa nova-inflected turn on acoustic guitar. Unfortunately, in the crucial role of Robert Kincaid, Tommy Thurston lacks the vocal suppleness to convincingly portray the emotions demanded by Brown's lyrics.
The bare-bones set is perhaps in keeping with the central Iowa farmhouse setting, but one can't help but wish for a few more telling physical details to illuminate Francesa's stifling day-to-day life. But assuming that Theo Ubique is stretching a limited budget, the superb five-person chamber orchestra, led by conductor and music director Jeremy Ramey, was certainly money well spent. In the opening scenes, when the orchestra is much too loud and forces the singers to be far shoutier than they ought to be – some of Francesca's freighted opening lyrics about her journey from Naples to Iowa are nearly lost in the clamor – it's easy to question the orchestra's prominence on its perch just above the cozy set. But as the play unfolds, the music, and Ramey's orchestra, become almost another character – the one that tells the audience, and the protagonists, that what happens in this story is not only acceptable, but inevitable.
Ultimately, this play is a bit of a covered bridge itself – an exemplar of a simpler and more bucolic America, a bit spare and fragile, and certainly not something that will take a visitor any great distance, but nonetheless a rare and beautiful attraction that is well worth the visit.
More about Theo Ubique Cabaret Theatre