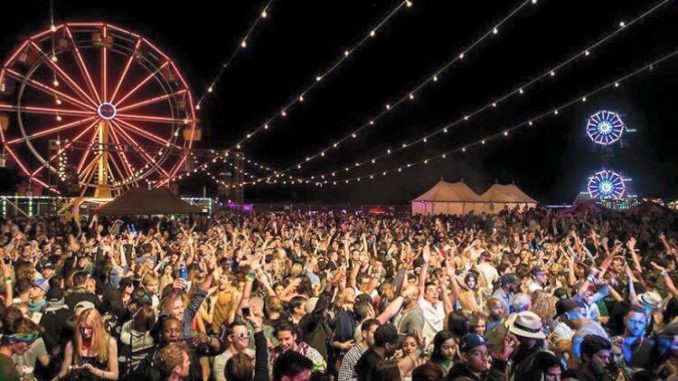 LA's favorite holiday is right around the corner, Coachella! While the 3-day music festival is a MUST, there is only one item that is absolutely a TAD bit better than the fest itself — the parties! It's all about boho vibes, flower crowns, and minimal clothing while party hopping from scene to scene. We've got you covered! Take a look at the must stop parties this year!
beGlammed's Sunset Soiree:
April 12th: 4PM-8PM
beGlammed will present its first annual Sunset Soirée event during the most highly anticipated weekend in the desert! The glamorous secret desert estate will be an exclusive gathering of celebrities, social influencers, artists, musicians, and entertainment, beauty, fashion and lifestyle insiders.
Hosted by Shaun Ross & DJ Joel Mignott, the beGlammed Sunset Soiree presented by Fullscreen (#beGlammedxFullscreen and #SunsetSoirée) is the perfect place to get glammed and pampered before a memorable festival weekend. Invited guests will enjoy a full suite of complementary services (Braid Bar, Henna Tattoos, Ear Piercing, Glitter Glow Bar, Hand Massages, Jewelry Counter, Lash & Lip Bar, Makeup Counter, Manicures) and music poolside, as well as a gifting suite stocked with premium beauty brands, hosted rose and liquor bar, lite bites and treats, charging stations and more.
CIROC Summer House:
April 12th 4PM-8PM
Come check out Ciroc's latest flavor just in time for Summer! The party will be hosted by Evan Ross and Ashlee Simpson Ross Celebrating the Launch of CIROC Limited Edition on Friday, April 12th from 4-8pm at the Korakia Pensione.
Galore + The Creme Shop Present: Desert Oasis:
April 12th 1PM-5PM
Galore and The Creme Shop have teamed up this year to bring a Desert Beauty Oasis at "The Galore Motel." Sexy Hair will be residing at the motel with hair braid and styling stations, while drinks from Babe flow non-stop. True Religion will also be on site as a special live performance by Tiffany Young and special guest DJs keep the crowd dancing all day.D
Nylon's Midnight Garden Party:
NYLON, the leading international curator of fashion, beauty, music and pop culture content for today's millennial woman, along with sponsors, including: Annapurna Pictures, the production studio founded in 2011 that creates sophisticated, high-quality content; CANN, the first cannabis-infused social tonic; Ketel One Botanicals, the super-premium vodka brand rooted in authenticity, honoring tradition and sophisticated taste; Lyft, the transportation network company providing ride-hailing services; ShoeDazzle, a premier American online fashion subscription service; and Uninterrupted, the all-digital sports programming network founded by LeBron James & Maverick Carter.
#MamaMirage
April 13th from 12PM-5PM
The Fashion Mamas, #MamaMirage event will be taking place on Saturday, April 13 from 12- 5 PM at a private residence in Palm Desert.  The event will be hosting 50 families, approx. 87 adults and 82 kids. Fashion Mamas is the first members-only network for influential mothers who work in fashion and creative industries.DIFF, the DIFF charitable eyewear's brand will be one of the partners at the event and will even be gifting a pair of sunglasses from their 2019 festival collection!
1OAK's DESERT BEACH CLUB Teams up with NANA JUDY, Velocity Black and V Magazine for COACHELLA 2019, French Riviera Style
Invite-Only: The Co-owner of 1OAK has teamed up with Velocity Black, V Magazine and NANA JUDY to host an exclusive weekend of upscale pool parties with performances by Miguel, Charlotte Lawrence and other top musicians & Djs of this generation. 1OAK is bringing back the 3rd annual Desert Beach Club from April 12th-14th. The most anticipated party of the Festival weekend will be a three-day experience for A-list celebrities, supermodels, artists and top influencers to relax, drink rosé by the pool and enjoy a desert escape inspired by the French Riviera filled with fun and entertainment. This glamorous social event has become synonymous with special guest appearances and surprise performances including Alessandra Ambrosio, Taylor Hill, Madonna, Katy Perry, Kanye West, Post Malone, Travis Scott, Rihanna, Kendall Jenner, Hailey Bieber, and more.
T-Mobile Indio Invasion Powered by Pandora on April 13th:

Pandora and T-Mobile are headed back to the desert for the 5th installment of Indio Invasion. The free event will take place April 13 from 1-4pm at Cree Estate in Cathedral City, CA and will feature a DJ set from electro-funk legends Chromeo. The Grammy nominated duo have over 71 million streams on Pandora and guests at the event can expect a DJ set filled with Funklordz classics, deep cuts, medleys and some covers thrown into the mix. This is one high energy party you won't want to miss!
The 5th Annual ZOEasis:
The Parker Palm Springs: 4200 E. Palm Canyon Dr.
April 12th 5PM-9PM

Once again Zoeasis returns to the desert for a Saint-Tropez-inspired soiree under the desert sky inspired by Rachel's latest collection! Celebs and top fashion influencers will be on deck for the evening which just happens to always provide the perfect photo backdrop! Infused with Rachel Zoe's iconic aesthetic and unparalleled taste, ZOEasis is the fashion event of Coachella!
Lucky Brand will be hosting their 3rd Annual Desert Jam:
Arrive Hotel: 1551 N. Palm Canyon Ave.
April 13th 12PM-6PM
Invite-Only: No ticket to Coachella, no problem — Lucky Brand has got you covered! In collaboration with Rolling Stone Live on April 13th from 12pm-6pm at the Arrive Hotel. X Ambassadors will take the stage along with other reputable DJs!
Neon Carnival:
HITS Desert Park: 85555 Airport Blvd, Thermal, CA 92274
April 13th: 10PM-LATE

Invite-Only: The highly anticipated desert experience, will return to illuminate the night sky on Saturday, April 13th, with its biggest fête to date in celebration of its 10-year anniversary. In partnership with Levi's® Brand, the exclusive event welcomes new additions including Australian born beauty brand Bondi Sands andthe upcoming big-screen adventure "POKÉMON Detective Pikachu," from Warner Bros. Pictures and Legendary Pictures, to commemorate another year of music and festivities. Conceived by LA's original nightlife maven, Brent Bolthouse and partner Jeffrey Best, the duo have created the unrivaled outdoor dance party that is widely recognized as one of the world's most coveted after-parties, annually attracting the industries entertainment elite.
Lyt x LA Weekly Festival Hotel:
Friday, April 12 and Saturday, April 13
The inaugural gathering will feature a wide array of celebrities, influencers, artists, musicians, chefs, fashion designers, art installations, health & wellness programs, pool parties, and craft drinks. We also have special surprises in store for this select group of invitees. During their Friday event, LA Weekly will hold its first ever cannabis competition with specialized cannabis education experts in the industry for this exciting collaboration.
Lyt is the first and only mobile dispensary that offers a personalized cannabis concierge experience. The highly anticipated, cutting edge, lightning fast service and ultra user-friendly site streamline the process of bringing Cannabis products directly to consumers. Lyt's specialized system of having drivers carry popular products on-hand saves time by cutting out the middleman – other services who take orders and required to pick up products from actual dispensaries. Lyt's select crafted menu and knowledgeable staff offer an unparalleled experience from order placement through delivery directly to your door.

Must-See Activations & Pop-Ups at Coachella:
Taking place at the festival, the Spectra art/light tower is sure to draw a huge crowd. It's a stunning seven-floor band of colours, as seen in a rainbow, produced by separation of the components of light by their different degrees of refraction according to wavelength. During the day, a succession of Perspex window panels bathe the space inside with intense colors and offer vibrantly colorized views of the surrounding festival grounds. At night, radials of LED cover lighting in the ceiling illuminate the panels, turning the tower into a solid beacon of dispersive refraction and throwing those inside into silhouette. The tower is the perfect blend between the California desert landscape and the sky!
BMW #RoadtoCoachella Fan Pitstop Party:
BMW of Palm Springs: 3737 E Palm Canyon Dr

April 11-14
April 13 (Surprise Meet and Greet with Khalid)
12PM-5 PM

With Coachella Valley Music and Arts Festival just days away, BMW is creating a once in a lifetime opportunity with your readers, where they can meet global superstar Khalid at a fan pitstop party, and experience the album conceptually in Palm Springs, enroute to #RoadtoCoachella, courtesy of BMW.
From April 11-14, there will be a fan pitstop party in Palm Springs with Khalid from 12-5pm that will include:
Meet + Greet with the top billing performer (on the 13th)
Food Trucks
Free Spirit Shop where fans can purchase custom merchandise
Artist inspired + BMW bandanas via fan-favorite claw machine
We have put together some great products for you to take to Coachella to make sure you make it through the weekend.
Use it or lose it! Face Finish by FACE Atelier is a high performing setting spray and an ideal way to finish your face! It extends makeup wear and can be used all day long to hydrate your skin. A light application refreshes your makeup – including eye shadows – to ensure you remain looking fresh, camera ready and picture perfect long into the night.
Long days and loud music is a recipe for migraines, good thing you'll be prepared with Migrastil! – Your all-natural soothing support to get ahead of the pain! Just apply a small amount at your temples, forehead and back of the neck at the first sign of pain. The Migraine Stick contains peppermint, spearmint and lavender essential oils in a coconut oil base. Don't let a migraine ruin your time when you can avoid it!
The StansOut Beauty Makeup Sponge is the only tool you'll need to keep a flawless, airbrushed complexion during Coachella, StageCoach or any other concert you're taking on this year. This incredibly soft makeup sponge has a diamond shape formulated strategically to create a flawless finish. It's the perfect, one-in-all, skin retouching tool that guarantees you won't miss a set because water is optional, so it's ready to go for all occasions.
Rounded Side: Use the large rounded side for pressing and rolling foundation and other cream products into the large areas of the face such as cheeks, forehead, and chin.
Triangular Side: Use the triangular side for applying concealer and powder in the under-eye area.
Flat Side: Use the flat side for perfecting and sculpting your contour under the cheekbones, along the nose, and along the jawline.
For healthy sun protection that works… Love Sun Body 100% Natural Origin Mineral Sunscreens are safe for use on your face and body and provide 80 minutes of water and sweat resistant protection. Available in lightly scented or fragrance free and in 2 different sizes (200ML for $32.00 or 100ML for $21.00) at lovesunbody.com/collections and Amazon.com.