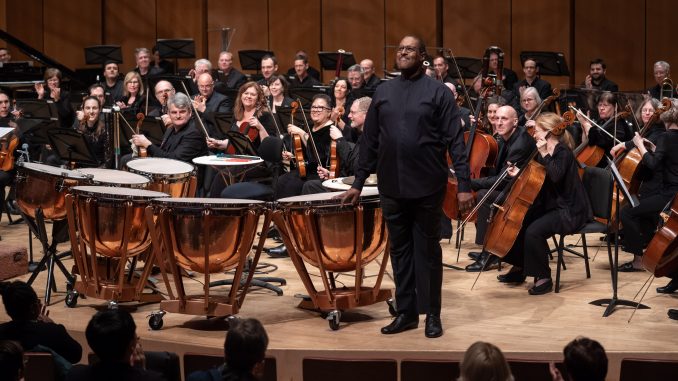 On April 7, 2019, at Pick-Staiger Concert Hall, 50 Arts Circle Drive on Northwestern University's Evanston  campus, as the Chicago Philharmonic's last North Shore concert of the 2018-2019 season, they presented a fine couple of late Romantic Russian masterpieces bookending a modern award-winning jazz composition by Grammy Award winning composer Michael Daugherty featuring virtuoso timpanist Robert Everson. 
Performing alongside the Chicago Philharmonic, as part of its SPOTLIGHT mentoring program were Johan Kartman, violin; Sophia Kreider, violin; Margaret O'Malley, viola; Trudie Childs, cello, and Nicholas Boettcher, bass.
The highly dramatic and exciting concert, conducted by Maestro Scott Speck, was dedicated to Theodore Kaitchuk, viola, longtime Personnel Manager and musician with the Chicago Philharmonic, who passed away one year ago today, April 10, 2018.
THE PROGRAM:
 Pyotr Ilyich Tchaikovsky Romeo and Juliet Fantasy-Overture, 1870
 In Romeo and Juliet, form and content seem perfectly well matched as two dramatically contrasting themes symbolizing family conflict and the flame of the young lovers' passion are juxtaposed with a ferocious development section vis a vis the sonata form. 
 The piece opened portentously with solemn and fateful chords, followed by noisy and active street music. The famed love theme entered with a sense of innocence in the English horn and violas; not until what seems like much later at the behest of Speck is this astonishingly beautiful melody, then fully orchestrated by the Philharmonic and very much extended, brought forth in the climax of recapitulation. Of course, it returns again in cold and waning form at the dying of the lovers, mesmerizingly drawn by the timpani.
– Michael Daugherty Raise the Roof, 2003
This delightful 12 minute single-movement piece for timpani and orchestra acted as an exuberant palate cleanser, containing elements of both rock and latin jazz rhythms, and incorporating medieval plainsong with extended solo parts for timpani. The immensely accomplished Everson, positioned on stage in front of orchestra and conductor, appeared to be having a lot of fun using an inverted cymbal, and striking the kettledrums with maraca sticks, mallets and wire brushes as well as his hands. 
Reviewing the concert band arrangement of the piece, Lawrence Budmen of the South Florida Classical Review referred to it as "a joyous romp that adds rock and big band sounds to the classical mix with lovable irreverence."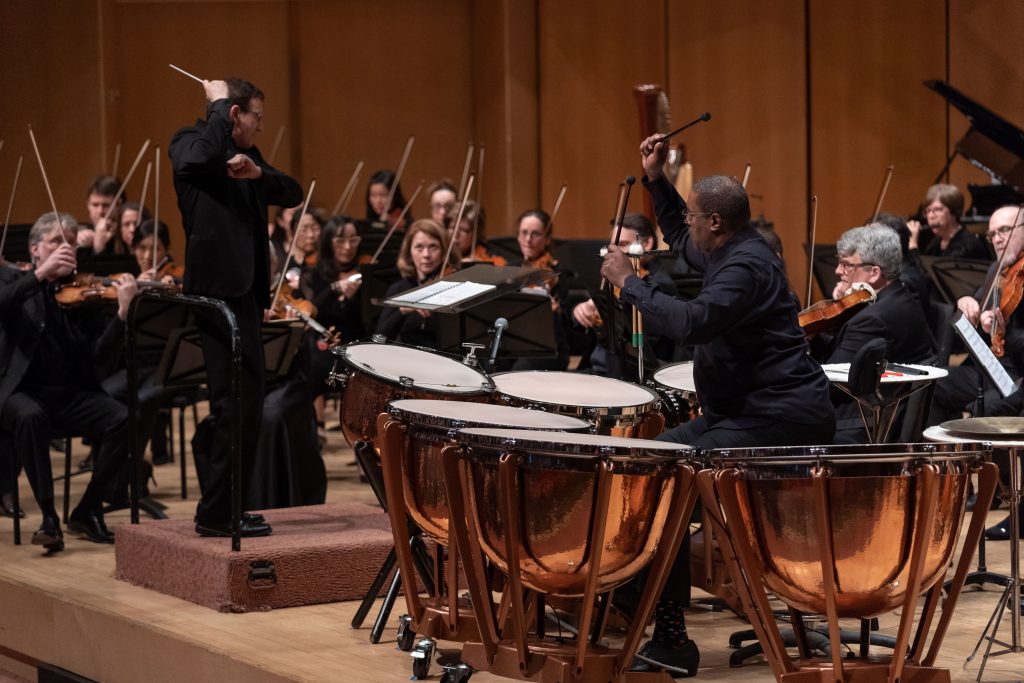 – Nikolai Rimsky-Korsakov Scheherazade 1888
 After the intermission, Speck described how this work, loosely based on the Persian fairy tales of A Thousand and One Nights was, according to legend, related by a Sultan's wife to the tyrannical sultan in what amounted to a series of delaying tactics to her possible execution.
Concertmaster David Perry performed spellbinding violin solos in this beloved masterpiece of tonal repetition; indeed, many of the principal players had significant solos.
 The opening musical phrase- variously characterized as both the Sultan and the storm tossed sea- occurs 38 times in the first movement alone! Returning again and again throughout the 4 movements, the phrase is deftly maneuvered and interpreted by Speck as a vehicle for Rimsky- Korsakov's fabulous inventiveness in harmony and orchestration. Varied tempi seemed to emphasize a colorful knowingness, bringing us back relentlessly to the sense of the fantastic tales being spun. 
The Philharmonic in response produced wave after wave of drenching melody, with the soloists revealing the complex inner structure of the meticulously drawn piece.
For information and tickets to all the great programming of the Chicago Philharmonic, go to www.chicagophilharmonic.org
All photos by Elliot Mandel